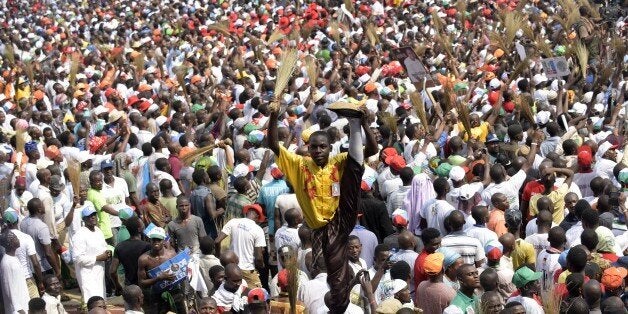 Every week, we bring you one overlooked aspect of the stories that made news in recent days. You noticed the media forgot all about another story's basic facts? Tweet @TheWorldPost or let us know on our Facebook page.
UPDATE: On Saturday, Nigeria's election commission postponed presidential and legislative elections for six weeks, citing security concerns.
Nigeria, Africa's most populous country, is scheduled to hold presidential elections on Feb. 14, yet millions of people are unlikely to be able to vote.
In order to cast a ballot in this election, Nigerians will be required to present a new voter identity card. Yet as of Wednesday, only 44 million out of the 68.8 million cards had been distributed.
In the latest effort to combat widespread electoral fraud, Nigeria introduced a new type of ID card after the last national election in 2011. Polls suggest another tight race between current President Goodluck Jonathan and the main opposition candidate Muhammadu Buhari, who also faced off in the 2011 contest.
The failure to get the cards to voters in time has once again raised public concerns about the integrity of the election. Some have blamed the delay on incompetence at the Nigerian election commission; others accuse the body of deliberately helping the ruling People's Democratic Party by not distributing cards in opposition areas. For example, in Lagos, an opposition stronghold and Nigeria's most populous state, less than 40 percent of cards have been distributed, an election commissioner told Reuters.
For its part, the election commission insists it is ready to hold the election, and is just straightening out some last-minute logistical issues.
Nigerian Ambassador to the U.S. Ade Adefuye told The WorldPost by email that Nigeria is proceeding with the election based on the election commission's assessment of the situation. "The security situation will not be fully resolved by Feb. 14, but it is improving and will continue to improve," he said.
A 2014 Gallup poll found that just 13 percent of Nigerians have confidence in the elections, down from 51 percent in 2011.
The vote comes at a critical moment for Nigeria. The extremist group Boko Haram has stepped up its brutal campaign to establish an Islamic caliphate in the country's northeast. The failure of the Nigerian government and military to protect civilians from Boko Haram's massacres and abductions has led to widespread anger and disillusionment.
The security crisis is also likely to have an impact on the election. More than one million people have fled their homes amid Boko Haram's attacks, and it is unclear whether and how they will be able to participate. In addition, few are likely to vote in the large swaths of northeast Nigeria that are under Boko Haram control -- a territory estimated to be roughly the size of Belgium.
Many analysts say the last thing Nigeria needs right now is another disputed election. Falling oil prices are squeezing the country's budget, while economic divisions between the north and the south are growing.
"Rather than proceeding straight into this train wreck, Nigeria should stop and create a temporary government of national unity," Princeton Lyman, the former U.S. ambassador to Nigeria, warned last week, adding that "keeping to the present timetable may well lead to disaster."
Hundreds were killed in sectarian violence in the aftermath of the 2011 election, in which Jonathan, who is from southern Nigeria, defeated Buhari, a member of the All Progressives Congress who hails from the north. This year's vote is particularly volatile given that some think Jonathan's quest for a second term violates an informal arrangement for the presidency to alternate between the Muslim majority north and the largely Christian south.
Calling all HuffPost superfans!
Sign up for membership to become a founding member and help shape HuffPost's next chapter
BEFORE YOU GO
PHOTO GALLERY
Bombing In Nigeria