Whether you call the girl a "wife" or an "infidel," abducting and molesting her is still rape with religion used as a cover to justify carnal assault.
One hundred days ago, Boko Haram, a diffuse Islamic sect, abducted 243 girls from a school in Chibok, Borno State, in northeast Nigeria They carted them off to unknown forest locations where they are still being held. Some who escaped told of gang rapes. So much for religion.
"For a group that claims to be religious, Boko Haram's tactics are the most profane acts we can imagine," said Daniel Bekele, Africa director at Human Rights Watch. "The killing and mutilation of ordinary Nigerians, the abduction and rape of women and girls, and the use of children for fighting are horrifying human rights violations."
Chibok, a largely Christian community, where literacy is relatively high, is located in the predominately Muslim Borno State. The abductions were not the first or the last act of thugs calling themselves Boko Haram who claimed they are against education for women, a Western imperialist imposition. As UN Secretary-General Ban Ki-moon noted, the horrific attacks and violence have become "an almost daily occurrence."
Boko Haram has interpreted Islam to mean that Muslims are forbidden to take part in any political or social activity associated with the West. It has opened up schools for impoverished boys to attend, plays on their ignorance and recruits them as soldiers. The Nigerian government, many say, has done too little for education and the economic disparities. (See Council on Foreign Relations analysis)
Under an apparent belief that if you kill enough people, you will establish a caliph, the sect has attacked the police and military, Moslem and Christian clerics, and many public institutions, including a suicide attack on the United Nations building in Abuja, the capital, in 2011.
Human Rights Watch says at least 2,053 civilians have been killed in an estimated 95 attacks during the first half of 2014, compared with 3,600 deaths in the first four years of the conflict. And over the weekend, Boko Haram took over a major northeast town, Damboa, a few miles from Chibok, forcing 15,000 people to flee and leaving behind 100 dead bodies.
If the girls come home... What happens if the girls escape, alive and perhaps pregnant? Dr. Babatunde Osotimehin of Nigeria, the executive director of the UN Population Fund (UNFPA), says his agency is organizing health workers, teachers and other skilled counselors to enable the girls to speak of their treatment and console their parents.
Dr. Osotimehin said the Nigerian people, as a whole, did not view education as Western invention and that "every decent person in the world would like to see the girls come back home and whatever it takes to make that happen."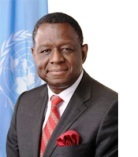 In an interview, he said health workers in the community have to be trained in order to get the girls to speak to them. "If they do that, they are in a position to determine what is going on what is needed to build up confidence and how to provide them psychological support," he said.
"We will also provide immediate diagnosis and treatment to the victims to ensure their health, including their sexual and reproductive health. We will initiate programs that will encourage the girls' reintegration into the educational system to enable them to complete their education."
The UN Security Council's Al Qaeda sanctions committee added Ansaru (another Nigeria militant group), Boko Haram and its leader Abubakar Mohammed Shekau to its blacklist, subject to financial and arms sanctions. The main object is to permit governments and agencies to trace and stop financial flows.
And despite the world wide protest, no one has found the abducted girls, even with the United States lending air surveillance.
ISIS and the religious rape brigade ISIL or ISIS (Islamic State of Iraq and the Levant) in Iraq also uses religion to justify rape.
"We are deeply concerned by recent reports that four women have committed suicide after being raped or forced to marry ISIL militants as well as reports of men committing suicide after being forced to watch their wives and daughters being raped," said Phumzile Mlambo-Ngcuka of South Africa, the executive director of UN Women.
Obviously violence against women and girls is not confined to religious or Islamic groups but is widespread around the world. (Child marriage in Asia and elsewhere is also rape by another name.)
But the jihadists in Nigeria and Iraq have the audacity to contend their interpretation of Islam or Sharia law justifies rape.
REAL LIFE. REAL NEWS. REAL VOICES.
Help us tell more of the stories that matter from voices that too often remain unheard.