Nigerian President Buhari's slightly more than 100 days in office as he prepares for his first UN visit since May 29 inauguration, provides a good opportunity for analysis of his economic-investment and anti-corruption game plans (in what FEEEDS calls the Buhari Doctrine); how these plans are working thus far; and, what we might expect going forward on these and other issues.
Nigeria boasts both SSAfrica's largest population (178 million) and economy (Nigeria rebased in 2014), but is struggling to get its financial footing back, and keep investors engaged. Here are some of today's economic challenges:
-- Massive drops in world oil prices have hit hard country's key source of revenue and foreign reserves;
-- Unemployment remains high (hovering around 7.6 percent) in 15-35 median age range, where both youth and female populations clock-in at 70 million and 80 million respectively;
-- Devaluation pressures remain high on the country's currency (naira); raising cost for private sector and daily living needs.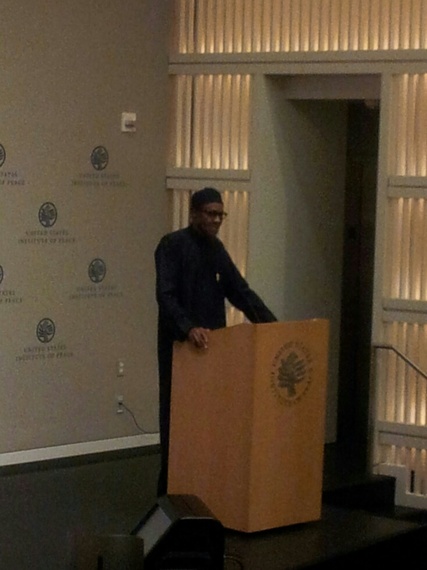 A Closer Look - Current Business & Investment Environment:
Despite these economic challenges, the private sector from China, United States, India, Brazil, and Europe still see Nigeria as a premier investment destination. What makes Nigeria so for these foreign businesses? Answer...return on investment (ROI). Average ROI range 28-36 percent -- matched with Nigeria's largely untapped consumer market for goods and services. Specific sectors provide greatest returns or are growth areas for goods and services. There are six sectors (non-priority order), from FEEEDS' perspectives that are notable for foreign investment, outside of the oil and mineral extractive industries:
1.) Power - Nigeria partially-privatized its power sector (generation, distribution) in 2013, giving foreign investors an opening. Nigeria barely produces 2-3 thousand megawatts per day. Whereas, daily power needs are 40-50 thousand megawatts to provide consistency in service delivery. Although potential ROI is great, so are risks: poor transmission to national grid, heavy debt service on acquired assets, technical capability issues, and concerns about timely payments.
2.) Information and Technology (ICT) - Nigeria has the largest number of mobile phone users in SSAfrica with 100 million out of 650. ICT investor focused on innovative smartphone soft and hardware can take advantage of Nigeria's market. Smartphone penetration is only 27 per cent, as most Nigerians still have feature phones.
3.) Natural Gas - Nigeria has roughly 180 trillion cubic tons of untapped natural gas - making it one of the largest in the world. This nascent sector remains ripe for services, infrastructure, and developing fields.
4.) Agriculture - About 70 per cent of Nigeria's population works in this sector. It lacks infrastructure, insufficient food processing, modernization, and transportation. High ROI will be a bit delayed here given how far behind the sector lags. But, if you are playing the long game this is where to be.
5.) Manufacturing - Nigeria has the odd triangulation of low manufacturing base, large population, and growing middle class consumer market all at once. Thus, manufacturing of any product will have ready-made customers.
6.) Housing - There is a 17 million affordable housing deficit. Although, the sector is ripe for investment, the government will need some form of sovereign guarantees to spur construction financing and mortgage guarantees - two key impediments affecting building starts. Nigeria's Mortgage Refinance Corporation, NMRC, also needs these two issues addressed to support projects meeting its mission. To date, NMRC has not had a project it can approve.
Doing Business in Nigeria - What You Should Know?
What are the basics you should know, regarding ease of doing business; monetary policies (by some accounts unclear and unfriendly), and anti-corruption efforts. World Bank 2015 Ease of Doing Business Report rated Nigeria 170 out of 189 countries reviewed about their transparency in business practices. In 2014, Nigeria ranked 175, so some improvement. Nigeria's Central Bank (CBN), in efforts to support the country's floundering currency -- naira -- has made it harder for foreign and Nigerian businesses to transact in convertible currencies (dollars or euros). Positives on that are: Nigerian companies have to provide CBN with foreign company contract payment amounts to obtain foreign exchange. This is an important transparency element in the anti-corruption tool box for the country and foreign partners.
As of September 15, Buhari required ministries use their CBN accounts, called Treasury Single Account, for all government monies. Meaning, ministries cannot deposit funds into commercial banks - a past practice where it is believed substantial state wealth disappeared. Compliance has been good. On the federal budget, Nigeria will move to a clean-slate 2016 "zero-basing," linking needs and costs, and Buhari's "look ahead" focus will be infrastructure, social needs, manufacturing, and job creation.
President Buhari's Anti-Corruption Efforts; Economic Team:
Buhari gets high marks for his unwavering commitment to address endemic corruption. He publicized his personal wealth (good tone-setting step); appointed new leadership to problematic National Petroleum Company; and, asked governments, including U.S. to help return $150 billion in stolen state wealth.
Buhari is being systematic in forming his government, including deciding who his economic team will be, and how they will address current issues. There's a little ankle biting going on calling him "Baba Go-Slow," (Father Goes Slow) -- nicknamed by some to indicate his slowness to appoint ministers. We also have an underlying theory: he may not want to negotiate with ministers on vision and direction, preferring to put everything in place first.
Either way, FEEEDS gives him credit for taking his time. As deep as the duel evils of corruption and influence peddling are, it is prudent to carefully vet. Furthermore, Buhari never put himself on the artificial, but politically-expected "first 100 days" clock. Okay, 8-9 months from now, we might take different view. But for now, Buhari said he would be "steady" in truly remaking Nigeria, let's give him time to get there.
Related
Popular in the Community