By Felix Onuah and Lanre Ola
ABUJA/MAIDUGURI, Nigeria, April 15 (Reuters) - Suspected Islamist insurgents abducted more than 100 female students in a night raid on a government secondary school in Nigeria's northeast Borno state, a teacher said on Tuesday.
The gunmen, believed to be members of the Boko Haram Islamist group which has attacked schools in the northeast before as part of their anti-government rebellion, carried off the students from the school in Chibok late on Monday.
"Over 100 female students in our government secondary school at Chibok have been abducted," said Audu Musa, who teaches in another public school in the area, around 140 km (90 miles) south of the Borno state capital Maiduguri.
The raid took place on the same day as a bomb attack on the edge of the capital Abuja.
The blast killed at least 75 people, the deadliest ever attack on Abuja, and raised questions about the government's ability to protect the capital from an insurrection that risks spreading from the Islamist group's heartland in the northeast.
Nigerian President Goodluck Jonathan has pointed the finger of suspicion for the bombing at Boko Haram, although the group, which has ties with al Qaeda-linked militants in the Sahara, has made no statement claiming responsibility.
With elections due in February, Jonathan is under intense pressure to contain the five-year insurgency, which is posing a growing security risk to Africa's top oil producer and its newly acquired status as the largest economy on the continent.
His government is due to host a World Economic Forum on Africa in Abuja next month to be attended by African heads of state and business leaders and will deploy more than 6,000 police and soldiers to protect participants.
Attacks by Boko Haram, which says it wants to carve out an Islamic state, have targeted police, military and government posts as well as schools and churches, killing more than 2,000 people in the last six months alone, and leaving the Nigerian military struggling to respond.
The teacher Musa said he saw eight bodies in the area of the Chibok attack on Tuesday morning, but did not identity the victims.
"Things are very bad here and everybody is sad," he said.
The Nigerian military did not immediately comment.
Finance Minister Ngozi Okonjo-Iweala said security agencies were investigating Monday's bombing.
"Our security planning for the World Economic Forum on Africa is already well under way and will be the largest security operation ever mounted in this country for an international summit," she said in a statement to participants that was seen by Reuters.
Security personnel will secure an area of 250 square kms (100 square miles) around the May 7-9 event.
Nigeria's 170 million people are split between Muslims living largely in the north and Christians mostly in the south, and Boko Haram has shown before it can strike further south.

Angry Abuja residents questioned why the government should give priority to ensuring no harm came to high-profile visitors while it was failing to guarantee daily security for Nigerians.
"They should protect us first and people will be attracted to come to Nigeria," Ajayi Ademola, a computer operator in a business centre, told Reuters.
Local businesswoman Dorothy Ajunobi, referring to accusations that some politicians are manipulating the violence to try to serve their own narrow interests, said: "If government can protect adequately participants to a forum, they should be able to protect Nigerian citizens or otherwise it will now be clear this insecurity in Nigeria is political."
Visiting the scene of the bombing at Nyanya on Monday, Jonathan called the threat from Boko Haram "temporary".
But, despite a state of emergency declared last year in the northeast, and an offensive involving thousands of troops backed by aircraft, the army has failed to quell the revolt.
Former Vice President Atiku Abubakar, a northern politician who defected to Nigeria's main opposition in February from Jonathan's ruling People's Democratic Party (PDP), urged the government to accept foreign help in fighting militants.
Boko Haram militants are increasingly targeting civilians they accuse of collaborating with the army.
There had been no violence on such a scale near the capital since suicide car bombers targeted the offices of the newspaper This Day in Abuja and the northern city of Kaduna in April 2012.
A Christmas Day bombing of a church in Madalla, on the outskirts of Abuja, killed 37 people in 2011. Boko Haram also claimed responsibility for a bomb attack on the United Nations' Nigeria headquarters that killed 24 people on Aug. 26, 2011.
Boko Haram, which in the Hausa language means broadly "Western education is sinful", is loosely modeled on the Taliban movement in Afghanistan. (Additional reporting by Tim Cocks and Chijioke Ohuocha in Lagos, Camillus Eboh in Abuja and Pascal Fletcher in Johannesburg; Writing by Pascal Fletcher, Editing by Angus MacSwan)

Related
Before You Go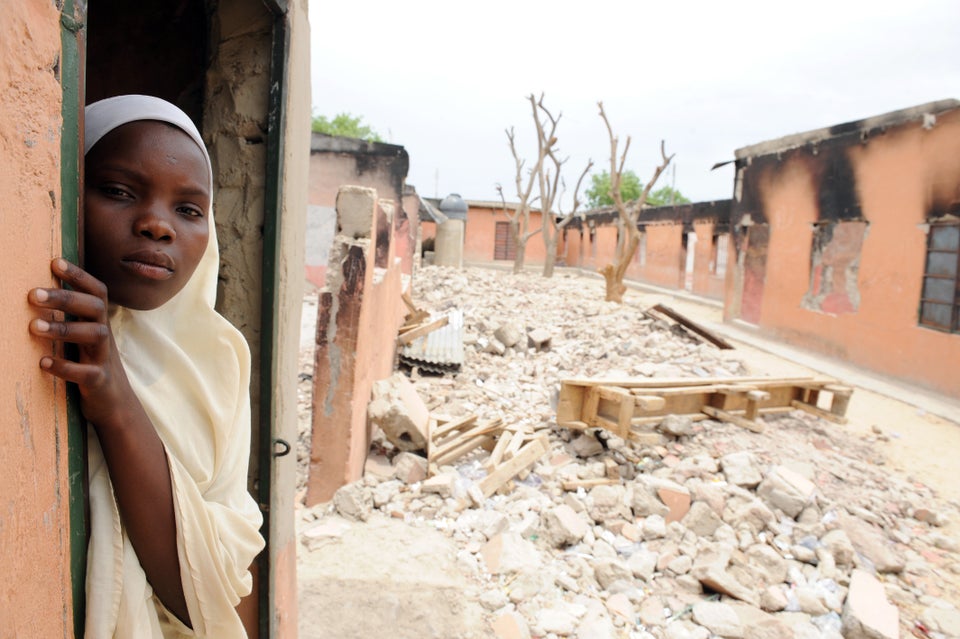 Boko Haram: Nigeria's Homegrown Terror
Popular in the Community