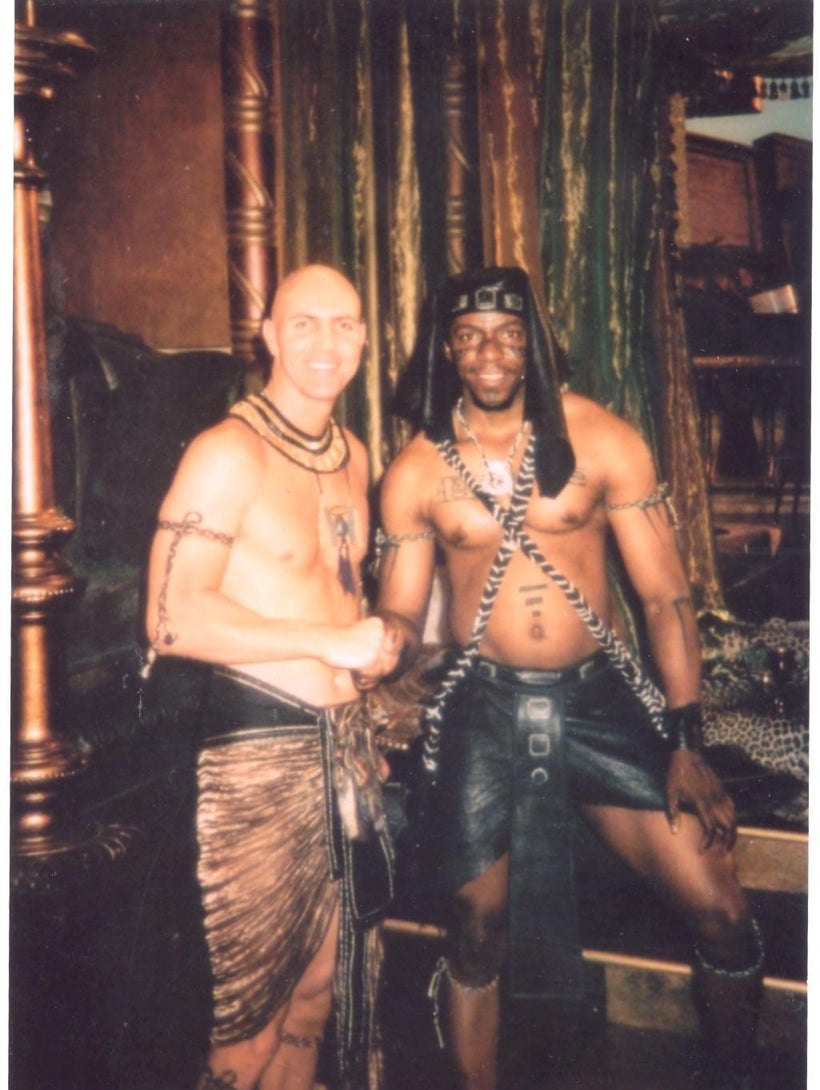 Born in England to a Nigerian royalty Prince Thompson Iyamu, 48, is an actor and a writer whose attributes personifies the epitome of masculinity. His claims to the throne of machoism is anchored on an imposing physique-that have earned him roles in major Hollywood blockbusters like The Mummy and Tomb Raider-and purported romantic prowess laid bare in the intimately explosive book The Players Code. He spoke to us about his life in England, acting and writing.
You are an African Prince born in Europe. What was your experience growing up?
My experience growing up as a kid was great. My parents gave me the best education and I never lacked on anything. They preferred I have my education in Nigeria after which I came back to England to start my career. From my experiences in the two countries I learned that the only major difference between Nigeria and England, apart from the language, is the weather.
Why study in Nigeria having been born in England?
When I was four years old, my parents took me and my sister to Nigeria for cultural exposure. The West African nation was distinctively different from England in terms of weather, culture and languages. I really struggled because I could not speak any of the native languages. My folks decided we have to study here so that we get some cultural orientation. Looking back, I believe this was a very brilliant idea because I am now fluent in several African languages like Edo, Hausa, Ibo and Yoruba.
You said you were discovered in a gym. Tell us about it.
It all started when I was training at a gym in North London. A guy approached me and introduced himself then asked if I was interested in being cast in an advert. I was a bit nervous at first because I had never done it before, but eventually I accepted the offer and the rest is history.
What films and movies have you featured in? Have you had any major roles?
I have appeared in several Hollywood blockbusters like The Mummy, Tomb Raider, Scorpion King, Golden Eye and many more. I have also been involved in several other low budget movies like Tom and Thomas and Miranda. As for having major roles, I'm not yet an A-lister but I do get a lot of speaking roles. Through this engagements I got the opportunity to work with great actors like Arnold Vosloo, Pierce Brosnan and Dwayne "The Rock" Johnson. Getting a leading role in a movie is not easy as people think. Unless you strike luck by chance, you have to work hard to get to the top. But as they say Rome was not built in one day and I am working hard a day at a time to get on top.
I always had the idea of starting this award since way back. My dream finally came to life when I launched AFMA in 2015 as a platform to celebrate African musical and film stars' achievements, both past and present. This is a first of its kind both in Nigeria and England because this is the first time a major award combines both music and film. Its likes the Grammy Awards and the Oscars rolled into one. It has never been done anywhere else in the world. AFMA's core mission is to appreciate the efforts that have been made by past film and music stars and to inspire upcoming ones.
You have authored The Players Code, a book meant to help men and women explore their sexual fantasies? What motivated you?
After publishing The Players Code in 2015 I recently launched the second edition titled The Players Code Unleashed. Both are books have been labeled "literary sex pills" since they offer sassy for spouses and partners to improve the quality of their intimacy and romantic lives. Based largely on my own personal experiences, the book is for those who want to have an insight in what ancient philosophers termed "the lovers game". The Players Code, written for both men and women, is designed to help you discover the missing link in your sex life. The Players Code Unleashed teaches that for a woman to feel attraction for you she has to associate some sexual or positive emotion with you. The inability to understand this inner female flow leads many men to romantic cul de sac. The book is designed to help them out of this rut and have then living like a James Bond. The book is available in all major online stores like Amazon, iTunes, Kobo, Barns, Scribes or The Players Code website.
You seem to be involved in a lot of things including business, writing and acting. How do you manage to juggle all that and still remain on top of your game?
I consider myself very lucky since I have siblings who usually steps in to take care of businesses when I am out shooting. However, I consider myself a prudent time manager who believes in pursuing all endeavors to a fruitful conclusion. Passion, drive, dedication and persistence have been key values in getting me where I am today. I employ the same principles in the AFMA and my other businesses that include Hairarchitecture Salon, Softechhosting and Locusguide, a site through which I offer free online classified adverts.
What are your future plans for the AFMA.
By the Grace of the Almighty 'God one of my major plans in 2017 is to take AFMA to the next level. I plan to make the awards the premier African music and film celebration platform in Europe by recognizing outstanding stars and works. We intend to make AFMA a first of its kind so that every African movie and film star will be proud to win.
REAL LIFE. REAL NEWS. REAL VOICES.
Help us tell more of the stories that matter from voices that too often remain unheard.
This post was published on the now-closed HuffPost Contributor platform. Contributors control their own work and posted freely to our site. If you need to flag this entry as abusive,
send us an email
.