Young Nigerian creatives are carving out an entirely new space in the art world
Lagos has experienced an artistic explosion over the last 5 years, with a new school of thought and expression overtaking the city. Those behind it emerge from the same soil that birthed Fela Kuti and inspired the voice of Nobel Laureate, Wole Soyinka.
As this artistic revolution gains traction, entrepreneurs have begun to capitalize on opportunities to showcase the creative talent. The response has been massive, with ventures such as the Arthouse Foundation, Nigeria's premier auction house and artist residency, seeing annual sales of up to $1.4 Million USD.
Nigerian-made art has a rich history dating back to 1000 BC. It was motivated by religious devotion, and driven by the skill of various artisans who produced sculptures and wooden carvings. One of most prominent of these ancient eras is Nok art, famous terracotta sculptures most often depicting men in a warrior or kneeling stance. Art of these times was either functional or religious.
In the late colonial era, a crop of Nigerian artists known as the "Zaria Rebels" gave definition to the practice of meshing ancient indigenous art such as Nok with contemporary religious design and western technique.
This became known as "natural synthesis." The group consisted of Nigeria's most influential 20th century artists including Uche Okeke, Yusuf Grillo and Bruce Onobrakpeya. The Zaria Rebels chose a deliberately subversive collective identity to challenge their westernized education in fine arts.
As Bruce Onobrakpeya later explained:
... We thought that the idea of just using the western art technique without relating it to our culture wasn't right.
Today, a new crop of young Nigerian artists band together, similar to the Zaria Art Rebels, but with a new objective; to challenge the status quo of the rapidly expanding Nigerian art establishment. They call themselves the "F--- Art Collective" and they seek to disrupt what they perceive as the restrictive dialogue of Lagos's galleries and auction houses.
What is striking about this new kind of Nigerian artist is a clear break in the way they conceptualize their works. In order to bridge the gap between indigenous and modern art, the Zaria Rebels sought to synthesize African forms with western techniques. However, for the F. A. Collective, Africanism is not on the agenda.
What this group are interested in is free and authentic self-expression.
Though their choice of name may seem like a contradiction, the artists in this collective refuse to shy away from it. They insist that their objective is not to dismiss the pursuit of art but rather to express their feeling of disassociation from the more formal artistic community in Nigeria.
This passionate group of three: Ifedoyin Shotunde, Olatunde Alara and Dricky Stickman, will present their first group exhibition at the boutique residence and creative collaboration space, 16/16.
16/16 owner and artistic director, Tushar Hathiramani, sees the venue as a melting pot for a new crop of creatives and thinkers in Nigeria. Likening the artistic explosion taking place in the city to the Harlem Renaissance and the Detroit techno movement, he believes that the slowdown in the Nigerian economy will create an availability of free and affordable spaces for creative expression to thrive.
The exhibition will take place on the 30th of December 2016 and lasts for two-weeks. Keep updated with Ingressive for future art experiences in Lagos.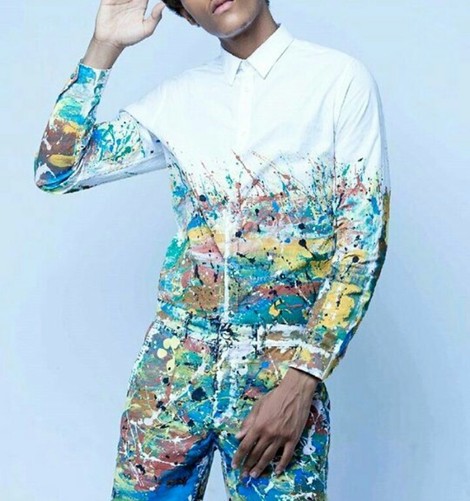 Popular in the Community