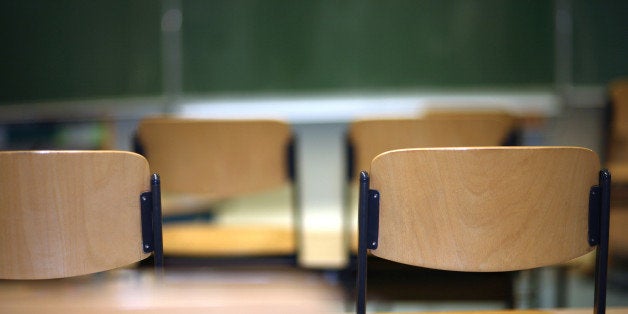 I showed the viral Unequal Opportunity Race video to students at a Virginia high school for Black History Month. Produced by the African American Policy Forum, the video highlights structural discrimination in America. I will not now, nor will I ever, apologize for showing the important project. I'd show it again at Glen Allen High School, if invited. In fact, it should be viewed on repeat in high schools and colleges across the country.
I was invited to the suburban high school, where 37 percent of students are minorities, in the aftermath of the school's controversy surrounding a high school football game last fall where a one-minute song to the tune of the 1980s cartoon Duck Tales was played:
"Life is like a Nigger, here in Old Nigs. I hate fucking niggers. Niggers, suck dick, they're all poor like Obama, fuck Michelle Obama. Niggers I hate them! They are stupid and they can't do taxes. Niggers! Niggers are so dumb and they are also poor. Niggers! Look at Niggers, they're trying to raise money but they can't cuz they spend all their money. They're niggers and they're so fucking niggers. I hate them! Nig a nig niggers don't know how to do anything without chicken! Niggers like watermelon and chicken. Niggers! Niggers are so stupid and their niggers..."
Allegedly, without knowing it, an African American student was able to get the song played at the game when it thought it was originally labeled on YouTube as "Jay Z & Kanye West - N----s in Paris (Clean Edit)." Obviously, that caused a firestorm, leading to the principal's apology and the student apologizing to the school board.
No one at the school board apologized for the failure in adult and administrator supervision of students. The Black student, who has claimed from the beginning he was unaware of the contents of the song, was made the scapegoat. Apparently, no one really believed the student.
In this context, the interim chair of the African American Studies Department at Virginia Commonwealth University was asked to collaborate with the Glen Allen administration, some teachers and parents, to develop an educational program to contextualize the word "nigger."
After being invited to join with the interim chair, we met with the leaders at Glen Allen to begin strategizing about the program and it later was determined that the high school administrators desired for the program to go beyond the word "nigger" to include Black history generally. With two 30-minute assemblies, I would lead the session for the students.
With a goal toward helping students understand the historic vestiges of the N-word, and to introduce how ideas frame our consciousness and impact our collective memory and socialization, I sought to provide a comprehensive experience for the students at their first Black History Month assembly ever.
"The students participated in a presentation that involved American history and racial discourse. A segment of the video was one component of a thoughtful discussion in which all viewpoints were encouraged. As always, we are welcoming of feedback from students and their families and we address concerns directly as they come forward."
By 'type of event,' I can only assume the board and administration seek to prevent any future Black History Month programming.
The school board and administration reaction is very problematic, particularly given it is the same district with schools named in honor of racist Confederates such as former Governor and U.S. Senator Harry F. Byrd Sr. and former Governor Mills Godwin, who, for example, helped lead the fight against school desegregation in defiance of Brown v. Board of Education.
The Henrico County School Board and administration promoted censorship reminiscent of book banning that we see playing out in jurisdictions such as Arizona that are the strongholds of racial intolerance. Dozens of books were banned in 2011 in Tucson, Arizona, after teachers created a Mexican-American Studies Program to educate local students on their history. The National Association for Ethnic Studies, the organization I lead, is hosting its 44th Annual Conference in Tucson this month exactly for those reasons.
Like the structural racism video, the Mexican-American Studies Program was labeled divisive. The Civil Rights Movement was called divisive. Martin Luther King, Jr. was called divisive. Brown v. Board of Education was called divisive. The list goes on.
But, what is truly divisive in American society are the ways in which rampant inequalities continue to shape life chances for people living in this country. Race and class concerns are a reality in American society and they are deeply intertwined. If we don't introduce our youth to this reality, they will grow up unable to see the foundations on which systemic inequality is actually built.
Would we believe the best way to protect our environment from its continuing effects would be to ignore it? - not to learn about what it is or where it is impacting us - simply because some might feel alarmed to know that it is there? Such an idea is not only silly, it's seriously negligent to miseducate our society about our own history as a nation.
The fact is America's legacy of racism should make us uncomfortable. High Schools should teach students about structural racism.
But, that is not happening. Five million public school students in Texas now use new social studies textbooks based on state academic standards that barely address racial segregation. The state's guidelines for teaching American history also do not mention the Ku Klux Klan or Jim Crow laws. Slavery is presented as a "side issue to the Civil War."
In Virginia, the Commonwealth's Board of Education Standards of Learning promotes a similar shockingly limited view on race in Virginia and American history. This is the type of exposure to race that students in Henrico County, Virginia received prior to my Black History Month program invitation. Hence, it is not surprising, that given the lack of curricular content on race, the school board and administration chooses to revert to the comfortable position of censorship: "School leaders have been instructed not to use the video in our schools. In addition, steps are being taken to prevent the use of racially divisive materials in the future."
Clearly, those administrators are not interested in honest discourse on race.
Meanwhile, they aren't alone. Students and faculty at Oregon's Portland Community College encountered similar backlash recently when they announced plans to designate April as "Whiteness History Month," in an effort to promote knowledge on the impact of white domination on American politics.
Back in Henrico County, honest discussion on race is not only avoided, it is also viewed as threatening: "The Henrico School Board and administration consider this to be a matter of grave concern," School Board Chair Micky Ogburn said in a statement released to The Washington Post. "School leaders have been instructed not to use the video in our schools. In addition, steps are being taken to prevent the use of racially divisive materials in the future. We do apologize to those who were offended and for the unintended impact on our community."
Meanwhile, I remain most interested in the reaction of students in the assemblies. Kenny Manning, a student at Glen Allen High School, told WRIC news, "A lot of people thought it was offensive to white people and made them feel bad about being privileged . . . Others thought that it was good to get the information out there. There is oppression going on in the world, and that needs to be looked at with a magnifying glass, I guess."
Thanks, Kenny. With his critical insight, I believe now more than ever that young people truly are our future today.
Other students have also refused to have their voices silenced and launched a Change.org petition demanding the School Board's apology be rescinded and the video un-banned.
To date, the only two Black local elected officials have come forward to question the school district's decision to apologize for the video, including Rev. Tyrone Nelson, Chair of the Henrico County Board of Supervisors and more recently, the school board's sole African American member, Rev. Roscoe D. Cooper III.
Last week, I stood in front of the Henrico County (VA) School Board and defended Black history. The experience reminded me of the critical role university and college professors must continue to play in educating not just our students, but the communities in which we live. Should we fail to educate our communities, we fail as professors.