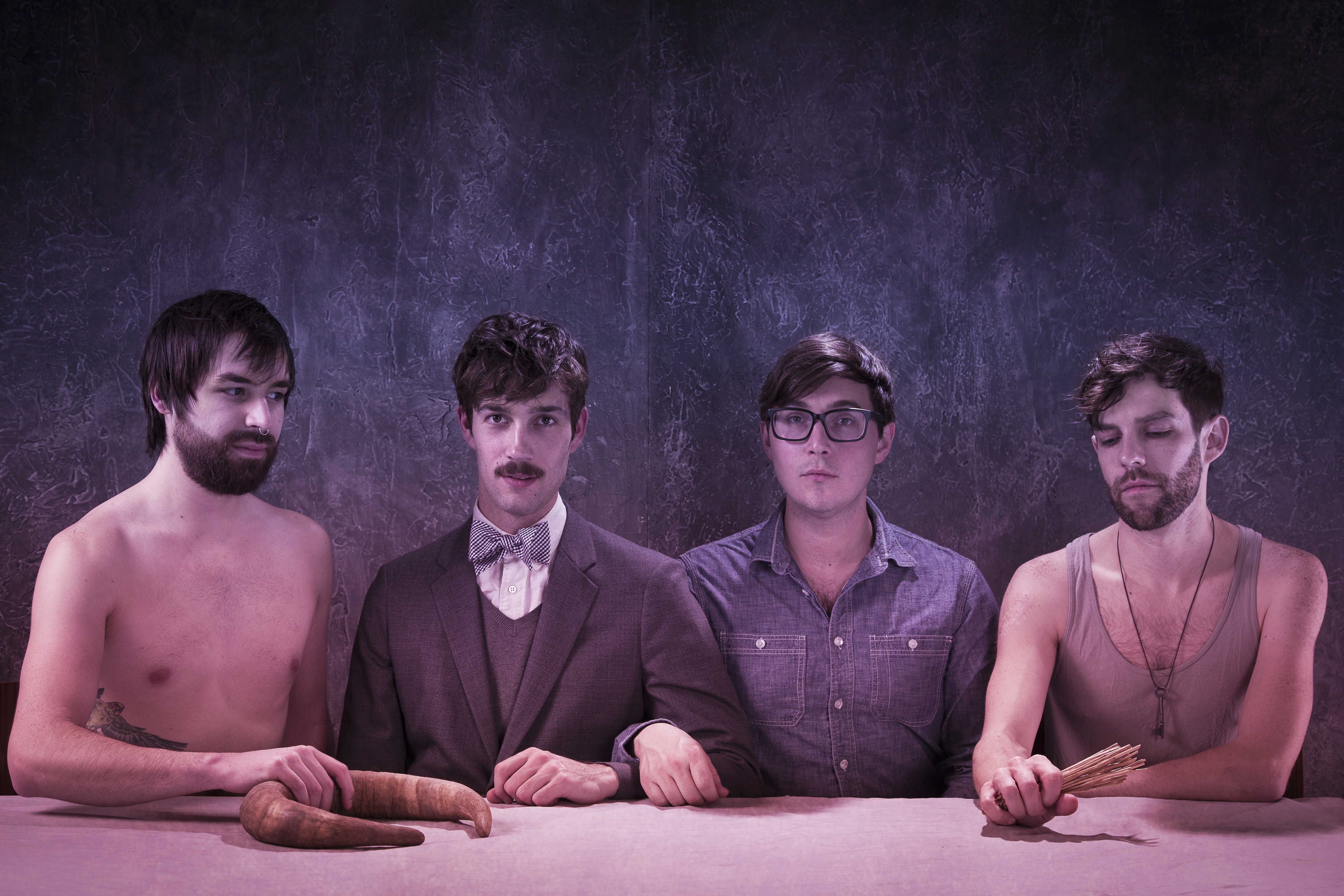 On my never-ending quest to give exposure to bands you may not already have on your radar, this week I caught up with Seattle's Night Cadet, a brash, bratty foursome whose music is neither brash nor bratty but is probably best described as the band puts it themselves: "queer orchestral dream pop."
Night Cadet is made up of songwriter/keyboardist Seth Garrison and violist/composer Barret Anspach (both members of NYC chamber pop group The Fancy), drummer Spencer Bray and Garrett Vance, a former member of Seattle bands Perfume Genius and Secret Shoppers. If you're into cute, half-naked, indie gay boys pumping out haunting, emotional soundscapes, behold Night Cadet.
Logan Lynn: Can you tell me a little bit about what's going on in your new video, "Seaside"?
Seth Garrison:  It's a pretty simple story. Man meets dead boy on beach. Man falls in love with dead boy. Man takes dead boy home and dresses him up. Man and dead boy live happily ever after. The point being that love is complicated and we don't always choose who we fall for.
Barrett Anspach: Think Weekend at Bernie's, minus the hilarity and hijinks.
Garrett Vance:  To me it's about escapism and trying to save or nurture back to form something that you just can't. With a dash of Twin Peaks and Six Feet Under.
Spencer Bray:  It's all supposed to be a little silly and over-the-top dramatic but still pretty, but I mean, mostly I got to dance around on a boat, really stoned, while drinking champagne, and take some awesome stills of gorgeous people in a field. That's all you need in life, right?
Lynn: How did Night Cadet originally get together?
Anspach: Seth and I met in New York, fell in love, and moved to Seattle. He wanted to start a new band, seeing that the members of his other project, The Fancy, were scattered around the country teaching and getting Ph.D.s. I was on board with the idea, excited to start working on new material. Seth knew Garrett when living in Seattle years ago and called him up.  We met up and discussed it and in a few long practices had enough material for a set. We found Spencer through a mutual friend, and the rest is history.
Vance:  With regard to Perfume Genius, I played with Mike years ago, before he'd ever played a show. I love that guy; there's no one like him. I think I'm only fit to play dream pop.
Lynn:  You have previously described your band's sound as "queer orchestral dream pop." What does that mean?
Garrison:  The "orchestral" part of this simply refers to our use of lush string arrangements. The "queer" part is just a side note that most of us, Spencer aside, are gay boys. And we want to highlight that fact, as it sometimes gets swept under the rug. The "dream pop" part just refers to our general sound: spacey, ambient, big.
Anspach: "Orchestral dream pop" is more an emotional descriptor for Night Cadet than anything else. I'm no good at genres, especially when it comes to pop music. I suppose it's because a) "orchestral" -- we've got a viola in the band (me); b) "dream" -- don't we all like to dream a little?; c) "pop" -- you'd probably listen to it. "Queer" is the little cherry on top. Since we're one of only a few bands in the "orchestral dream pop" category, whatever it is, there's no harm adding "queer" to the mix. Plus, we're all pretty queer.
Vance: It sets the stage for the queerest dreams, listened to right before bedtime.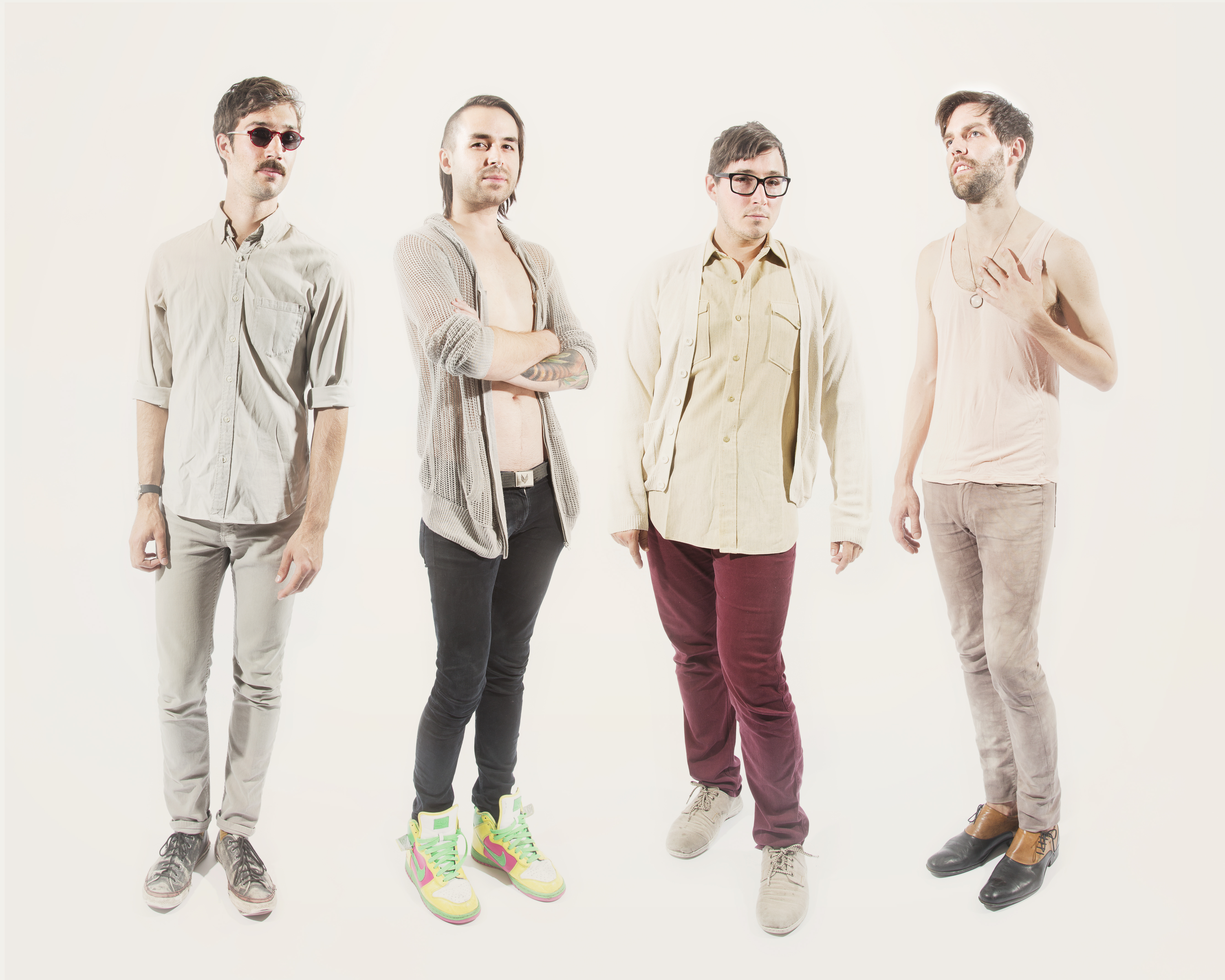 Lynn: Who are some of your influences?
Garrison:  I'm highly influenced by Angelo Badalamenti, the Cocteau Twins, Kate Bush, Leonard Cohen, Youth Lagoon, early Cat Power and (obviously) Mariah Carey. And I think Joanna Newsom is an angel from heaven.
Bray:  I love Christopher Bear's drumming in Grizzly Bear. He's absolutely incredible, and I'm definitely influenced by his style.  I also learned to play drums in sixth grade while listening to a shitload of the Smashing Pumpkins, so I have this weird drive to play these mid-'90s-style drum patterns.
Anspach:  Grizzly Bear's on my list too! I'd name a bunch of dead white guys, but nobody cares. So I'll settle with two awesome (and living) American composers, Steve Reich and John Adams.
Vance:  Sigur Rós is my all-time fave. Angelo Badalamenti and film soundtracks.
Lynn: I recently profiled queer Portland band Magic Mouth, and they named you as one of their favorite queer bands. Who are some of your favorites?
Garrison:  We love Magic Mouth! So much fun and talent live. We just finished touring with a Seattle band called S. The front lady, Jenn Ghetto, is definitely a gay idol of mine! I also really like Hot Tears out of Olympia, and I'm obsessed with Gem Club out of Boston. They break my heart in the best of ways. Also, Jordan O' Jordan is my idea of church. I can't see him perform without being filled with the spirit.
Bray: Seth's list rules. I'm currently obsessing over the new Wishbeard EP.  It is fucking awesome.  "Strawberry '79" has major hit written all over it.
Vance:  Love Magic Mouth. Perfume Genius. Glitterbang.
Lynn: What other bands do you most often get compared to?
Seth: Beach House, Arcade Fire. I think both because we have a kind of washy and anthemic quality, which those other bands definitely do. I won't lie: I think Beach House has done a stellar job defining a particular and individual style, and I'm not at all ashamed to borrow from them from time to time.
Vance: I one time heard Meatloaf, which was especially funny for Seth and I, because I think he's a guilty pleasure for both of us.
Garrison:  Just so we're clear, I don't really like Meatloaf. I think Garrett's just lonely in his guilty pleasure.
Bray: Pshhh, whatever. Meatloaf rules!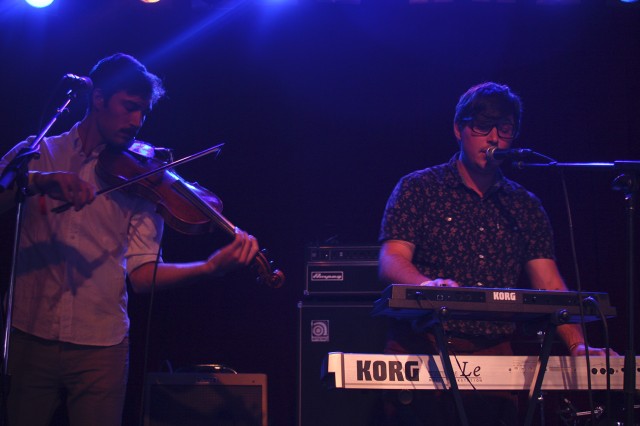 Garrison:  I love Jinkx, and I'm so happy that the world and RuPaul recognize that she is a total gem. I have a good Jinkx story: One time, Jerick was playing at this recital series that The Fancy often played. He was in the middle of a song ("Us" by Regina Spektor) when this hideous piece of wall art fell on his head and basically attacked him. As anyone knows, it's kinda hard to play a piano and sing when there's a piece of sculpture attacking you. Luckily, I knew the song and jumped up, took over the piano part (without a hitch) and let him get out from under the damn thing and finish the song. It was beautiful. I almost cried... until I freaked out and yelled at the audience for being rude.
Vance: Jerick's honestly one of the nicest, most absurdly talented people around. I used to accompany her for drag shows around town on guitar or synth. We had this one silly folky duet à la A Mighty Wind where she was playing slide whistle and we had this great awkward kiss in the middle. So fun.
Lynn: Do you stay in touch since the show?
Garrison: Not me. I'm not that lucky.
Vance: A tad. She's constantly on the road, working nonstop. It was amazing that she posted our video like three times.
Lynn: Is Night Cadet a queer band?
Bray:  As a pretty-much-straight guy who considers himself queer enough, I say sure.  Sexuality is an inherently human thing, and I don't think music is, in and of itself, queer. But the people who make it definitely influence things.
Anspach:  Sure, though the music isn't meant to just be heard by queers like us. There's beauty and heartbreak enough to spread around to everyone, straight folks included.
Lynn: How is living in a state where weed and same-sex marriage are legal? Does it feel any different than before?
Garrison: It's awesome, and I'm proud, but it doesn't feel any different, honestly. Ask me again in a couple of weeks, when I can buy pot at the store down the street.  I might answer differently -- or at least a little more slowly.
Bray: No, dude! Come on! We live in the coolest state in the nation, and fuck yeah, it feels different! Local politics really matter, even if nothing is getting done at the national level.  By paying attention and voting, you really can change things for the better in your own community, even if D.C. is gridlocked with idiots.
REAL LIFE. REAL NEWS. REAL VOICES.
Help us tell more of the stories that matter from voices that too often remain unheard.