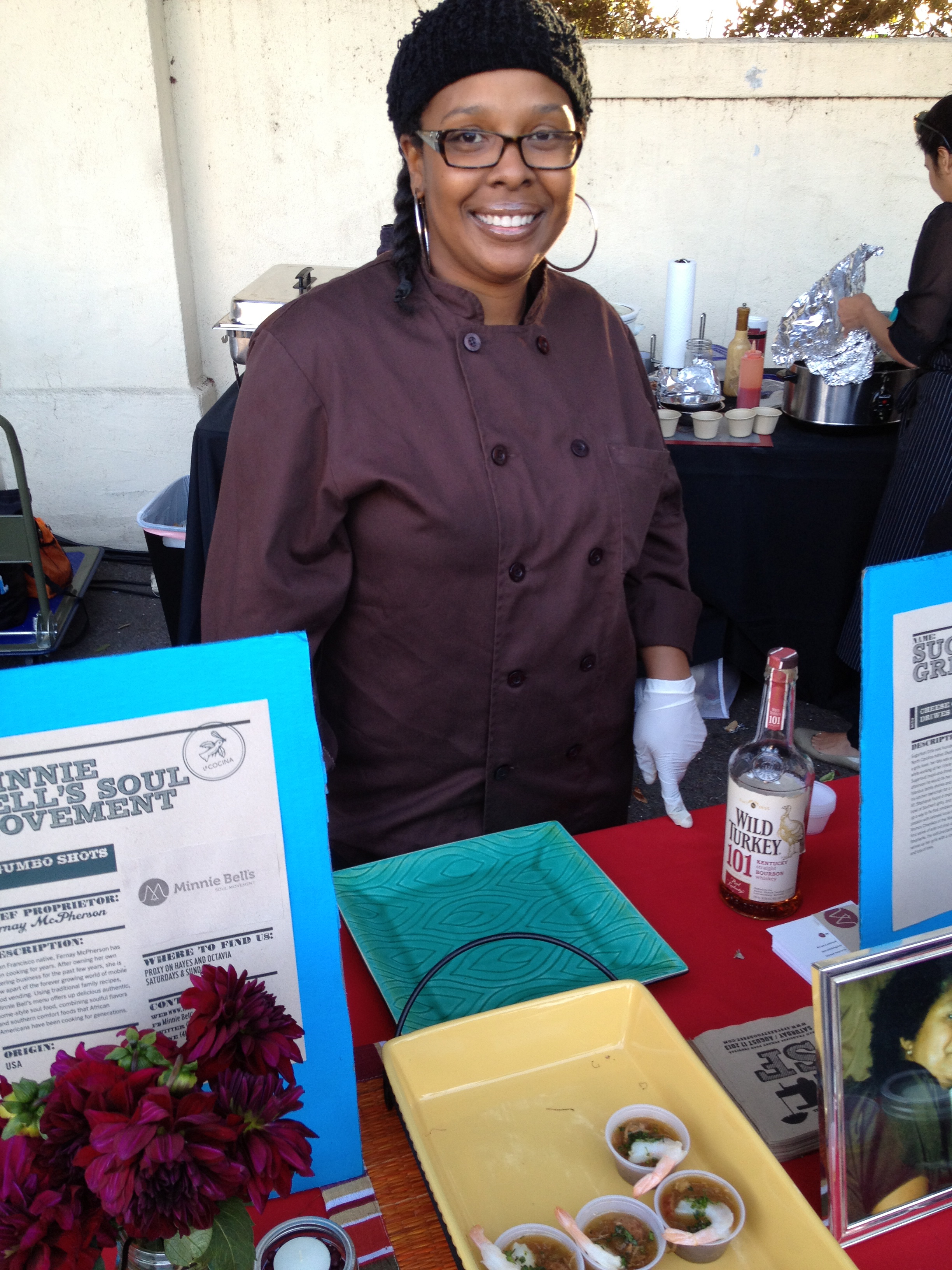 Born and raised in San Francisco, Fernay McPherson was nine years-old when she learned to make her grandmother's favorite dish, mac and cheese. Years later, she still makes mac and cheese, gumbo, fried chicken, collard greens, and other Southern dishes she cooked with her grandmother, mother, and aunt Minnie, as part of her growing food business, Minnie Bell's Soul Movement.
Minnie Bell's is one of 40 vendors, that will bring their stories and tasty treats to the San Francisco Night Market, presented by La Cocina, Friday, August 16, at the Alemany Farmer's Market.
"By the time I was 15, I was helping my mother cook meals for family reunions and gatherings--sometimes there were 100 people there," McPherson told me. "The kitchen has always been my home."
After graduating from culinary school in 2008, McPherson started catering events in the Western Addition, where she grew up. While she had several clients in the neighborhood, she wanted to expand her business, and partnered with La Cocina through the Fillmore Mobile Food Vendor and Artisan Marketplace Program.
La Cocina is a nonprofit incubator kitchen whose mission is to cultivate low-income woman entrepreneurs as they formalize their food businesses. The incubator program offers resources including affordable commercial kitchen space, mentorship in marketing and branding, as well as access to farmer's markets, catering opportunities, and wholesale distribution.
The program has helped McPherson begin selling the same food she used to cook at home with her family, from a mobile food trailer in Hayes Valley, on weekends at the corner of Hayes and Octavia Street.
McPherson, alongside her 14-year-old daughter Nia, will be serving collard greens, braised in chicken stock with smoked turkey leg and spices, at Friday's Night Market. "The smoked meat adds the flavor," she says, "the meat falls right off the bone into the greens."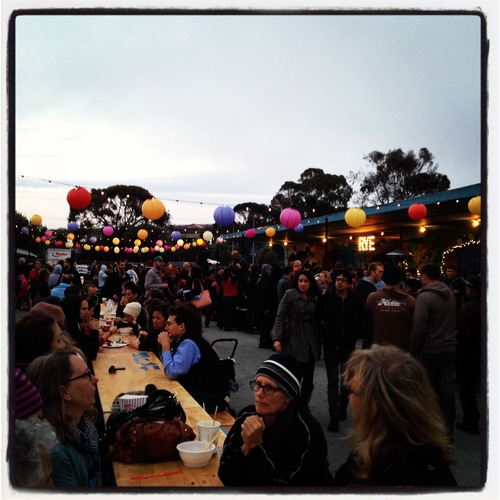 This year's outdoor Night Market features six regional food markets, representing specialties from the American South, Latin America, Europe, Africa, East Asia, and Southeast Asia. In between tasting smoked brisket (Ryan Farr, 4505 Meats), beef cheese piroshky (Anna Tvelova, Anda Piroshki), bo ssam (Hwa Soon Im, To Hyang), plaintain bread pudding (Chiefo Chukwudebe, Chiefo's Kitchen), ceviche (Dilsa Lugo, Los Cilantros), Persian lamb shank stew (Hoss Zare, Zare at Fly Trap), and bo kho beef stew (Jessica Nguyen, Bicycle Báhn Mi), you can sing karaoke or play Berlin-style ping pong.
Craft cocktails will be mixed by Rye on the Road, and there'll be live music performances, and dancing.
If you're still hungry the next day, you can taste Minnie Bell's chicken, turkey sausage, and shrimp gumbo, which she'll be serving alongside 80 talented local chefs in a sea of thousands of foodies, at La Cocina's fifth annual San Francisco Street Food Festival on Folsom Street.
Binia Pradhan of Bini's Kitchen, another La Cocina entrepreneur, will making turkey and vegetarian momos (a juicy Nepalese dumpling) for the Night Market and the Street Food Festival, and like Fernay, will be supported in the kitchen by her family. "It's a lot of work, but I'm ready," Pradhan told me. "Bring it on San Francisco, come try my momos!"
REAL LIFE. REAL NEWS. REAL VOICES.
Help us tell more of the stories that matter from voices that too often remain unheard.