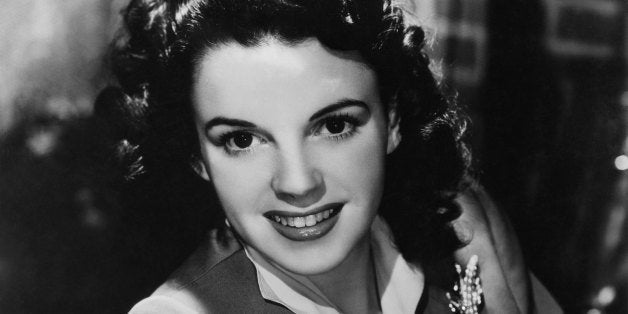 The worlds of Broadway, folk-rock, television and downtown cabaret will unite once again for "Night of a Thousand Judys," honoring homeless lesbian, gay, bisexual and transgender (LGBT) youth as well as the legacy of Judy Garland.
As in previous years, "Night of a Thousand Judys" -- which is a special presentation of New York-based actor, writer and performer Justin Sayre's variety show "The Meeting" and timed to coincide with Pride Month -- will benefit the Ali Forney Center, a New York advocacy group dedicated to homeless LGBT teens and young adults.
"The show has really become an event, something each of us on the team look forward to every year," Sayre, who's also a HuffPost Gay Voices blogger, said. "But more so than any of the specifics, it becomes a celebration of this iconic performer that we all adore. At the core of what makes Judy Garland great is her vulnerability."
He then added, "Every song is a master class in giving."
The Huffington Post spoke with three of the evening's performers about their favorite Judy Garland moments. Check out what they had to share below.
Erin McKeown: "I'm a big fan of the stuff from her TV shows. I'm a complete sucker for the 'Get Happy/Happy Days Are Here Again' duet with Barbra Streisand. I think it's just one of the most amazing pieces of music and performances by [two female artists] that I've ever seen.
I feel like I learned how to be a performer by watching her. There was something about the way she carried herself onstage that made a lot of sense to me. I felt aligned with her … I think a lot of people associate her with the pathos involved with her later career. I recognize that's an important part of her mythology, but I don't hang that on her. I just see someone who's incredibly musical and incredibly dedicated to telling a story, whether that's in a three-minute song or a two-hour movie musical."
Sarah Dash: "When she did 'The Wizard of Oz'…there she was, a young teenager singing 'Over The Rainbow'…the meaning of that song came from her heart and her soul. We all want that rainbow.
Judy was classy, she was troubled…but she still stood for what was right in her own way. She was a singer who, like Sarah Vaughan, didn't have technical things to help her along. She sang from the heart. She had her troubles and her marriages, but…her soul gave her her gift. I'm sure if she were here today, she'd be standing alongside people like Elton John, fighting for humanity and human rights, and particularly for this group of youth who are still developing and coming into adulthood. She'd be doing this benefit!"
Austin Scarlett: "A lot of Judy fans tend to really focus in on her later concert career. But I love the sheer, pure optimism and all-American 'let's put on a show' feel of her early films with Mickey Rooney.
I think Judy taught us all to dream in Technicolor. She is the embodiment of our childhood, and the poignancy of her later career just adds to the enigma around her. In 'The Wizard of Oz,' she befriends these outcasts, these misfits…as gay people, we've all felt like misfits at one time or another, and to know that we potentially could have been friends of Dorothy…is part of her whole charm and appeal. I'm sure Judy will be proud and looking down at us from her rainbow in the sky, smiling."
"Night of a Thousand Judys" will take place at Merkin Concert Hall at the Kaufman Center in New York on June 16. For more information, head here.

Calling all HuffPost superfans!
Sign up for membership to become a founding member and help shape HuffPost's next chapter
BEFORE YOU GO