Welcome to my new series, "Doin' Work: Interviews With Photographers on How They Do Their Thing". It's a place for me to celebrate and share the work and people who inspire me.
Up first is Carrie Elizabeth Thompson. I first encountered Carrie's images via her Tumblr. What sucked me in was the visceral feeling that, even though I did not know this person, I was invited into her life in a way that was simultaneously comforting and disconcerting. In her own words, Carrie's work explores "roots, rootlessness, and restlessness, generally in the context of my own upbringing as the child of a broken family." You won't want to look away but you will feel slightly guilty for staring.
Who are you and where do you live and work?
​I am Carrie Elizabeth Thompson. I live and work in Minneapolis, MN. ​
If you had to explain your images to a child, how would you describe your photographic style?
​My photos are made for books, story books. All of the images together tell a story. The story is normally about my life.
How long have you been making pictures? When did you first realize you were a photographer?
I used to make paintings. I went to school at Otis College of Art and Design and was a painting major. For over a year I was making paintings that were made of more photographic elements. It seemed best to put down the paint and focus on what was most interesting to me. ​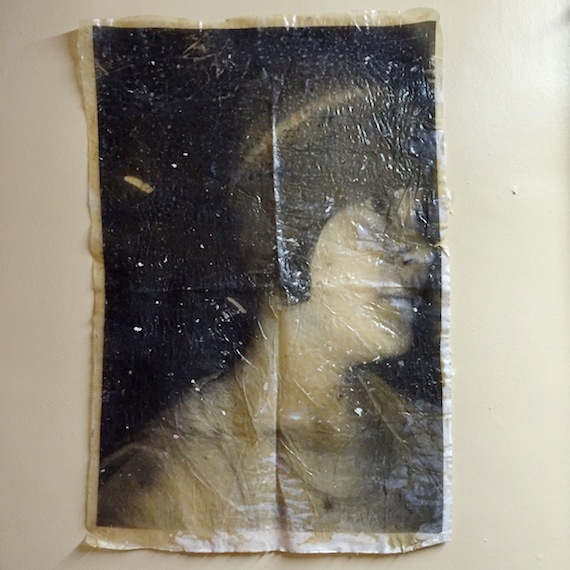 The first image Thompson made that helped her realize she was a photographer. Image Via Carrie Elizabeth Thompson
What does being a photographer mean to you?
I feel more like a storyteller than a photographer. I don't feel like a storyteller who makes up stories, but someone who shares her life and experiences through images. My newest book, Notes From My Therapist, is a story about my time in therapy.
This question is hard for me. Not because I don't know what type of cameras I use, but because I think work should be made with what the project calls for. Notes From My Therapist is made with a DSLR, scanned text, and written text. For this project the camera and the scanner were my tools, yet it is not always the case.
Is your camera always with you or do you work in a more systematic way?
It is not always with me. I normally look for specific images that help tell the story I am working on. I don't always make work, but when I am in the middle of a project I always have my camera.
Do you make a living as a photographer? If yes, please explain how. If no, please tell me about your day job.
I do not. I work full-time for the photographer Alec Soth. I have been his studio manager since 2008.
Describe the advantages or disadvantages of working for a famous photographer.
I learn so much at my job. I tell others that it is like going to grad-school, but being paid for it. I know so many people in the art world that I would not know if I had a different job. Many of these people also support my work and I am grateful for that. I have a boss that understands making work and the time it takes, so he gives me time off when I need it. A disadvantage is working all day on someone else's art. It is most painful when I am excited about my own work and use all of my energy up when I am at work. That being said, my job does help me focus the time I have to work on my own work because I know it is precious.
Describe your editing process.
I print out all of my images, text and scanned text on very cheap office paper. The office paper is not precious so I am able to make as many book dummies as I need without feeling like I am wasting good prints. Then I carry around the non-precious book dummies and look at them over and over until I feel the book can be made. At this point I make a nicer dummy.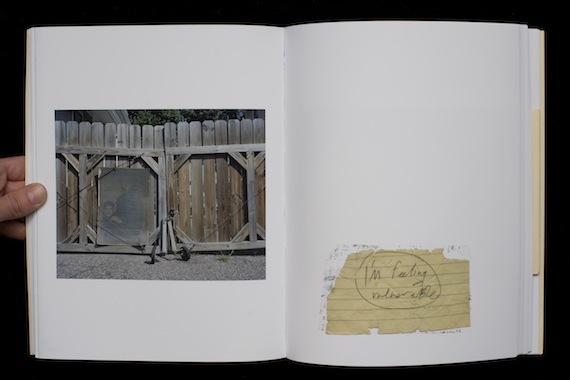 Page spread from Notes From My Therapist. Image Via Carrie Elizabeth Thompson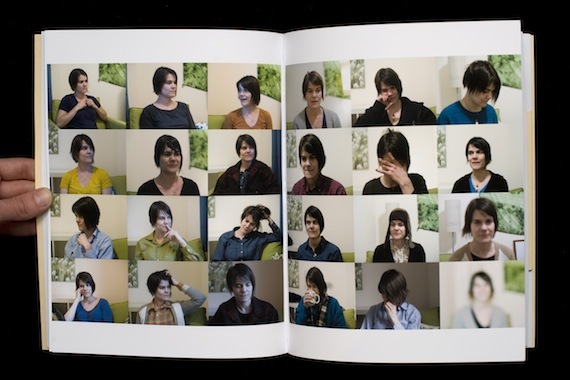 Notes From My Therapist. Image Via Carrie Elizabeth Thompson
Please name three contemporary photographers that blow your mind.
Tim J. Veling. Maureen Drennan. I read A LOT. Pico Iyer is a huge inspiration for my next project.
What are you working on now?
I am working on a book about marriage. The working title is from this day forward.
Are you a dog person or a cat person, and why?
I love dogs. They need their humans and their humans need them.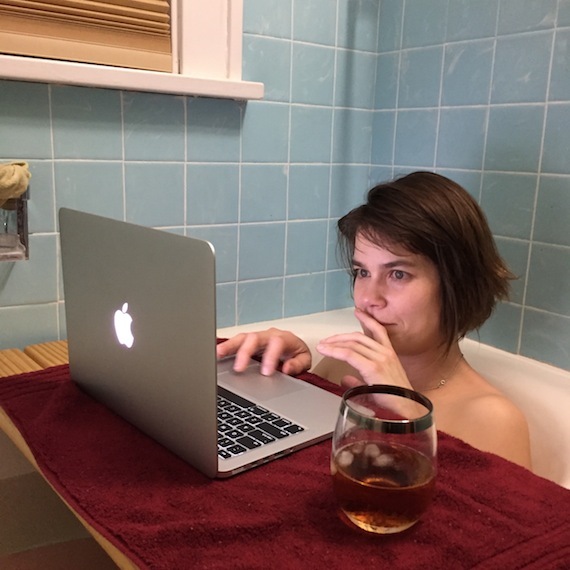 The photographer in her workspace. Image Via Carrie Elizabeth Thompson
If you would like to be considered for the Doin' Work series, please send an email to tara at tarawray dot net with a link to your work; also, tell me a little bit about yourself.
REAL LIFE. REAL NEWS. REAL VOICES.
Help us tell more of the stories that matter from voices that too often remain unheard.