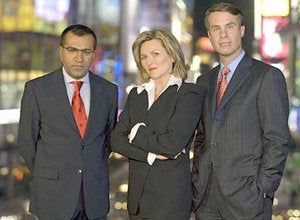 "Nightline" scored its best first quarter ratings since 2003, averaging 3.86 million total viewers in Q1 2009. This also marks the first time since Q1 2003 that "Nightline" topped David Letterman (3.79 million total viewers) in the first quarter.
"Nightline" ratings are particularly interesting given that the show's future is rumored to be in jeopardy, should ABC move "Jimmy Kimmel Live" to the 11:30 time slot to directly compete when Conan O'Brien takes over "The Tonight Show."
"The Tonight Show" with Jay Leno easily won the late night ratings for the quarter, averaging 5.32 million total viewers.
In the advertiser-friendly Adults 25-54 demographic, "Nightline" has now outdrawn Letterman for three quarters in a row for the first time in nine years.
The late night news show is also closing the gap with "The Tonight Show," having grown 18% year over year and cutting the viewing gap between "Nightline" and Jay Leno's show to its lowest level since 2003 among total viewers, and its lowest level since 1996 among Adults 25-54.
Full ratings information below:
Late Night Show Ratings Q1 2009
"Tonight Show," NBC: 5.32 million total viewers, 2.3 million A25-54
"Nightline," ABC: 3.86 million total viewers, 1.69 million 25-54
"Late Show," CBS: 3.79 million total viewers, 1.68 million A25-54
Related
Popular in the Community