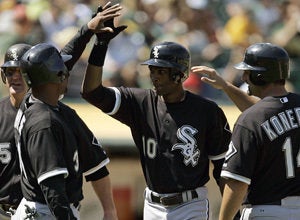 Did you watch the game last night? Did you brave another umpire-bashing, dadgummit-offering Hawk Harrelson broadcast? Did you tune in, in good faith or bad, to see if the White Sox would hold or fold?
Maybe you saw the White Sox blow a five-run lead, a two-run lead, a tie game, only to lose 7-6 in 10 innings?
While the Cubs ho-hum their way to the playoffs - home field advantage tucked away like a can of chew - the White Sox spat out their season-long advantage to their low-budget neighbors to the north.
The South Siders now trail Minnesota by a half-game with definitely three, and maybe four or five, to play.
It doesn't look good. In fact, it looks really bad.
I'll be honest, I thought about it too; both Chicago teams thumbing their nose at history and a century's worth of common sense. But that was before Carlos Quentin went Lattimer on his bat. That was before Jose Contreras collapsed on the field at the Cell, an old horse one step away from the glue factory. So yeah, I held out hope for a reversal of history. I'm a dope.
Yet for some reason, I thought the Sox were going to hold on and make the playoffs. Maybe it's because they've played nearly all summer with a lead the size of Alexei Ramirez's waist and never quite lost that all-important game. I thought this team had a little magic left. But under the bright lights of the Metrodome, the White Sox were transparent, just ghosts in cleats. If anyone believes in them outside of their clubhouse, they're kidding themselves.
***
If you've read one White Sox-Twins story recently, you've read them all. Ever since Sox manager Ozzie Guillen famously nicknamed the Twins "the Piranhas" a few years ago, it's been the recurring theme in this rivalry.
It's tough not to like the Twins. Aside from the stars like last year's MVP Justin Morneau, well-groomed catcher Joe Mauer and young ace Francisco Liriano, the backbone of the team is what makes Guillen jealous, and you could see why Thursday. There was Carlos Gomez pumping his first like madman in center, Denard Span throwing haymakers at third after tripling home the tying run, Alexi Casilla getting mobbed after driving in the winning run in the form of scrappy Nick Punto. If you don't know those names, you're not alone. But they're good. Scary good.
Guillen always says the Twins have the kind of team he wants: Young, fast and hungry. Good arms in the rotation and a catcher in Mauer that everyone loves, not just loves to hate.
After replacing taskmaster Tom Kelly, the funny, gracious Ron Gardenhire has put his own stamp on a formerly woebegone franchise that was once weeks away from being contracted at the behest of the Mr. Burns of Major League Baseball, Twins owner Carl Pohlad.
The Twins never took advantage of the White Sox's troubles, stumbling along with them, but Thursday night, they showed what champions are made of.
***
Leading up to this series, many Chicago opinion-makers (radio hosts, talking heads, columnists) stressed that the pressure was on the Twins because they were the ones playing catch-up.
But as it shook out, the White Sox were the ones who played like they had everything to lose.
This is an aging, patchwork team without two of their best hitters in Quentin and Joe Crede and the Sox played no spark this series, aside from a six-run inning Thursday. With a middle of the order presented by the Field Museum, it's been home run or go home.
Make no mistake, this is a team built on aging power hitters, including Ken Griffey Jr., the late add-on who is well past his prime and has a reliable history of playing on losing outfits. Paul Konerko just started to come out of his season-long funk. Jermaine Dye is entrenched in a late-season fade. Thome is the archetypal DH. Off-season pickup Nick Swisher went from being the self-proclaimed "Dirty 30" to the guy struggling to hit a "dirty .230."
Only two players, Orlando Cabrera and Ramirez, could scoot first to third on a regular base hit. Otherwise it was station-to-station, groundout to groundout, same old to same old. The team's biggest surprise, the AL MVP candidate Quentin, took himself out of the lineup with his own smothering intensity, fracturing his wrist by hitting it accidentally on his bat after a strikeout early this month.
Third baseman Joe Crede couldn't keep his back right, ending his season early, and the Social Security-collecting Contreras blew out his Achilles' trying to cover first in early August.
With a short-handed bullpen and an overworked starting staff, there was little room for error. So maybe it's amazing the Sox were in the pole position for a playoff berth. They needed early-season slumps by Cleveland and Detroit and the unlikely emergence of two under-the-radar off-season pickups, Quentin and Ramirez, to make it this far.
***
Every conversation about the White Sox eventually drifts back to those salad days in 2005 when an out-of-nowhere club captured the city's imagination and survived a long summer to roll through the playoffs, giving the city its first baseball championship since 1917. That team was built on guts, power and stellar relief pitching, with a little bit of luck and strong starting pitching.
If you care enough about the White Sox to still be reading this, you know what happened after 2005. White Sox general manager Kenny Williams dealt and dealt. Some moves worked out, some didn't. And the team floundered. They had a pretty good hangover year in 2006, but couldn't keep up with Detroit and Minnesota. Last season was an exercise in futility, barely worth another sentence.
Williams, who should still win the Executive of the Year regardless of the final result, made a series of bold moves in the off-season that landed Quentin, still the AL's home run leader despite missing the past three weeks, for a Minor Leaguer and Ramirez, a Cuban defector, for a pittance as a free agent. Williams thought he shored up the bullpen with free agent vets Octavio Dotel and Scott Linebrink, after a short-lived experiment in young power pitchers with 10-cent heads in 2007.
This year's bullpen was so good earlier this season that ESPN's supercilious (or just super-silly) broadcaster Joe Morgan dubbed it the best he's ever seen. The prediction was akin to Sarah Palin being dubbed the future of the Republican Party. The Sox's bullpen flamed out just as infamously.
So for the White Sox, who can see first place from their house, the season likely came down to three games in Minnesota--a hard assignment to be sure, but a doable one.
One win would've given the team the breathing room it needed for a final series at home, and Thursday looked like their night as several breaks fell Chicago's way. But the Twins kept fighting, some would say nipping like those damn fish with the sharp teeth, and a 10th inning rally segued into a wild celebration and a driver's seat in the division.
The Sox will face the Cleveland Indians in their final full series, at home with a chance to still win the AL Central. If the season ends with a half-game separating the Twins and Sox, Chicago hosts Detroit in a makeup game Monday. If that results in a tie between the two teams, a 163rd game will be played on Tuesday in Chicago.
But let's not get ahead of ourselves. The Sox will need to rebound quickly and sweep Cleveland if the Twins take care of visiting Kansas City, as expected.
"It's not over yet," Harrelson sullenly reminded his viewers late Thursday night while the Twins got rug burns rolling around the fake grass in exultation.
He almost sounded convinced.

Related
Popular in the Community