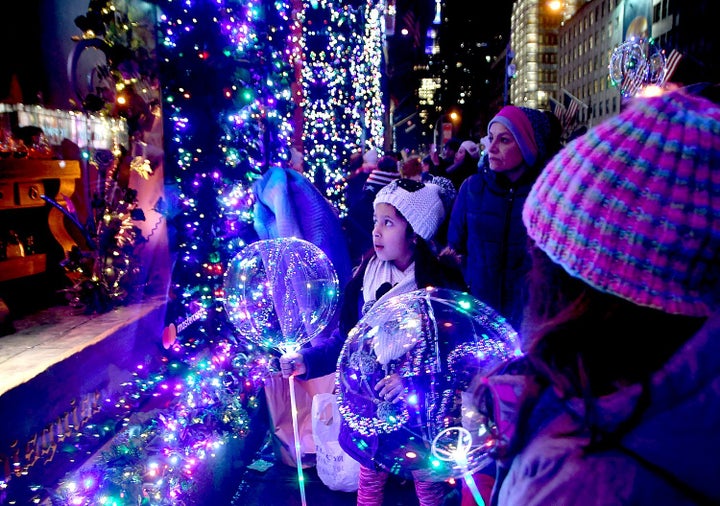 One of New York City's best holiday enchantments is taking a nighttime walk to see the animated windows and the holiday lights. My route typically starts at Macy's on 34th Street, then up to Fifth Avenue to visit Lord & Taylor's (both of these have nostalgic New York City themes this year), then up to Saks Fifth Avenue (celebrating the 80th anniversary of Snow White, with a light show that covers the entire building with Disney music) and Rockefeller Center, then up to Bergdorf Goodman (stunning displays that pay homage to New York City's iconic institutions including the New-York Historical Society and the American Museum of Natural History. I end up at Bryant Park on Sixth Avenue.
Start at Macy's at 34th Street, with displays along 34th Street and Broadway (amazingly, in the days before Christmas, the store is open until midnight; check schedule).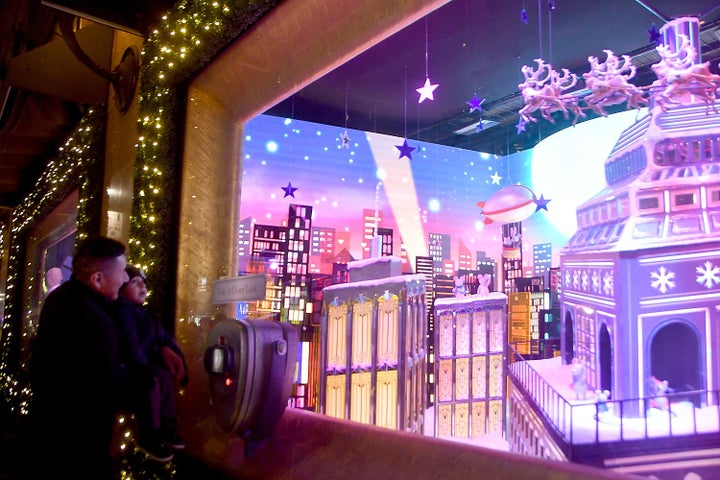 Macy's is a nostalgic peak at New York City in miniature, with a doll house that opens; scenes of the Roosevelt Island cable cars and New York trains, in addition to its time-honored, traditional windows along 34th Street based on the true child's letter to the editor of the New York Sun in 1897 asking "Is there a Santa Claus," with the reply, "Yes Virginia, there is a Santa Claus.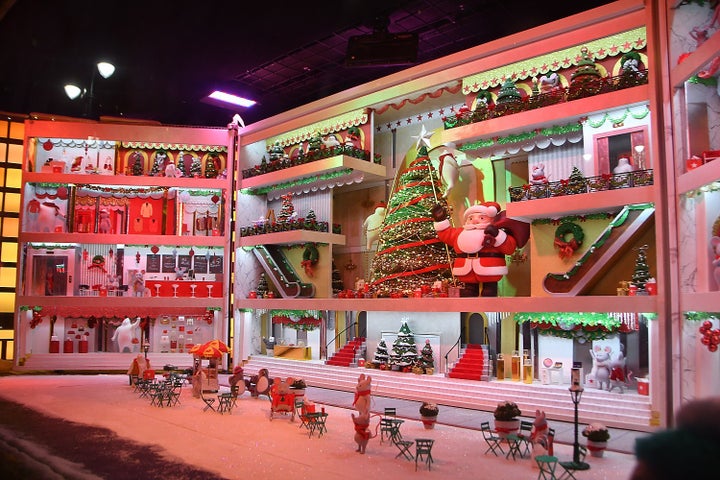 Walk up to Fifth Avenue, then north up to 38th Street to Lord & Taylor. This venerable store takes its holiday windows cue from the Hallmark Channel with whimsical scenes.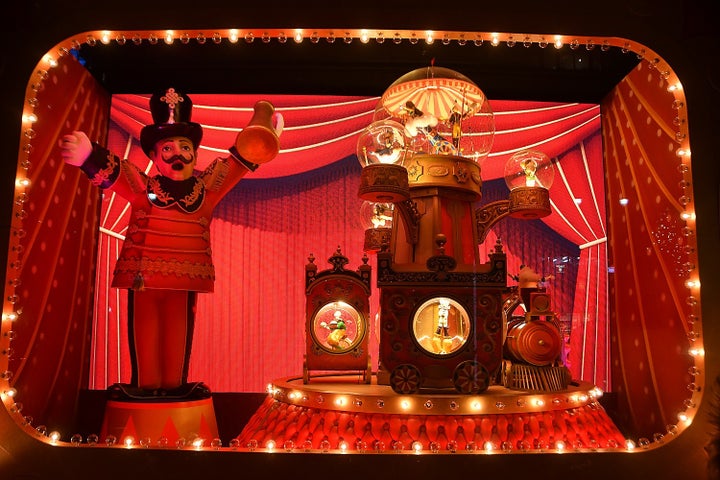 Continuing on, you pass the regal edifice of the 42nd Street Public Library, with its famous lions bedecked with holly wreaths for the holiday. If you come earlier, you should stop by the exhibit.
Continuing up Fifth Avenue by 49th Street, the crowds begin to get so thick, they are impassable, but people are courteous and kind to each other, and you make your way toward Rockefeller Center and directly across, Saks Fifth Avenue.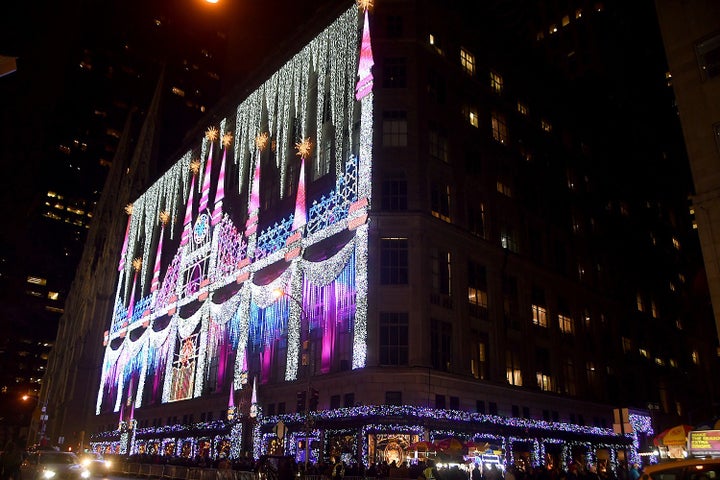 I watch the first light show that spans the entire front of Saks' building from 49th Street corner, diagonally across. It's a Disney theme this year, with Disney music, paying homage to the 70th Anniversary of Snow White.
I inch my way through the crowds to Rockefeller Center, getting a view of the famous tree above the ice skating rink, and the row of angels. This is also the best place to watch the Sound & Light show on Saks Fifth Avenue's facade.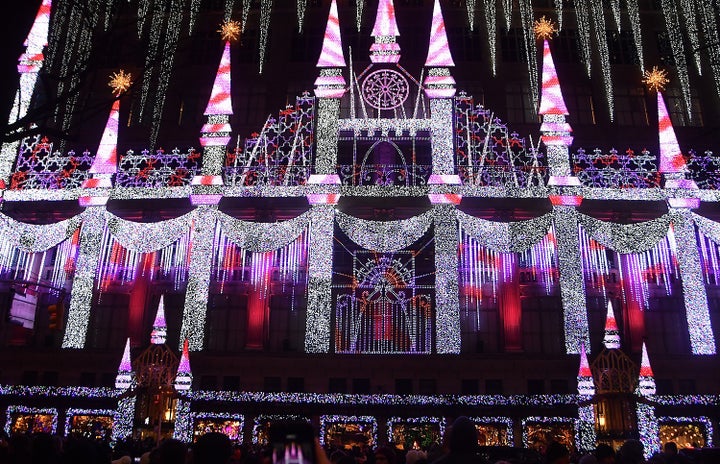 Rockefeller Center is the epicenter for Christmas in New York – the Christmas tree, ice skating on one of the most iconic rinks in the world (therinkatrockcenter.com, ringed by giant Nutcrackers and holiday garlands and a veritable parade of angels. Perhaps little known, there are delightful eateries and shops inside at rink level.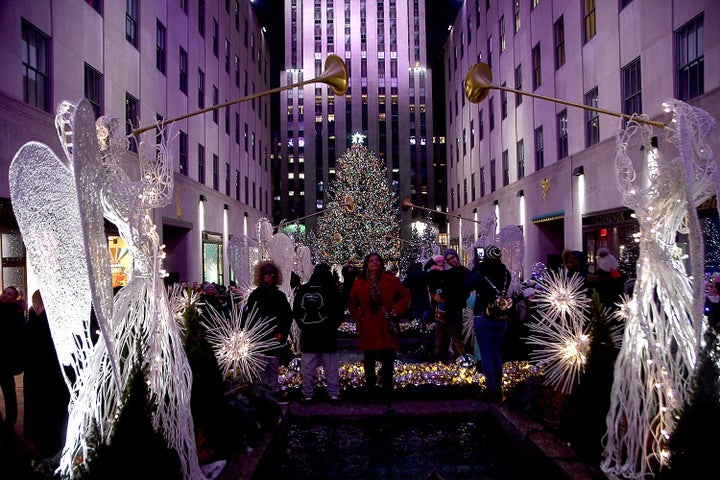 I don't visit Saks' windows yet, but instead, continue on up Fifth Avenue, passing by St. Patrick's Cathedral, and such iconic places as Cartier's, with its famous red bow, and Tiffany's, and the giant lighted crystal star in the middle of the crossroads of 57th Street and Fifth.
I come to Bergdorf Goodman's, still so elegant, and once again, with the most imaginative and magnificently designed windows. This year, the windows pay homage to iconic New York City institutions including the New-York Historical Society, American Museum of Natural History, Museum of the Moving Image, New York Philharmonic and New York Botanical Gardens.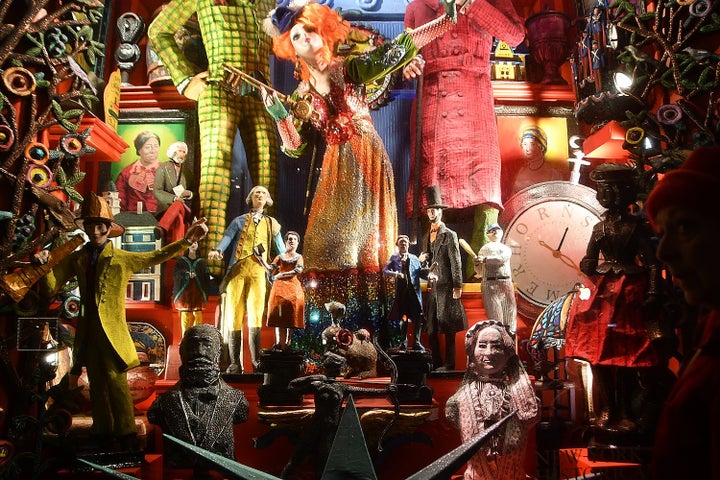 Just across the street, I take a peek at the view of the Plaza Hotel before reversing direction.
Coming back, I walk along Fifth Avenue, stop in at St. Patrick's Cathedral, and cross the street to queue up to walk by the Saks Fifth Avenue windows, with the scenes of Snow White.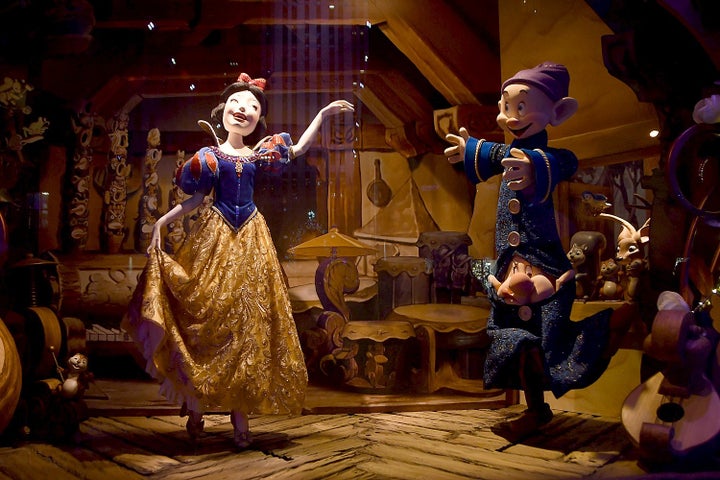 When I get to 42nd Street and the Public Library, I turn up toward 6th Avenue, to walk through the fantastic Christmas market that takes over Bryant Park with small boutique shops and eateries. There is a wonderful skating rink with its own Christmas tree.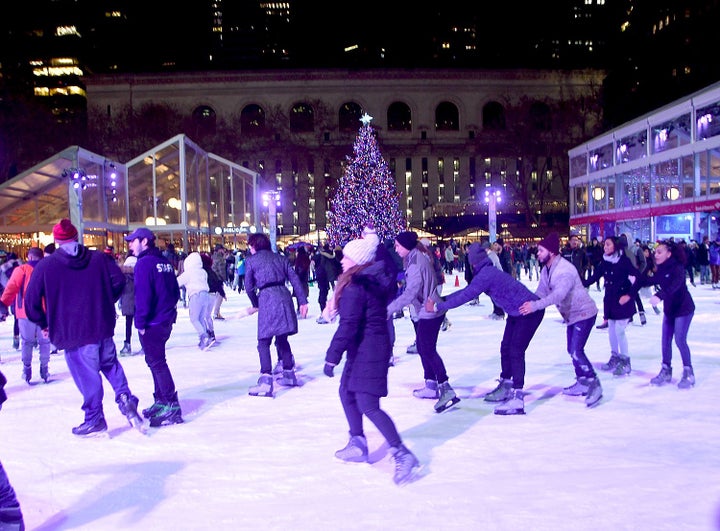 The walk takes about two to three hours.
Related
Popular in the Community