When President Donald Trump outlined his budget proposal for the upcoming fiscal year, it was seen as a grim day for science in America.
The president called for a cut of $5.8 billion, or 18 percent, from current funding for the National Institutes of Health, the world's foremost funder of biomedical research. That would have brought NIH funding to its lowest level in 15 years. If that wasn't dire enough, Trump went further. In addition to that 10-year budget plan, he called for axing $1.2 billion in NIH funding for the upcoming year.
Advocates warned that the reductions would all but freeze the NIH grant process, dramatically risking America's position as a global leader in science.
Now, weeks later, those same advocates are brimming.
On Sunday night, lawmakers came to an agreement on a bill to fund the government through September. And instead of steep cuts to NIH, lawmakers increased funding by $2 billion over fiscal 2016. The $34.1 billion in NIH funding is more than during any year of the Obama administration.
"This is the best scenario we could have hoped for," said Benjamin Corb, director of public affairs at the American Society for Biochemistry and Molecular Biology.
The budget deal reached by Congress is a massive rebuke of Trump's domestic priorities. The bill includes no funding for his beloved border wall with Mexico, keeps funds in place for Planned Parenthood, and largely maintains spending for the Environmental Protection Agency. But among the provisions in the text, the upping of the NIH budget may be the most remarkable, not just because it comes in the midst of immense fear among the science community over Trump's policies, but because it exemplifies just how little influence Trump enjoys within the halls of Congress.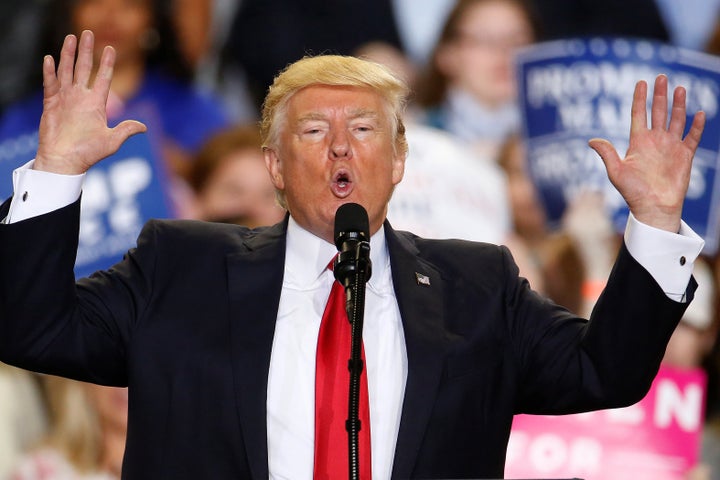 In his first budgetary showdown with lawmakers from both sides of the aisle, the president folded. And he folded spectacularly.
"We got rid of most of the draconian budget cuts proposed by President Trump, like cuts to NIH," Sen. Patrick Leahy (D-Vt.), ranking member of the Appropriations Committee, said on Monday. "You can't turn scientific research on health care on and off. You either continue it or you don't."
Aides and advocates involved in crafting the NIH portion of the deal described a negotiating process that was barely considerate of White House interests. As one Senate Democratic aide put it: "When Trump said he wanted those cuts, that was just ignored."
As far back as eight months ago, lawmakers from both sides of the aisle were telling stakeholders and advocates that NIH would "get a lift" when the next government funding bill was considered. The House had signaled a boost in the range of $1 billion, while the Senate was outlining a $2 billion increase. The question seemed to be whether the chambers would meet in the middle, or fall short of the floor.
"This is the best scenario we could have hoped for"
NIH Director Francis Collins continuously lobbied lawmakers to follow through on the rhetorical commitments that they routinely make to advanced research funding ― including Republicans who had warmed to science funding toward the end of the Obama administration. Advocacy groups worked with those lawmakers to spotlight funding holes and long-term trends that had left NIH funds dramatically lower than years ago, relative to inflation.
Trump's insistence on sharp cuts to domestic spending programs had the potential to complicate matters, compelling those lawmakers to define maintaining NIH funding at current levels as a legislative victory. But Republicans quickly distanced themselves from those cuts, and a group of 19 Democratic senators encouraged lawmakers to prioritize biomedical research funding in negotiations.
When White House negotiators joined the talks, congressional aides said, they dramatically tripped up their own leverage in several ways.
The first was launching unwinnable fights over glossy provisions. Trump's insistence that the border wall be funded, for example, effectively divided the Republican Party (border-state GOP lawmakers opposed the provision) and encouraged leadership to broker a deal with Democrats out of a need to get enough votes for passage.
The second was demanding that defense spending get a major boost in any funding bill. If GOP leaders were to satisfy this Trump demand while still maintaining Democratic votes, they needed to find domestic spending priorities to plus-up as well. NIH was a natural place for them to put additional money, since a bipartisan group of lawmakers had been gaming out increases since the last budget fights.
"It is hard to overestimate just how much they burned their negotiating power during the course of this," said another Senate Democratic aide of the White House.
The final government funding bill includes the type of NIH investments that advocates long sought. As Sen. Patrick Leahy's (D-Vt.) office noted, each of the 27 NIH institutes "receives increased funding. Compared to current funding, there is $120 million more for precision medicine, $400 million more for Alzheimer's research, and $110 million more for the BRAIN Initiative."
Advocates said they recognize that these gains could be reversed when the next funding showdown takes place in the fall. But for now, they're celebrating. As Corb noted, for the first time since 2003, NIH has gotten an increase in funding for two years in a row.
"The election changed things in 2016, but this is largely the same Congress," Corb said. "This Congress has been supportive of this community, and they should be. And we are thankful for that."
Popular in the Community