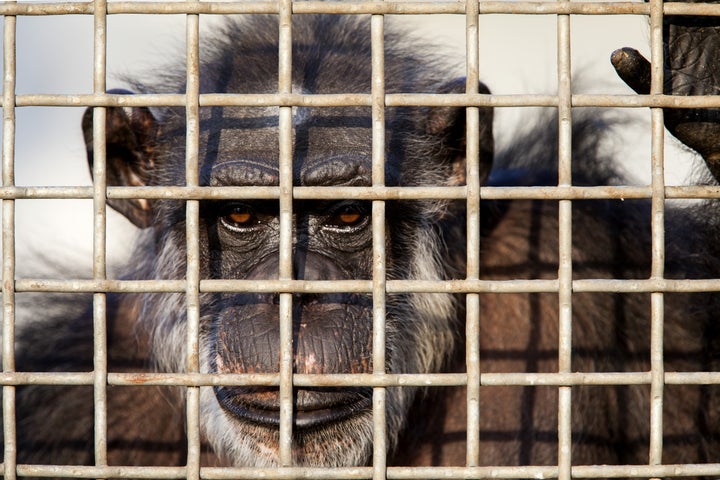 In an open letter released Wednesday, NIH Director Francis Collins said the agency's last 50 chimpanzees set aside for federal medical research will be retired and sent to a sanctuary.
"We have moved on from the time when research on chimpanzees was considered essential," Collins said, per the news outlet.
In 2013, NIH retired about 310 chimps, saying humans' closest relatives "deserve special respect." At the time, however, the agency decided to keep 50 chimps in case they were needed for medical research.
"I think this is the natural next step of what has been a very thoughtful five-year process of trying to come to terms with the benefits and risks of trying to perform research with these very special animals," Collins said in a recent interview with Nature. "We reached a point where in that five years the need for [chimp] research has essentially shrunk to zero. "
Though the NIH will no longer be using chimps for research purposes, Collins stressed that this change will not apply to other non-human primates, such as rhesus monkeys.
"These decisions are specific to chimpanzees.  Research with other non-human primates will continue to be valued, supported, and conducted by the NIH," he wrote in his letter.
Over the years, animal welfare groups have been pushing the NIH to end the chimp research program. One such group, the Humane Society of the United States, was quick to praise the agency's announcement.
"It's rare to close out a category of animal use so emphatically. That's exactly what's happening here, and it's thrilling," Wayne Pacelle, the nonprofit's president and CEO, wrote in a blog post.
Some animal research advocates, however, have expressed their disappointment at the news.
"Given NIH's primary mission to protect public health, it seems surprising," Frankie Trull, president of the D.C.-based Foundation for Biomedical Research, told Nature.
Peter Walsh, a disease ecologist at the University of Cambridge, added that the NIH move "narrows the possibilities for [chimpanzee] conservation research."
Since the sanctuary currently only has space for 25 more animals, however, the chimp relocations could "take years," reports NBC. 
The NIH has vowed to make the move as "stress-free as possible," saying the chimps will be kept in their social groups as the move gets underway. 
Chimp Haven celebrated the NIH decision in a Facebook post Wednesday:
Calling all HuffPost superfans!
Sign up for membership to become a founding member and help shape HuffPost's next chapter