WASHINGTON -- One day after conservative Republicans thrilled an audience of science research advocates by pledging their support for more federal investments in their field, House Republicans on the Budget Committee voted against appropriating more money for just that purpose.
Late Wednesday evening, the House Budget Committee rejected an amendment offered by Rep. Kathy Castor (D-Fla.) to add roughly $51 billion over 10 years in new mandatory funding for the National Institutes of Health. The amendment would have spread out the money so that it increased over time, providing a stable and growing stream of funds from which the institutes could draw.
The amendment died along party lines, with 22 Republicans in opposition and 12 Democrats in favor (two Democrats missed the votes).
At issue were the provisions in the amendment to help pay for the increase in NIH funding. Democrats called for reducing tax expenditures for the top 1 percent of income earners, cutting down on corporate tax breaks, closing loopholes for businesses that send jobs abroad, and other usual elements of the revenue hike potpourri.
Republicans are philosophically opposed to tax hikes, so their opposition shouldn't necessarily have caught anyone off guard. But the timing is noteworthy. On Tuesday morning, numerous congressional Republicans appeared at a joint event by the American Cancer Society Cancer Action Network and Stand Up To Cancer, during which they pledged their commitment to funding biomedical research.
Rep. Matt Salmon (R-Ariz.) called for NIH funds to be raised from roughly $30.1 billion to around $40 billion in the year 2021. Rep. Kevin Yoder (R-Kan.) subsequently raised the stakes even higher, saying the federal government should be spending $60 billion on NIH research and that the amount didn't even need to be offset. Neither of those members is on the budget committee, though Yoder is on appropriations, which means he may end up having a say in the final outcome on NIH funds.
But the House GOP budget makes that hard, as it calls for dramatic reductions in non-discretionary spending. And as Wednesday night's amendment vote demonstrates, it's easy to commit to a plush, well-funded NIH; it's harder to agree on ways to get there.
Before You Go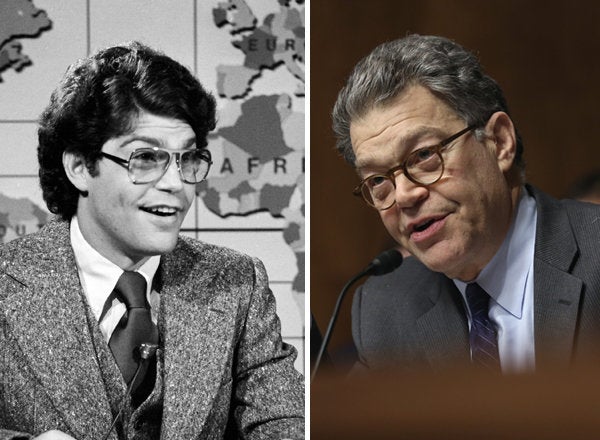 Politicians Then And Now
Popular in the Community