Ten thousand dance fans experienced shock and awe, in a good way, last weekend at the Los Angeles Music Center when The Joffrey Ballet performed the vastly influential "The Rite of Spring" (Le Sacre du Printemps) at the Dorothy Chandler Pavilion. Seeing the game-changing ballet one hundred years after its creation was for many in the audience shattering, for others bewildering -- for all, a grinding encounter with dance history.
A scattered response was appropriate. Vaslav Nijinsky's primitive and tribal choreography combined with Igor Stravinsky's raging score to foment the "Stravinsky riots," a watershed event of modern art that occurred at "Rite"'s premiere May 29, 1913. With Europe edging toward war, even sophisticated Parisians could not tolerate the wild ride that ballet impresario Serge Diaghilev and his Ballets Russes presented at the Théâtre des Champs-Élysées. Roughly hewn peasants, dressed in near sacks, tromping in circles as if through mud; spastic jumps and leaps; heads tilted and arms broken like scarecrows, and all bounding to Stravinsky's violent, eruptive polyrhythms. Where was Giselle?
Angelenos flocking to the sold-out performances in the Glorya Kaufman Presents Dance at the Music Center series included actors Charlize Theron and John Cusack; the latter a self-admitted "Rite junkie" who eagerly attended to check out Nijinsky's dance machinations.
[story continues below slideshow]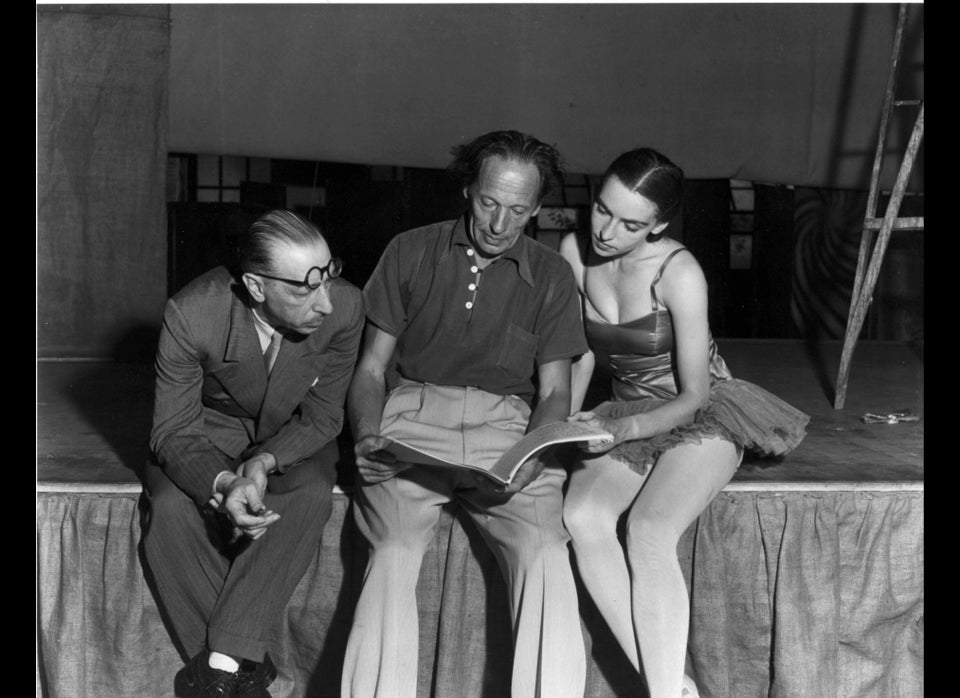 Joffrey Ballet "The Rite of Spring"
The ballet depicts, in its 35-minute duration, pre-modern Russia in a communal ritual, the human sacrifice of a young woman of the tribe. It's colorful, engaging ... and horrifying. Joffrey Ballet Artistic Director Ashley Wheater noted, "It's very complicated. Many different groups [of dancers] hearing different rhythms." Wheater fully supported the restaging: "When we look back, it allows us to move forward chorographically; [staging "Rite"] allows us to do more today."
A team of art and design experts led by Millicent Hodson and Kenneth Archer directed the Joffrey's gargantuan first restaging "Rite" 25 years ago (then working from a nearly blank slate at the behest of company director Robert Joffrey). The ballet had disappeared, gone missing. They cobbled it together as dance detectives. Nonetheless, according to Hodson, speaking at a "Rite" symposium conducted at the theater concurrent to the performances, there were "hundreds of gaps" of choreography to fill in. Hodson and Archer were joined by dance and Russian art experts including Ballets Russes expert Lynn Garafola to chew over the fascinating genesis of the ballet. A joy for dance lovers, the talk-fest shared the spacious Dorothy Chandler Pavilion mezzanine with a photo exhibit devoted to Los Angeles dance history.
The exhibit, Stravinsky and L.A. Dance, which runs through February 17, claims for Los Angeles special status based on the composer's long residency here -- thirty years, during which time the gregarious and high-producing composer wielded heavy influence on the local arts scene. L.A. was a freewheeling arts environment then (as it arguably remains), untethered to old-world traditions.

Curator Lorin Johnson, Associate Professor in the Dance Department at California State University, Long Beach, and the artistic advisor for L.A.'s Rite, noted:
"Stravinsky lived in Los Angeles longer than he lived anywhere else -- and his West Hollywood home was the Grand Central meeting ground for the composer's friends and collaborators -- Thomas Mann, Arthur Rubinstein, George Balanchine, Adolph Bolm, Aldous Huxley, Christopher Isherwood, Nadia Boulanger.

At the same time early dance artists such as Norma Gould, Ernest Belcher, Micho Ito, Serge Oukrainsky, and Andreas Pavley thrived in L.A.'s experimental environment while choreographers Adolph Bolm, Theodore Kosloff and Lester Horton were directly influenced by Stravinsky and created pieces built on his music."
Several former Joffrey ballerinas, original members of the 1987 cast, returned for a "Rite" reunion. Beatriz Rodriguez, for 27 years a Joffrey ballerina and the first to dance "The Chosen One" (the female lead; selected for sacrifice, she dies on stage), said: "Robert Joffrey knew me as a dancer. I had a lot of dramatic roles: Kate in "The Taming of the Shrew," Juliet in Cranko's "Romeo." Dancing "The Chosen One" made me feel spiritual. It took a lot to not run away ... and I'm still in it." Leslie Carothers-Aromaa remembered learning her part as "a process of dance archeology. It was not always the most fun. It was not movement as we know it. Robert Joffrey conveyed this to us, that we were a cog in this [dance] machine." Jodie Gates remembered, "At our premiere, Millicent and Kenneth gave us each a hand painted card reflecting our character and saying how much they cherished each of us. The L.A. earthquake happened, so we knew we had done a good job." Carole Vallesky, the second Joffrey ballerina to dance "The Chosen One," said, "Was there a narrative for my performance? Yes, absolutely. At that time, Robert Joffrey was dying. I used to think about him while I danced. He was surrounded by elders; no one could help him. You can't escape that circle. You are flailing. The only way out is up."
Debra Levine blogs on dance, film, music, & the Los Angeles arts scene on artsmeme.
Related
Popular in the Community