During his 1,500-foot high climb on a two-inch wire across a gorge near the Grand Canyon, Wallenda was heard praying to Jesus quite often. At one point in his nearly 23-minute walk across Little Colorado River Gorge, Wallenda said, "Definitely whipping that cable .... Golly, wind. Go away, in the name of Jesus ... Thank you, Lord. Thank you for calming that cable, Lord ... Oh, yeah. That's my savior. That's Jesus."
The tightrope walker opened up about his religious beliefs on "The View" this week, explaining (above), "I have a fear of God. And that's my fear. I respect him deeply and I believe he's given me this unique talent ... I don't believe that God is keeping me on that wire in any way, no ... I know where I'm gonna go if I do fall ... I just feel confident in my beliefs that I'm gonna go to heaven."
The Christian Science Monitor noted that Wallenda's new memoir, "Balance: A Story of Faith, Family, and Life on the Line," released this week, includes passages like, "God's grace is the balancing pole that keeps me from falling into self-obsession and self-deception. Whatever I have achieved -- and will ever achieve -- is the result of my relationship with Him."
From Neil Patrick Harris to "Modern Family" creator Steve Levitan, to comedians Ricky Gervais and Doug Benson, Twitter had a field day with Wallenda's constant prayer.
And YouTuber Kevin Conklin made this video of all 152 religious mentions Wallenda made during his walk over the canyon. Enjoy!
Before You Go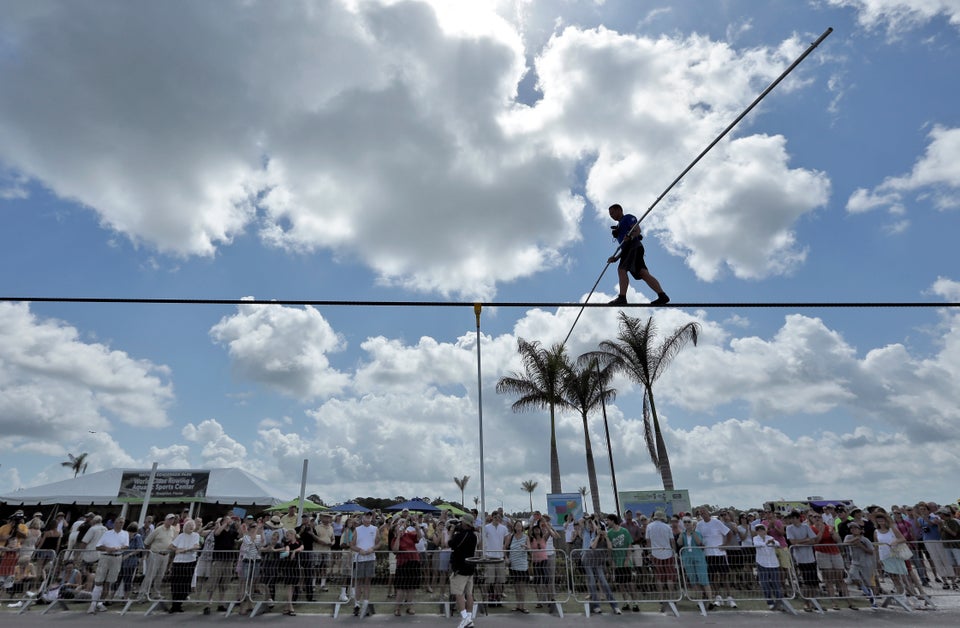 Nik Wallenda
Popular in the Community