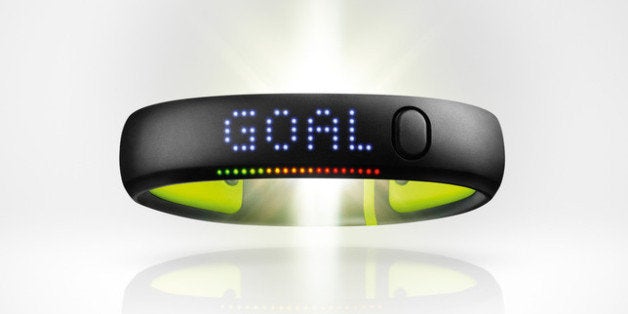 NEW YORK -- Nike changed the game nearly two years ago when it announced the Fuelband, a bracelet that measures the wearer's everyday activity, calories and distance traveled and displays it all on an LED screen. Enthusiasm for the device was high -- Gizmodo's Casey Chan called it "an awesome fitness wristband for your entire life," and when it became available for preorder, the first batch sold out in minutes, leading to high markups on eBay.
But what we're getting with Nike's Fuelband SE is less of a revolutionary leap forward and more of a refresh.
"Everything you know and love remains the same," Stefan Olander, Nike's vice president of digital sport, told a group of journalists and guests at an event unveiling the device in Tribeca.
While it may not be innovative, the new version of the Fuelband, which is available for preorder and goes on sale next month, does represent an improvement. The biggest change is the inclusion of the new version of Bluetooth, which allows for real-time syncing with the iPhone 4S and later models. (There's still no Fuelband app for Android devices.)
Real-time syncing -- already a feature on devices from Fuelband rival Fitbit -- enables several new features. One of them, called "Win the Hour," encourages frequent movement by notifying you via the Fuelband's display or notifications on your iPhone if you aren't moving enough. (The Jawbone UP, another Fuelband rival, has a setting that will make the wristband vibrate if you don't move enough during a set period of time.)
Like the original Fuelband, the Fuelband SE converts activity to what Nike calls "NikeFuel" points that allow you to compare your activity with friends and family. The company said it had improved the NikeFuel algorithm to make it more accurate -- after the first Fuelband was released, some people reported they were awarded Fuel points while riding the subway or in a cab.
Nike also has made minor improvements in terms of the Fuelband's battery life and waterproofing. People wearing the Fuelband SE also can now double-tap on its single button to see the time, so they no longer have to scroll through different menu items to use the device as a watch.
The market for wrist-worn activity trackers is small but competitive. Fitbit and Jawbone are the other biggest players in the category. Jawbone's UP band measures activity and tracks sleep, but doesn't have its own display and only syncs if you plug it into the headphone jack of a smartphone. Fitbit's new Force bracelet, announced last week, has a display and tracks sleep, steps, distance, calories, floors climbed and active minutes, and pairs with newer iPhones to show incoming call information.
While the market is growing, most people don't yet have activity trackers. According to the technology and market research firm Forrester, only about 5 percent of U.S. adults who use the Internet monitor their daily activity with a sensor device.
These activity trackers also face competition from so-called smartwatches, like the Samsung Galaxy Gear, which went on sale this month. Although they're more expensive and have a wider range of features, these watches also measure many of the same things activity trackers measure. Apple is reportedly working on a smartwatch, and recent reports suggest Google is planning to announce a smartwatch at the end of this month.
The Nike Fuelband SE, which will sell for $149, will be available in the U.S., Canada, France, the U.K., Germany and Japan on Nov. 6, and is available for preorder on Nike's website beginning Oct. 15.