"The NIKE MAG is no longer the 'greatest shoe never made.' The mythical shoe that originally captured the imagination of audiences in Back to the Future II is being released – and they're here to help create a future without Parkinson's disease," Nike wrote in a press release. "The 2011 NIKE MAG shoe was designed to be a precise replica of the original from Back to the Future II. The aesthetic is an exact match, down to the contours of the upper, the glowing LED panel and the electroluminescent NIKE in the strap. The 2011 NIKE MAG illuminates with the pinch of the "ear" of the high top, glowing for five hours per charge."
See photos of the new Nike MAG shoe below: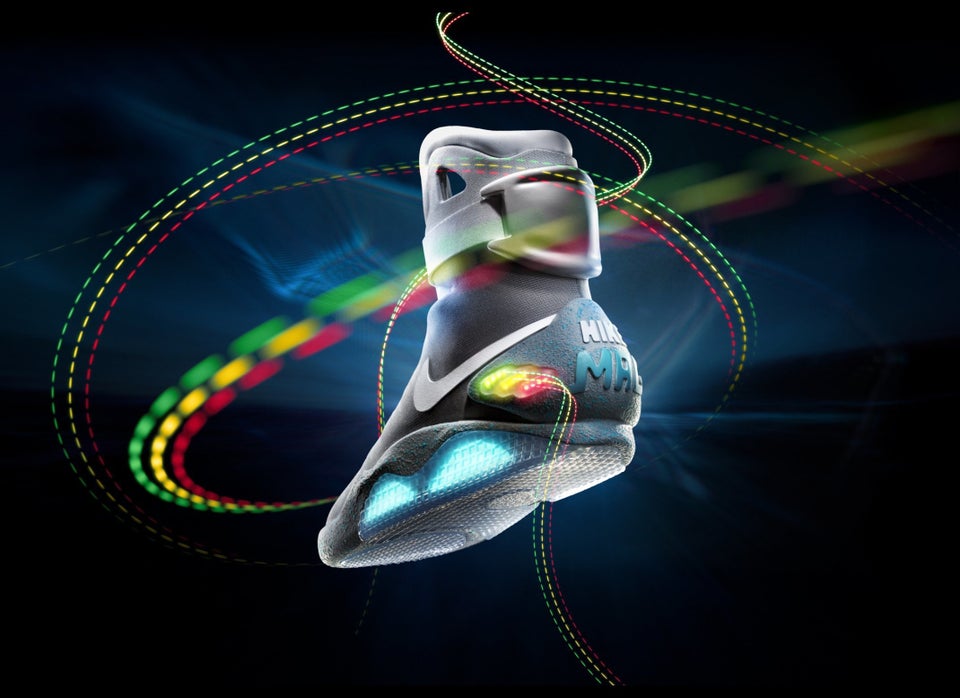 PREVIOUSLY:
"Power laces. All right!"
YouTube user DocEmmetBrown88 (obviously) posted a video on Tuesday (available above) called "McFly's Closet," which features row upon row of shoes closely resembling those worn by Michael J. Fox's character, Marty McFly:
"If I didn't know any better, I'd say that looks like shelves and shelves of 2011 Nike MAG shoes," the YouTube description reads.
And last night, Nike invited Matt Halfhill at Nice Kicks to Los Angeles for "a big announcement" on Thursday. He's posted pictures of Back to the Future goodies, including metal-shield glasses and retro Pepsi, he received in his gift box.
Last October, Nice Kicks posted documents related to a patent application for Nike shoes with an automatic fastening system, battery pack and charging stand. And in June, a user posted a short video of what is described as a Back to the Future-themed commercial for Nike being filmed at a Los Angeles-area mall. So all the evidence says that this is pretty much happening.
WATCH: Marty McFly discovers power laces:
Are you going to buy a pair of the Nike MAG shoes? Let us know your thoughts in the comments below.
Popular in the Community