Online sales jumped 27 percent from Sunday through Wednesday, according to Edison Trends, a Silicon Valley digital sales and trends research firm. Nike's sales decreased 2 percent during the same period last year, according to Edison figures. 
"There was speculation that the Nike/Kaepernick campaign would lead to a drop in sales but the Edison Trends data does not support that theory," Edison co-founder Hetal Pandya said in a statement to HuffPost.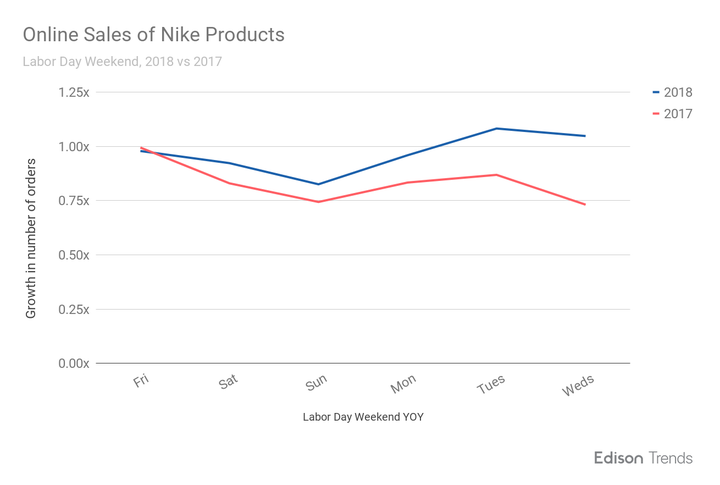 Nike's emotional ad pays homage to those who "dream crazy." It features several athletes, including tennis ace Serena Williams and hoop star LeBron James, and many athletes who overcome serious challenges.
It's narrated by Kaepernick, who launched the movement to take a knee during the national anthem before NFL games to protest racial inequality and police brutality. "Believe in something," the ad concludes. "Even if it means sacrificing everything." 
Film director Spike Lee on Friday called Nike's decision to feature Kaepernick "very courageous" in the face of relentless criticism by Trump over the NFL protests during the national anthem. "I think Nike's on the right side of history with this move," he told ESPN.
Tiger Woods on Friday called the ad a "beautiful spot." He told ESPN: "I think Nike is trying to get out ahead of it and trying to do something special, and I think they've done that." 
Social media chatter about Nike has also skyrocketed since the campaign began. "Kaepernick" and "Nike" both trended on Twitter after the campaign was announced. Comments about Kaepernick jumped an astonishing 360,000 percent, according to trend-tracking company 4C Insights, Marketwatch reported.
Some of that chatter was from Trump.
The company's flagship store was located in Trump Tower but moved out this year for another Manhattan location. Nike's new landlords are still covering its Trump Tower rent on the Nike lease, which runs until 2022, Bloomberg reported earlier this year. 
Some Trump supporters boasted on social media that they're burning their Nike gear and even recommended buying Nike shoes "favored by liberals" and torching them — which would help boost Nike's bottom line.
Calling all HuffPost superfans!
Sign up for membership to become a founding member and help shape HuffPost's next chapter
BEFORE YOU GO