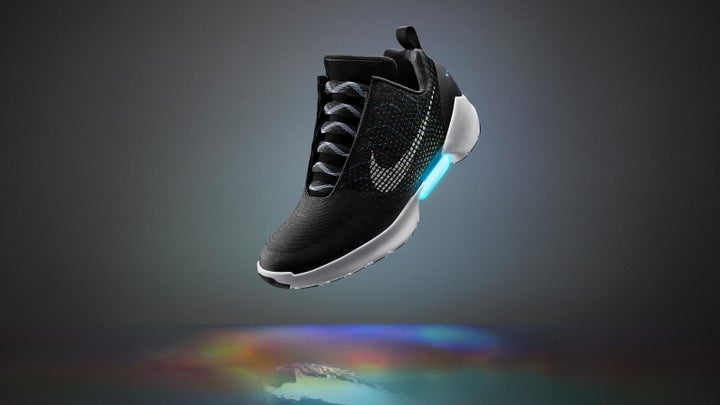 There was, however, a catch to the big shoe reveal: The sneakers were a one-of-a-kind creation that would be sold at auction. In other words, we can't all be Marty McFly.
Called the Nike HyperAdapt 1.0, the sneakers will feature special "adaptive lacing" that will tighten and loosen the shoe at the press of a button.
"When you step in, your heel will hit a sensor and the system will automatically tighten," Tiffany Beers, a senior innovator at Nike, said in a release. "Then there are two buttons on the side to tighten and loosen. You can adjust it until it's perfect."
Though the first iteration of the HyperAdapt will be manually operated, Nike shoe designer Tinker Hatfield said that the company hopes to one day roll out a self-lacing creation that will adjust automatically.
"Wouldn't it be great if a shoe, in the future, could sense when you needed to have it tighter or looser? Could it take you even tighter than you'd normally go if it senses you really need extra snugness in a quick maneuver? That's where we're headed. In the future, product will come alive," he said in the release.
Nike says the HyperAdapt 1.0 will go on sale in three colors during the holiday season. The shoe, however, will only be available to members of the company's fitness portal, Nike+. (Membership to the portal is free.)
Related