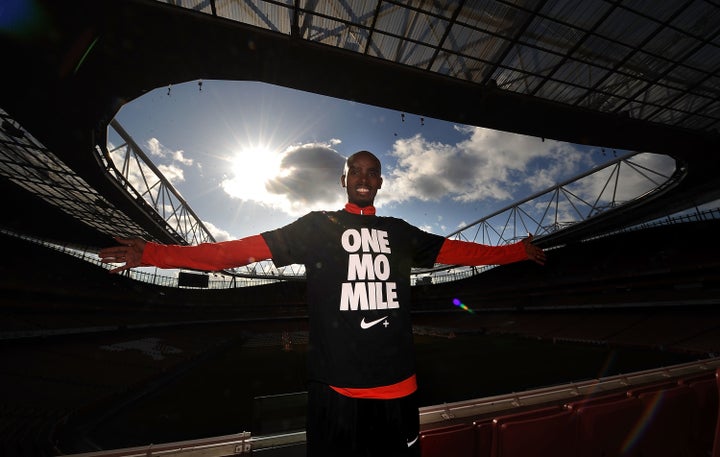 In a Sunday letter to his employees, Nike president and CEO Mark Parker slammed President Donald Trump's executive order that banned Syrian refugees and temporarily blocked travelers from seven Muslim-majority nations from entering the United States.
"Nike believes in a world where everyone celebrates the power of diversity. Regardless of whether or how you worship, where you come from or who you love, everyone's individual experience is what makes us stronger as a whole," Parker said in the note. "Those values are being threatened by the recent executive order in the U.S. banning refugees, as well as visitors, from seven Muslim-majority countries. This is a policy we don't support."
Parker's statement specifically referenced British Olympic champion Mo Farah, who was born in Somalia, which is one of the countries on Trump's travel ban list. In a Facebook post Farah raised concerns about the president's executive order. The four-time gold medalist, who is sponsored by Nike, has lived and trained in Oregon for the past six years ― he was in Ethiopia when the order took effect.
"President Donald Trump," Farah wrote, "seems to have made me an alien."
"It's deeply troubling that I will have to tell my children that Daddy might not be able to come home ― to explain why the President has introduced a policy that comes from a place of ignorance and prejudice," he continued in the post.
On Saturday, a federal judge temporarily blocked part of the order that left lawful permanent residents ― commonly known as green card holders ― in limbo under the order. The Department of Homeland Security said on Sunday that the ban shouldn't apply to green card holders, and they can "expect swift entry" once national security checks are completed.
On Sunday night, a spokesperson for Farah told the BBC that he would be allowed to return to the United States, where his family remained while he trained in Ethiopia.
"We understand from the statement released this evening by the Foreign and Commonwealth Office that the executive order will not apply to Mo, and we are grateful to the FCO for urgently clarifying the situation," the spokesperson said. "Mo is relieved that he will be able to return to his family once his current training camp concludes. However, as he said in his earlier statement, he still fundamentally disagrees with this incredibly divisive and discriminatory policy."
In his letter to employees, Parker said Nike will "do everything in our power to ensure the safety of every member of our family: our colleagues, our athletes and their loved ones."
"Nike," Parker wrote, "stands together against bigotry and any form of discrimination."