Even speaking the words "yoga pants" can spark a variety of conversations that go from loving them to hating their existence. Workout pants are no strangers to controversy, becoming revolutionary items in the fashion world as of late.
Well, another day, another pair of yoga pants. This time it's from one of our favorite sports apparel brands, Nike, who have an interesting take on the comfort front... and back.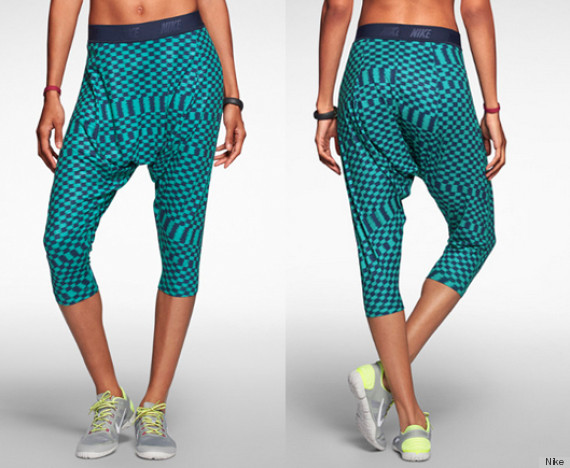 We can only imagine your reaction to these pants, but here were our first reactions.
Julee Wilson, Black Voices Style Editor: Wowzas! I'm a little speechless... although it's a surefire way to avoid camel toe! #winning
Rebecca Adams, Lifestyle Editor: Oh, so THAT'S what I was missing in my running pants -- webbing between my thighs. Silly me. It's like the anti-thigh gap.
Carly Ledbetter, Lifestyle Fellow: At least if someone is trying to look at my butt during a workout, they won't be able to find it. Downside, neither will I.
Dana Oliver, Senior Beauty Editor: It's like a cross between men's briefs, capris and harem pants. Please Hammer, don't hurt 'em!
Jamie Feldman, Style Fellow: 1. If I stare at them long enough will the pattern look like it's moving? 2. WHY 3. SERIOUSLY, WHY!?
Michelle Persad, Fashion Editor: At least these give you an extra place to store your water bottle during a workout?
Chanel Parks, Style Fellow: HAHAHAHAHAHAHA, I'm totally copping a pair.