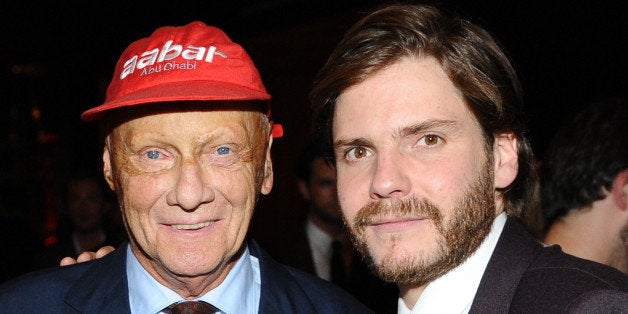 There are two heroes in "Rush," Ron Howard's motor-revving new movie about the 1976 Formula One season. James Hunt, as embodied by hunky Australian Chris Hemsworth, may be the guy on all the posters, but we care at least as much about his nemesis, Niki Lauda, portrayed by German-Spanish actor Daniel Brühl. And whereas Hunt is no longer with us, Lauda -- spoiler alert -- remains available for junket interviews, giving his character a certain edge in the contest for audience sympathies.
Lauda knows all about gaining an edge, especially when the competition is Hunt. The two men went head to head on the Grand Prix circuit in 1976, risking their lives for glory -- and ultimately developing a mutual admiration, despite their diametrically opposed personalities. "He was the only man I ever envied," Brühl's Lauda says in the film, and the real-life Lauda agrees. "First of all, he was really quick," Lauda says, using the sport's preferred synonym for "fast." "I watched him very carefully. What was he doing? Where can I get him? What are his weaknesses? So it was an ongoing battle, but with a lot of respect because of his capabilities."
Hunt was the handsome, hedonistic Brit who let instinct guide him down the track. Lauda was the unfriendly Austrian with rat-like features who based every decision on careful calculations. He was harder to like, at least until he won over the racing world with his bravery following a fiery midseason crash that almost killed him. As Brühl points out, "The structure and the story is you don't end up just liking one. You have the villain and the hero in other conventional movies, but here you like both of them."
HuffPost Entertainment:Niki, is it true that the whole film originated when you met screenwriter Peter Morgan on an island?
Niki Lauda: Ibiza. I have a house there. [Peter] said to his wife, who is Austrian, "You know, I would like to talk to Niki about my idea about the movie." She said, "Niki on holidays is always bored." So she called me: "Do you want to meet my husband?" I said, "Fine. Five minutes." And there it all started. I was approached a couple of times by documentaries and other things, but I was never interested to bore myself with telling this kind of story. When Peter came along, it got interesting because he's a known quality scriptwriter.
Daniel, were you aware of this story growing up?
Daniel Brühl: When I was a kid, we all knew who Niki Lauda was. He was a hero, a living legend in Germany. Everybody knows him. And he's still very present on TV because he's commenting for Formula One.
Your impersonation of him is uncanny. Is that something you had in your back pocket, or did you come up with it for the movie?
Brühl: At the audition with Ron, Peter Morgan, the producer Andrew Eaton and the casting director Nina Gold, I started to show off. I just spoke in my fake Austrian accent, which I hadn't learned by then. I thought, with English and Americans, they can't tell the difference. Ron was saying, "Niki has such a distinctive accent." I said, "I can do it. I can do it. No problem." So I started to talk in German Austrian, and then Peter Morgan, oh man, he killed me. He answered in perfect Polish Viennese that this accent was shit. That's the first time I realized he speaks German. And then I realized that he and Niki knew each other. I was red like a tomato and said, "Oh, shit. Well, I can do it, I think. I will need some training."
Niki, do you have a Daniel Brühl impersonation you can do?
Lauda: I have this certain impression, the wrong impression, that these movie people are living their own world. Most of them flying, not feet on the ground. But when he came in this restaurant -- straightforward, normal guy like we sport people should be and mostly are -- immediately we had the right understanding of each other, and off we went.
Daniel, what's it like being here in Toronto with such different movies, "Rush" and "The Fifth Estate"?
Brühl: It is a huge step for me in my career. Things have changed and that's thanks to "Rush" and thanks to Ron. He not only supported me in our movie, but also getting me into "Fifth Estate" because he had shown the unfinished movie to Spielberg and people that helped me.
Somebody pointed out to me that "Rush" itself is structured as a race, with James pulling ahead, and then Niki. Back and forth they go.
Brühl: Yes, not only in the race, but when they get married, too. James is first, then he fucks it up a little bit. Then I get married. And the two weddings couldn't be more different. Peter Morgan is such a genius when it comes to stories based on real people. This line that I say to my future wife before I marry her. I always loved that: "I will be bad in giving you flowers and holding your hand, but if we're going to do it … "
Lauda: I knew my lady only three months. Everybody got married so I thought, "Why not? Let's try to get married." It was the only reason I did, and she really didn't care that much about it. She said, "Listen we can marry, fine, but I am a free bird. I don't need to get married, but let's go." The problem was I had no tie.
You didn't have a tie for your own wedding?
Lauda: We needed to get married without anybody knowing. We needed no press. It needed to be fast. We went after hours. After five. They said we could go to this place, this shitty little place in Austria. I went there with my lady and I had no tie. They said, "You need a tie." So I went outside and there was a guy walking by. I said, "Can I have your tie?" He said yes. I walked back in. Five minutes, it was over. [Laughs.]
There are times when the portrait of you is pretty unflattering. Did that bother you?
Lauda: When I saw it the first time, I thought, "I could not have been that bad." Peter always said to me, "What I'm going to write about this movie and about you is my business. You can tell me things, but you will never approve it and I will never even read it to you." So I never knew what was coming out except for little pieces where I had to correct him, because he was writing that there's a key in the Ferrari, for example. There's no key, there's a button. But when I saw the movie the first time without music, without emotions, just like this, I looked like a real bad guy, the way he played me. But then, the third time, when I saw it in London, with distance, not involved anymore, just as an objective viewer, it was the opposite. I think it was normal. The end for me to me was the most emotional, when I really tell James how much I admire him or respect him. The whole thing in the end I think is perfectly right.
Daniel, how did you and Chris Hemsworth get along?
Brühl: Very good chemistry. He's a very likeable guy, super-laid-back Australian surfer kind of guy. Very humble. So we were very different, too, culturally, physically, and also as actors. He comes from a different world of movies, but there was also mutual interest and curiosity -- we spent a lot of time together -- and good sense of humor and respect. And that's exactly what we needed for the end of the movie. It was helpful because, well, I'm sure we liked each other. Well, I liked him. You'd have to ask him. I'd like to believe that we like each other.
Did you guys really get to drive Formula One cars?
Brühl: No. They were so concerned when we approached these cars, the original ones. I think they were more concerned about the cars than for our lives, but we did a lot of Formula Three driving. I did it at the free course in Spain to get my first experience, and then I tested cars with Chris before the shoot. I had a little accident. The wheel came off and I spinned and it made me feel uncomfortable for a couple of seconds. And then immediately, it was in my nature, I was suspicious. And I thought it was either Chris Hemsworth who manipulated my car or it was Ron Howard, so I can get better into the part.
Niki, in the film you have a "20-percent rule." You'll accept that much risk of death, but no more. Is that true?
Lauda: Yeah, because you love what you're doing, but every year that were one or two guys who got killed right in front of you. You saw it happen. This was the biggest problem. So I do this: I went down to the scene to find out exactly what happened. To give an explanation to me. He made a driving error, so don't make the driving error. Or the guardrail is in the wrong place so move the guardrail. Try to explain why this guy got killed and don't let that happen to myself. It's the only way you can overcome this issue.
Please tell me racing is safer now.
Lauda: Twenty years ago, Ayrton Senna and Roland Ratzenberger got killed. The last two. That was 20 years ago. In my time, every year at least one [driver died]. So they've made a really good step forward.
"Rush" opens in limited release on September 20 and wide on September 27.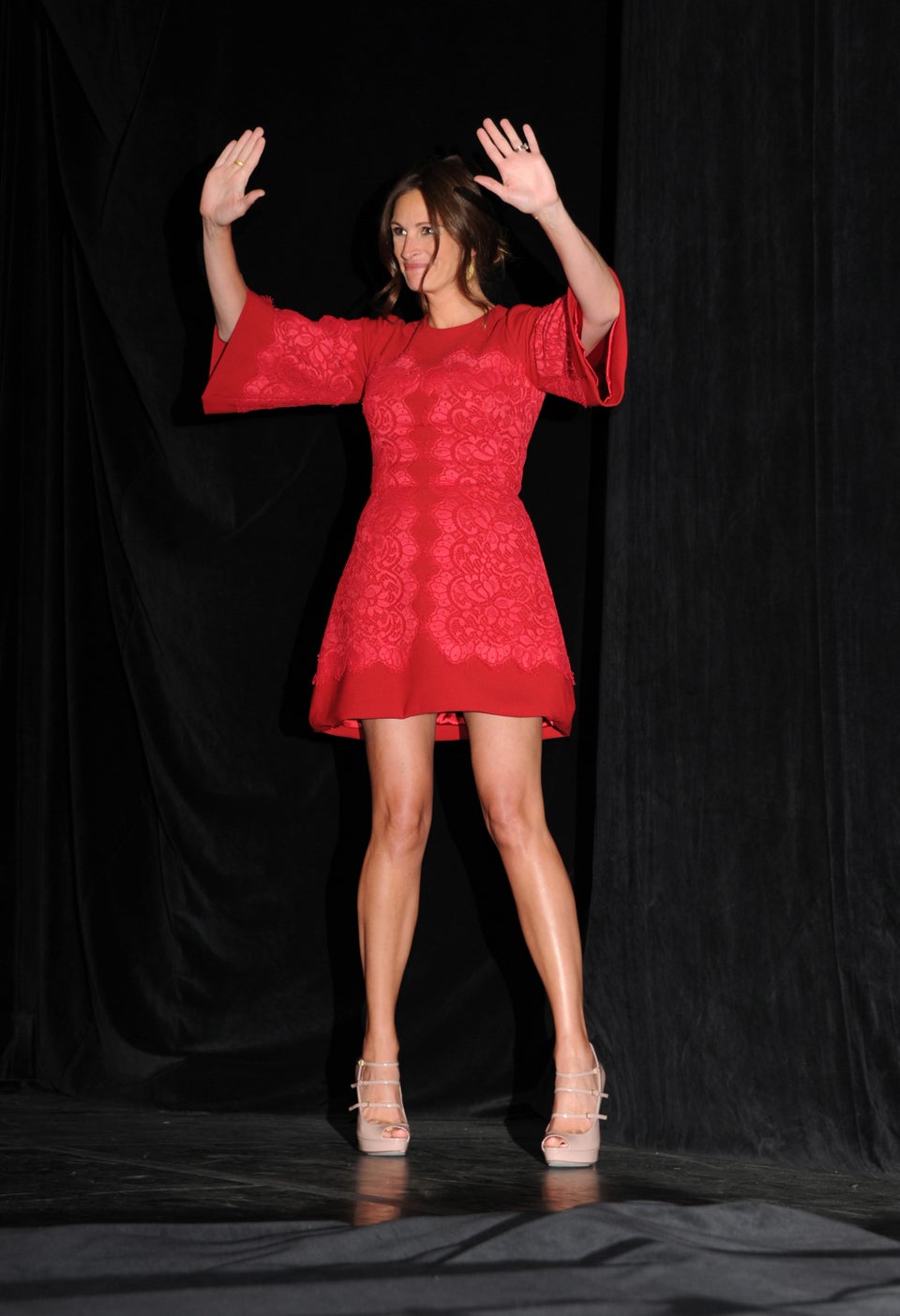 2013 Toronto International Film Festival
Popular in the Community