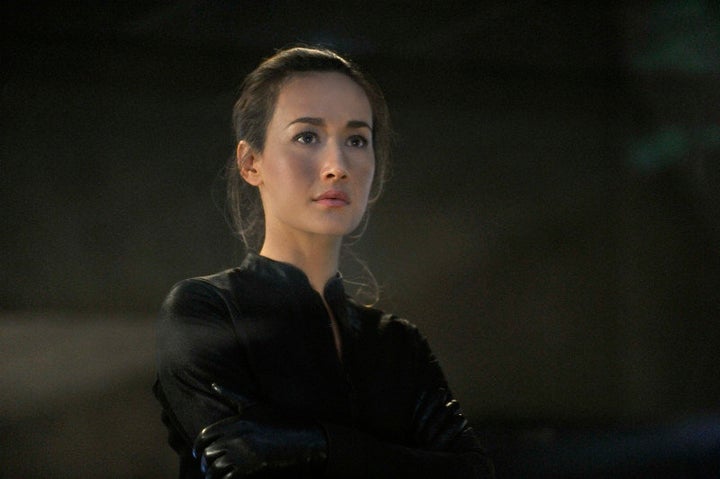 The season finale for The CW's "Nikita" (Fridays at 8 p.m. ET) Season 2 airs on Friday and now that it's been announced that the series has been renewed for Season 3, the audience can simply enjoy the action-packed, suspense-filled final episode of Season 2.
At The CW upfronts presentation in New York on Thursday, "Nikita" stars Maggie Q and Shane West teased the finale, which will see "Team Nikita" banding together to take down Division, the oppressive black ops agency that trained them, and its ruthless director of operations, Percy, once and for all.
"There are gonna be a couple deaths and they're necessary to move forward," Q, who plays the title role, told HuffPost TV. "It's like death and rebirth. Nikita can't be reborn until she has some loss, so there's got to be some loss."
West, who plays Nikita's on-screen, on-again-off-again boyfriend Michael, joked to HuffPost TV, "I'm really trying to whet everyone's appetites as well, so maybe it's four deaths ... Maybe it's three. Maybe it's five. Maybe we all die."
"I just don't want to say how close the characters are; if they're separated, if it's a hero and a villain, two heroes, two villains, or whatever it might be," West added. "I might get into exclusive trouble if I continue."
Still West did tell HuffPost TV that the Season 2 finale is even more exciting than last year's "wow"-worthy outing. "I think our Season 2 ender is not necessarily plot-wise the same as the ending of Season 1, but it is because we're closing a lot of doors and opening a lot of doors. And I think, with this ending, if we didn't get picked up and that was it, some of the fans would have been satisfied at least with the way that we ended the season because it could let you know what might happen to the characters in the future -- you may have to think of that on your own, you might have to imagine those things, but here's a good way to kind of finish it off. But if it's not -- and thankfully, it's not -- then it's a great opener. I'm actually a little more excited for Season 3 than I had been ever on the show -- because of this ending."
Despite his zipped lips, West did have a bit to say about what to expect. "With what's actually happening at the end of this year, it's 'Team Nikita' now -- it's these five or six people together and more of like how are they going to interact in the next year. I'm very excited to see what happens with Michael and Nikita as well, with their estranged relationship. It seems like they're back on, but I'm sure they'll be back off again next year."
So what exactly is West looking forward to in Season 3? "It's hard to say what I'm really excited for because it's pretty much the ending of Season 2 and it would give away too much," West said. "But it would be: What is their future going to be like, in the current situation that they're at? And I can't say exactly what that situation is yet, but there are plenty of awesome ways to go from it."
As for Nikita and her longtime nemesis, Percy, Q told HuffPost TV, expect a showdown. "I mean, there's gotta be. Those two have been at each other for two seasons. She is so sick of fighting him. She is so sick of running from him. So she genuinely is done with it."
What's to come for Nikita in Season 3? "People will see the finale and understand that she's kind of come full circle this season, which is nice, in a way," Q explained. "There's fear about the future for sure, regarding the very big decision she makes at the end of the finale. But at the same time, I'm excited for her to just be on a new journey. But she's going to be from what she's done in the first and second season."
Though it was a bit of a longshot for the series to even see a Season 3, Q knows there are many people to thank for the pick up, including the fans. "I've never experienced anything like this in my life. I've never been on television. This is my first show. I was shocked that I even got my own show," Q said with a laugh. "You just work on these relationships so hard. With the writers and everything, we're just trying to create something that will affect people and when it does, it's all kind of magic. You throw everything in a pot and you hope. You can have the best actors and the best storyline and the chemistry may not work. There's lots of factors involved. So somehow, this all kind of came together."
The season finale of "Nikita" airs Friday, May 18 at 8 p.m. ET on The CW.