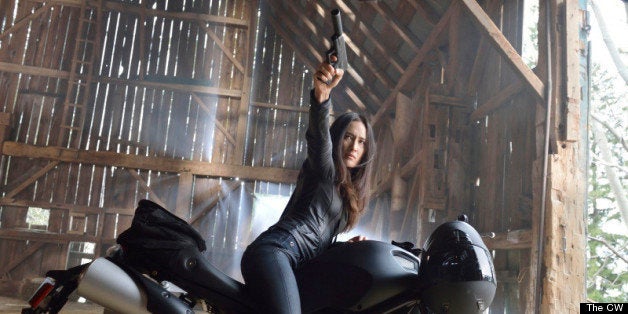 The "Nikita" Season 3 finale left things on a heartbreaking note, with Nikita (Maggie Q) wrongfully accused of assassinating the President (Michelle Nolden) and abandoning Michael (Shane West) and the rest of the superfriends to try and clear her name and take down Amanda (Melinda Clarke) alone.
Watching Division blow up was very cathartic, how did it feel for you guys to actually do it?
It was incredibly exciting. [Executive producer] Albert Kim was up on set and sent us an iPhone video of some of the big columns coming down and crushing that briefing room table, which was the bane of our existence throughout the season because it was difficult to get interesting shots in that room. So we all felt oddly cathartic watching that.
Why was it so important to you that Nikita break from the group and isolate herself while attempting to clear her name?
I think it was important because it pushes the character -- it's a good launching place for her character in Season 4 and it also is something that made sense for her to do, being that she's a lone wolf at heart and that she would rather put herself on the line than her friends when something this major is coming down on them.
We know that Michael doesn't ever give up on her that easily. Will finding her be his main drive when we come back?
Yeah absolutely, and as we've seen, he has experience with that. We were always trying to figure out some way that we could put him back on the chase for her, which is a great metaphor for their relationship.
Are you planning on a time-jump to come back next season, or picking up right where we left off?
There'll be a bit of a time-jump, I think. Not too huge though.
We now know that you've got 6 episodes to close the story -- does that feel like enough time to do it justice?
Yeah, because the situation that we go out on is so heightened and so immediate, we can launch into a large event that has pace and stakes right from the start. In theory, it's very concentrated on our characters and the serialization of that, so that we don't have to have missions and clients. The procedural gods you have to bow to in the early season aren't so important and won't take up so much of our time.
We first saw Mr. Jones (David S. Lee) back in Season 2 when Percy was trying to join The Group. How much of this season's plan and beyond was already laid out when you first introduced the character and how much did you figure out as you went?
We always thought that The Group was going to step in in a larger way, but at the network's request we had to hold them off for a while in Season 2 because they represent serialization in a way, they represent a grand conspiracy and that's not where our interests lay at the beginning of Season 3. So we always knew they'd weave back in. Their plot will be the main backbone of Season 4.
Mr. Jones seems to know that he has a very volatile partner in Amanda -- does he really need her, or might their differences cause him to reevaluate the partnership?
He does need her, and what exactly they need her for will be very clear in the first first few shows.
Will we learn exactly how Amanda joined forces with The Group next season, or are there certain bits of backstory that you're going to have to sacrifice because of time constraints?
I think it's a pretty simple explanation: they were making overtures to her ever since she was kicked out of Division but she didn't really care, she was focused on Nikita, and then she found a way that it could dovetail. Her own self-destruction -- which is something that she's pretty much committed to, I think -- was waylaid by having this opportunity given to her by The Group and The Shop to do what she does best, which is mould people and transform them. That's the opportunity they've given her and it would've all worked out extremely well if Nikita had died, but Nikita obviously lived, and she's taking it a lot more seriously than Mr. Jones is.
Owen's (Devon Sawa) story was left very open-ended, can you preview anything about how you see him fitting into next season?
We haven't seen the last of Sam. We didn't want to bring Sam back to the light side too quickly, so we want to keep him out there as a wild card and follow through on some things we may have started up between him and the group and him and Alex [Lyndsy Fonseca] in the last few shows.
Speaking of Alex, I love the path you've opened up for her this season with the UN and tackling human trafficking -- does this mean that she'll revert back to being a public figure and step back from active missions?
She'll step back from active missions only in the way that Bruce Wayne steps back from active missions. She's a diplomat by day and ass-kicker by night.
Now that Division no longer needs overseeing, will Ryan (Noah Bean) still be de facto leader?
No, I think that Michael will be the leader of the on-the-road band and Ryan's talent at spotting the patterns behind grand conspiracies will be put to use to try to pick up on what exactly The Shop is planning.
Might we meet some of Birkhoff's (Aaron Stanford) hacker buddies in the flesh?
Yeah, that's definitely something that we wanted to do. I think that we'll have room to do that in the six.
The president still being alive was a great twist -- will she play a bigger role in the final six or will we see her stuck in the cage and it will all resolve itself towards the end?
I think that'll resolve itself towards the end, but you'll notice in the scene where she's in the cage, you can hear other voices around as well in the room she's in, so what's that all about? She's not the only one there.
I like that you embraced the spy-fi elements even further in the last few episodes, will we see a bigger push towards that in the final six?
Yeah, I think that exactly what The Shop is and what the plan is and how it's a natural evolution of what Division was, is gonna be the major spy-fi element that we deal with.
Those last few scenes with Amanda surviving and Nikita leaving Michael would've been exceptionally cruel if you hadn't got a final season -- were you always fairly confident?
I was confident, I had a feeling different from the feelings I had at the end of 1 and 2.
What were you most proud of in Season 3 and what would you change in hindsight?
I guess I really thought that the episode in which Michael lost his hand was awesome and I think that was my proudest moment in the season. And if there's a regret, it's that we knew there'd be an outcry so we thought we had to give his hand back quickly, but my regret is now, looking back, I realize we could've extended that story and had him with the bionic hand for much longer and could've made a lot more out of that.
Any hints for the fans in terms of what they can expect next season?
I would say that if the theme of the first season was the price of revenge, and the second season was home and the theme of the third season was family, then the theme of the final season is identity and it's really about Nikita once and for all in a battle for asserting her identity of exactly who she is versus what other people have tried to label her as.
What did you think of the "Nikita" Season 3 finale and what are your predictions for the final run? Weigh in below!
PHOTO GALLERY
Nikita Season 3
Calling all HuffPost superfans!
Sign up for membership to become a founding member and help shape HuffPost's next chapter
BEFORE YOU GO