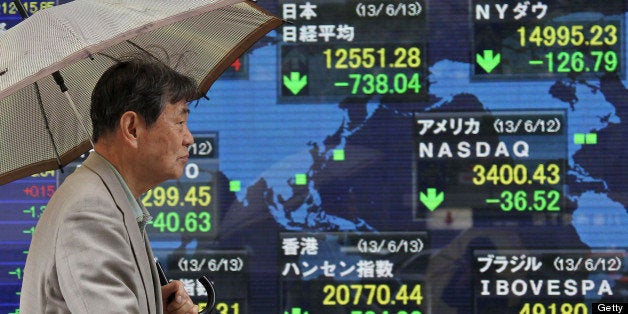 Japan's stock market is in the process of getting destroyed, and U.S. investors are treating it like an entertainment that is only partly scary and mostly funny, like a Godzilla movie with rubbery monsters and bad dubbing.
Here's the case for not worrying so much about Japan: The Nikkei's collapse is happening mainly because investors are starting to wonder whether Prime Minister Shinzo Abe is going to be able to effectively work his plan to ply Japan's lousy economy with espresso and brisk face-slaps until it finally starts moving around again like a normal economy. This program, which actually involves a lot of monetary and fiscal stimulus, rather than coffee and slaps, is known as "Abenomics." High hopes for Abenomics had fueled a wave of optimism about Japan's economic prospects in recent months, but that confidence has wavered recently.
This was the case made by Dan Greenhaus, chief global strategist at the New York brokerage firm BTIG, on Thursday morning, when the Nikkei dropped 6 percent to officially enter bear-market territory (market lingo for a decline of 20 percent or more). Greenhaus claims that investors have been spooked by a series of comments from Abe and other government officials that made it seem like Japan was starting to go squishy on Abenomics. All those officials need to do is convince the market that they're serious about waking up the economy, and all will be well.
The Nikkei's recent collapse should also be put in a little bit of perspective: It's still up 43 percent from November, having done nothing but rally for more than six straight months. The Nikkei hardly stopped for breath on the way to an 80 percent rally to its peak in May. It was overdue for a selloff.
But here is the case for worrying about the Nikkei: Its collapse is at least partly driven by worries that the U.S. Federal Reserve is going to slow down its own out-of-the-box stimulus program, known as Quantitative Easing. This particular case is a whole lot easier to make, given that the Nikkei is not the only asset class suffering these days. U.S. stocks, U.S. bonds, emerging-market stocks, commodities and other asset classes are in turmoil -- all consistent with the idea that the market is freaking out about the Fed withdrawing some of its free money.
And let me make that point clear: The Fed is not talking about withdrawing all of its stimulus. Not by a long shot. It's merely thinking about maybe easing up slightly on the stimulus that it will doubtless keep supplying for many more months. It will still be buying bonds and keeping its target interest rate near zero.
If this is how the market reacts to the Fed's gas-pedal foot just getting a little bit lighter, then that suggests the market has been built on hot air.
Even if the Greenhausian view is correct, and the market is merely freaking out about the Japanese stimulus, that's not very comforting either, is it? It's still a sign that markets are dependent on central-bank stimulus rather than real economic activity.
All of this may be a moot point, because the market may well be overestimating the likelihood of the Fed letting up on its stimulus any time soon. The U.S. economy is widely expected to lose some of its strength this summer, and growth is slowing in the rest of the world. The World Bank on Wednesday cut its forecast for global economic growth to just 2.2 percent this year. That's a dismal number.
We won't be shed of the Fed's influence any time soon, and contrary to market belief, that is not a good thing.
REAL LIFE. REAL NEWS. REAL VOICES.
Help us tell more of the stories that matter from voices that too often remain unheard.
BEFORE YOU GO
PHOTO GALLERY
World's Most Valuable Brands 2013