A Life in the Arts is egregious, fraught with woe, hard work and misery. Sometimes, great things happen, but not often. Oddly, strangely and mysteriously, good fortune has caressed my cheek, a change from the usual slap. The best thing that has happened to me in a Blue Moon is when I made Nikki Finke laugh. It's not an easy thing to do.
Finke is contemporary Hollywood old school. She has been called the "most feared, despised, and uncompromising journalist in Hollywood." In 2006, she burst on the scene with panache and a feared authority that has not been seen since the days of the old studio system. Possessing Hollywood's best secrets, her network knew the scoop in seconds. Her power and influence are extraordinary. Today, Nikki Finke is the world's most active curator of contemporary Hollywood Fiction.
I was prepping my new book "Blood and Paint: Essays on Art in Los Angeles." In the book of 34 amazing literary works, there is a laugh out loud piece about a guy pitching a crazy art idea to a Hollywood executive. On a whim, I sent the piece to Nikki Finke and her curatorial platform Hollywood Dementia. Staggered to my soul, Nikki Finke laughed out loud. I was in.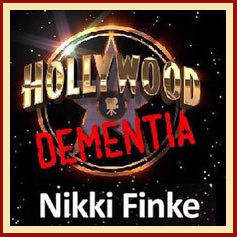 Hollywood Fiction is a relatively new literary genre. Like Romance, True Crime or YA, Hollywood Fiction tells tales of cinema, its creation and its mad denizens. Lots of big boys and girls have swum in this aqua blue pool. F. Scott Fitzgerald, Dorothy Parker, Charles Bukowski and James M. Cain. Did I forget to mention Brett Easton Ellis, James Ellroy and Budd Schulberg?
Little ol' me is now in very august company. People on her platform have much larger cajones and talents than I. Novelist Bruce Wagner is the author of David Cronenberg's film Maps To The Stars. The royal son and nephew of the screenwriting brothers of Casablanca, Leslie Epstein, writes as well. So does Bert Fields, the Lion in Winter of Hollywood power brokers. Nat Segaloff is an ex-journo with great tales. Ditto Robert Welkos. William Faulkner has a piece on the site. And so do I.
Finke loved my piece. She laughed out loud. But she wanted more. She felt it needed a second act. I defiantly disagreed. How dare she? I argued that it was a one-joke piece and my internal comedic timing said, "It's done. It is finished. Complete and whole." She said it needed a second act. I started work immediately. Ask an artist to paint or a writer to write and they will drop everything to accommodate your whimsy. We creatives are grateful for any attention.
The second act wrote itself and I laughed along with it. This piece was on fire, insane in the most beautiful way. Sure, there was a little terror as I waited for an ending. Thankfully, I didn't have to stew long.
As I, a writer alone, continue to scream into the hollow wind, it's nice to know someone heard a word. Nikki Finke is aces with me. I made her laugh out loud.
My essay, The Christmas Cottage, can be found HERE on Hollywood Dementia.

REAL LIFE. REAL NEWS. REAL VOICES.
Help us tell more of the stories that matter from voices that too often remain unheard.