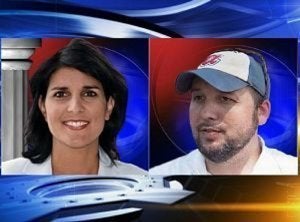 While Republican Nikki Haley continues to adamantly deny accusations that she had an affair with Will Folks after the conservative blogger recently alleged the pair had engaged in an inappropriate physical relationship, the South Carolina gubernatorial candidate is now beginning to address the scandalous claim and has promised to address the matter at a debate scheduled for next week.

In an exclusive interview with local ABC affiliate News 4 on Thursday, Haley was asked why she wouldn't disclose records to potentially vindicate herself and put the controversy to rest. The Republican hopeful's response: It's "not worth" her "energy or focus" because doing so would only distract from her primary campaign:
Haley running on a campaign of better government and transparency, ABC NEWS 4 asked why not offer up records willingly to put the speculation to rest.

"On this issue, with this tactic going on, I will not spend anytime, energy or focus on it whatsoever, it's not worth my time of the people of this state or the campaign, I will not give it time whatsoever," Haley said.
Meanwhile Folks isn't backing down on his charge that he and Haley had an affair. On Thursday, the conservative blogger alleged that a photo had surfaced of himself and Haley embracing one another in what he described as a "compromising position."
In early 2009 Folks now acknowledges being confronted with a photograph of himself and Haley in what he calls a "compromising position." The photograph was allegedly taken by a private investigator hired to uncover dirt on him, not Haley.
On Wednesday, Folks posted a sampling of texts on his website in yet another attempt to put forth evidence to support his claim amid continued push back form Haley's camp each step of the way.
The set of nearly 100 messages covers a span of 10 days between May 13 to May 22 during the period before Folks decided to post to his blog the claim that he had had an "inappropriate physical relationship" with Nikki Haley. The running dialogue includes worried messages between Folks, Pearson, an AP reporter supposedly following a lead on the story, and another GOP operative who apparently had knowledge of some aspect of the rumor.
While Haley's spokesman confirmed the authenticity of the text messages, their contents offer no irrefutable proof that an affair took place. Now, Folks has reportedly enlisted the help of former U.S attorney Pete Strom to aide him in making his case.
As for Haley, the gubernatorial hopeful continues to let her campaign handle her dirty work as she remains mum behind the scenes and will likely continue to do so until she comes out to debate her Republican rivals on June 1 one week before the state's primary election.
A local NBC affiliate reports from South Carolina:
While Haley dodged reporters at the Statehouse in Columbia Wednesday, her campaign said the Republican front runner would address Folks' claims.

"She's gonna answer the questions at the debate. You're not gonna ambush her outside the bathroom," said Pearson.
WATCH: Nikki Haley On Why She Won't Disclose Records To Vindicate Herself
Click here to read: Nikki Haley: Blogger-Affair Allegations Are The Result Of An 'Overactive Imagination' In 'Overdrive'
Popular in the Community