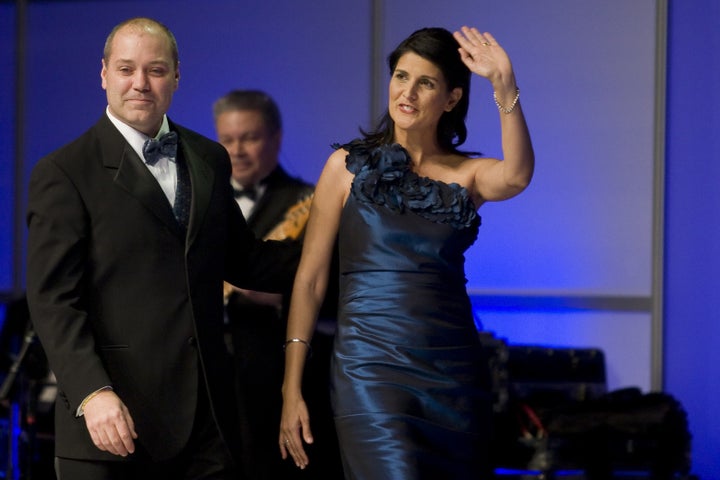 Rumors about an alleged 2007 affair between newly elected South Carolina Gov. Nikki Haley and Will Folks, a political blogger and former campaign staffer, are resurfacing Monday, with the website FITSNews releasing excerpts written by Folks, the website's founder, supposedly detailing the salacious details of the liaison.
Here's a particularly graphic block from Folks' upcoming "tome of love":
We never took our clothes off that first night, but the physical relationship between us progressed much faster than I expected. After sliding the front seats of her SUV as far back as they would go, Nikki climbed on top of me - rubbing her crotch back and forth over the growing bulge in my pants while I groped her ass and ran my hands through her hair and up and down her back.
Folks first declared the purported infidelity last May, claiming that Haley had cheated on her husband of 14 years by engaging in an "inappropriate physical relationship" with him years before.
Haley repeatedly and vehemently denied that such a relationship ever took place, even in the face of periodic disbursements of evidence that, according to Folks, proved that the two had engaged in an affair. In one such document release, Folks provided a lengthy list of phone records between him and Haley, which her campaign explained sarcastically as a "mind-blowing revelation" considering Folks' position as a campaign adviser.
Despite the allegations, however, Folks ended up endorsing Haley's candidacy for governor, though now he appears to want to put the spotlight back on his accusations. The governor, then a candidate, promised last summer that she would resign if any of Folks' claims proved valid.
Read the rest of Folks' account over at FITSNews.
Popular in the Community