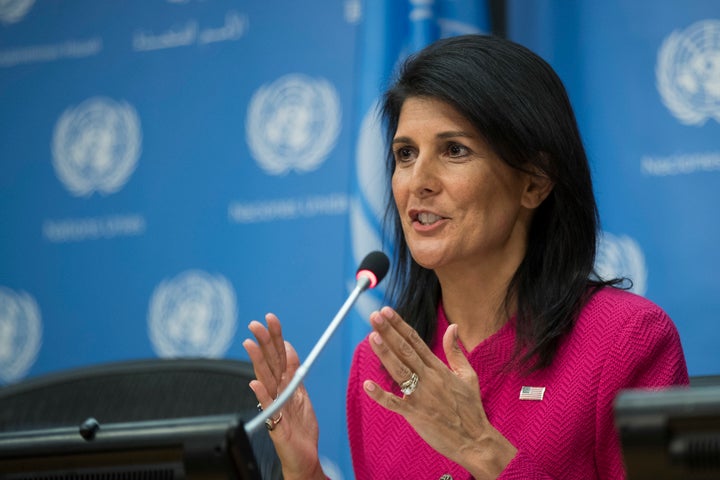 The claims emerged April 1 when a Russian opposition newspaper, Novaya Gazeta, reported that at least 100 men had been detained "in connection with their nontraditional sexual orientation," with three of those men possibly killed.
Despite repeated denials by Chechen authorities, the claims ignited an international media firestorm, which prompted Haley to speak out Monday. "We continue to be disturbed by reports of kidnapping, torture, and murder of people in Chechnya based on their sexual orientation and those persecuted by association," she wrote in a statement. "If true, this violation of human rights cannot be ignored ― Chechen authorities must immediately investigate these allegations, hold anyone involved accountable, and take steps to prevent future abuses."
She went on to note, "We are against all forms of discrimination, including against people based on sexual orientation. When left unchecked, discrimination and human rights abuses can lead to destabilization and conflict."
"This is a powerful sign that the U.S. Mission to the United Nations will continue to prioritize LGBTQ acceptance," Ellis wrote in an email statement sent to The Huffington Post, "and fight discrimination and human rights abuses around the world."
Ellis reiterated her support on Twitter Monday.
"A comprehensive international response to the situation in Chechnya is crucial to asserting the international community's values and advancing human rights," Elisa Massimino, the group's president and CEO, had written in a letter addressed to Haley Monday. "I strongly support your initiative to use the U.S. presidency of the U.N. Security Council to advance international thinking on the clear links between upholding universal values and the maintenance of international peace and security, and hope that you will use this effort to call attention to an ongoing outrage that has no place in the modern world."
"When faced with such crimes of hate and inhumanity, it is the responsibility of every person of conscience to speak out—to oppose this campaign of violence before it continues further," Biden wrote in the statement. "Unfortunately, the human rights abuses perpetrated by Chechen authorities and the culture of impunity that surrounds them means that these hate crimes are unlikely to ever be properly investigated or that the perpetrators will see justice. But that does not mean that we should fail to defend basic human rights, fundamental freedoms, and universal values."
Popular in the Community