Soon after President Donald Trump once again cast doubt on Russia's interference in the 2016 presidential election, Nikki Haley, the Trump administration's ambassador to the United Nations, stated unequivocally that Russia was the culprit.
"Everybody knows that Russia meddled in our elections. Everybody knows that they're not just meddling in the United States' election," Haley said in an interview on CNN's "State of the Union" that is set to air Sunday morning.
"They're doing this across multiple continents, and they're doing this in a way that they're trying to cause chaos within the countries," she continued, according to a transcript of the exchange released by the network. 
"I think it could very well have been Russia, but I think it could well have been other countries," Trump said at a joint news conference in Warsaw with Polish President Andrzej Duda.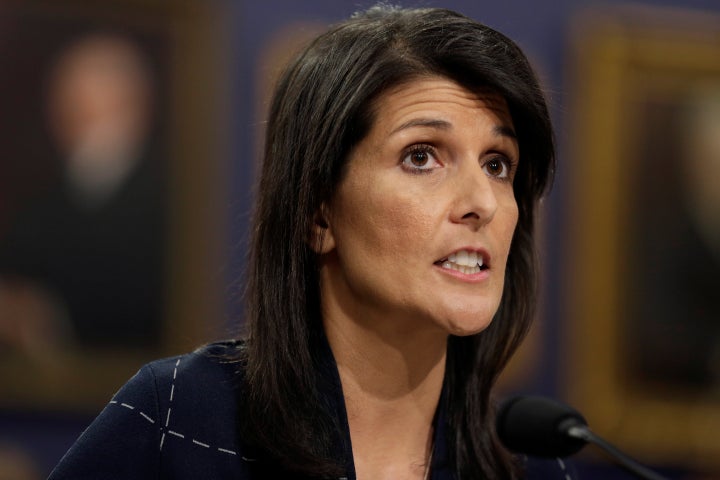 It is not clear when CNN taped its interview with Haley. But it was undoubtedly after Trump's comments in Poland. CNN host Dana Bash asked Haley about details of Trump's meeting with Russian President Vladimir Putin, which occurred on Friday at the G20 summit in Hamburg, Germany.
The Trump administration and the Kremlin have offered somewhat different accounts on the two leaders' discussion about the question of Russian electoral interference. 
Secretary of State Rex Tillerson, who was also present at the meeting, said that Trump pressed Putin more than once on the Russian government's role in the hacking and selective leaking of sensitive e-mails that U.S. intelligence agencies believe the Kremlin masterminded to undermine Democratic candidate Hillary Clinton's presidential bid. At the same time, Russian Foreign Minister Sergey Lavrov claimed Trump accepted Putin's denial of any Russian involvement. And Tillerson said "there was not a lot of relitigating of the past" during the two leaders' discussion.
Haley, who has taken a firm line against several Russian policies from her perch at the U.N., claimed Trump did not tread lightly on the matter.
"What he did was bring up right away the election meddling, and he did that for a reason," Haley told CNN. "One, he wanted him to basically look him in the eye, let him know that yes, we know you meddled in our elections. Yes, we know you did it, cut it out. And I think President Putin did exactly what we thought he would do, which is deny it. This is Russia trying to save face. And they can't."
Asked why Trump has publicly equivocated about Russia's role in the election meddling, Haley deferred to the president.
"You can ask him," she said. "Everybody's trying to nitpick what he says and what he doesn't, but talk is one thing. Actions are another. He confronted President Putin. He made it the first thing that he talked about. And I think we have to now see where it goes from here."
Haley has diverged from White House talking points on at least one other occasion in the past. In June, Haley told CNN that "Trump believes the climate is changing. And he believes pollutants are part of that equation." Prior to that, White House press secretary Sean Spicer and Environmental Protection Agency administrator Scott Pruitt had avoided clarifying Trump's views on climate change. Trump had previously described climate change as a hoax perpetrated by China and "bullshit."
Calling all HuffPost superfans!
Sign up for membership to become a founding member and help shape HuffPost's next chapter
BEFORE YOU GO
PHOTO GALLERY
Protests Erupt At G-20 Summit In Hamburg