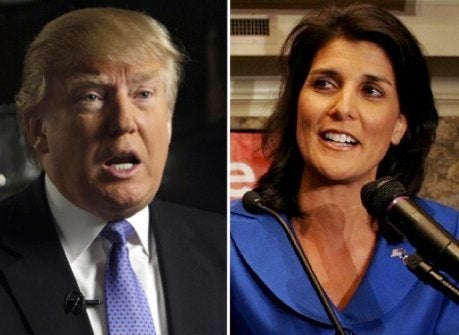 South Carolina Governor Nikki Haley, a Republican, was asked about Donald Trump's use of the "f-word" in an interview with the Atlanta Journal-Constitution earlier this week.
Trump recently raised eyebrows with his choice of words in delivering a speech in Las Vegas. The AP relays background on some of what the potential presidential candidate had to say:
In one of his many curse-bombs, Trump lamented the nation's focus on building schools in war-torn Afghanistan, while neglecting education in the United States.

He said he would not help struggling nations such as South Korea or Libya without payment and promised to use swear words while negotiating with China.
Here's an excerpt highlighting what Haley had to say about Trump's penchant to curse to the Atlanta Journal-Constitution:
Q: I'm sure the f-word is said [in] your state, but I also assume that people don't like it said in public.

A: We are very polite in South Carolina. And very respectful.

I would hope that all of our candidates understand that before they come here.
During an appearance on "Fox News Sunday" last week, Sen. Lindsey Graham took issue with the language used by Trump in question. "Most Americans don't want their president to go around saying the f-word," said the South Carolina Republican. "Mr. Trump has a lot to offer, but he will have a tough sale in South Carolina."
The AP reports that Trump has an upcoming trip scheduled to the Palmetto state:
Columbia Tea Party founder Allen Olson said Wednesday that the developer and "Apprentice" star will headline a May 19 event on the Statehouse steps in Columbia.

Last month a group called Draft Trump 2012 announced that Conway lawyer Scott Royce would lead Trump's efforts in South Carolina.

Olsen said the developer will headline an awards event that will recognize Republican Gov. Nikki Haley, legislators and conservative activists.

Haley previously said Trump had called her in March and was serious about a presidential bid.
CNN reported earlier this week that a spokesman for Haley said the governor would "be happy to sit down" with Trump during his visit should he reach out.
Trump recently told Bloomberg News of his plans for 2012, "In my mind, I have already decided." He signaled he's prepared to jump into the presidential race, however, could not be expected to make a formal announcement until the end of his "Celebrity Apprentice" reality show, which ends its season on May 22.
Support HuffPost
The Stakes Have Never Been Higher
Popular in the Community