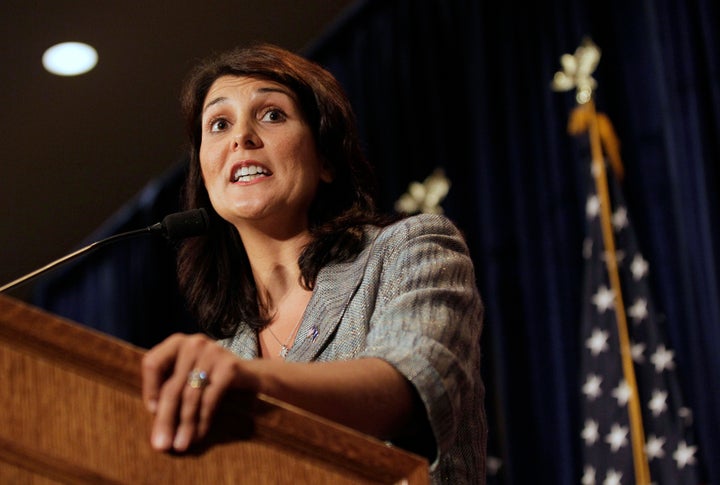 South Carolina Gov. Nikki Haley (R) wants the jobless to pass a drug test before they can receive benefits, but she seems to have an exaggerated sense of drug use among the unemployed.
"I so want drug testing. I so want it," Haley said during a Thursday question-and-answer session at the Lexington Rotary Club. She noted that the government had to make sure it would be feasible: "We have to make sure this works. We have to see what the return is on it. And, we have to see federally and legally if we can do it."
Haley said scads of job applicants flunked a drug test at the Savannah River Site, a nuclear reservation along the Savannah River.
"Down on River Site, they were hiring a few hundred people, and when we sat down and talked to them -- this was back before the campaign -- when we sat down and talked to them, they said of everybody they interviewed, half of them failed a drug test, and of the half that was left, of that 50 percent, the other half couldn't read and write properly," Haley said.
"That's what we have in South Carolina," she continued. "We don't have an unemployment problem. We have an education and poverty problem."
It may be an unemployment problem after all. Jim Giusti, a spokesman for the Department of Energy, which owns the River Site, told HuffPost he had no idea what Haley was talking about with regard to applicants flunking a drug test.
"Half the people who applied for a job last year or year 2009 did not fail the drug test," Giusti said. "At the peak of hiring under the Recovery Act we had less than 1 percent of those hired test positive."
The River Site doesn't even test applicants. "We only test them when they have been accepted," Giusti said.
A spokesman for Gov. Haley did not respond to requests for comment.
The unemployment rate in South Carolina, which recently trimmed benefits for the jobless, is 10.9 percent.
According to the National Employment Law Project, a worker advocacy group, no state has ever instituted mandatory drug tests for the jobless to receive unemployment benefits, though Wisconsin and Indiana have passed laws that disqualify the jobless from benefits if they fail a prospective employer's drug test.
"The process of referring claimants to drug tests would delay timely delivery of benefits required by federal law," said NELP senior staff attorney George Wentworth in an email. "Administration of state unemployment insurance laws is federally funded but the federal government will only subsidize reasonable administrative costs. Sending hundreds of thousands of South Carolina citizens who have just lost their jobs off to a laboratory so that their state government will be satisfied they are not drug abusers is not a cost that the federal government would or should pay, and it would violate federal unemployment law to make unemployed workers pay for the test."
Florida Gov. Rick Scott (R) required welfare applicants to pay for their own drug tests earlier this year. Only 2 percent of applicants flunked the test. The American Civil Liberties Union recently filed a lawsuit challenging the policy.
Ohio state Sen. Tim Grendell (R) has said he plans to introduce legislation to require drug testing for unemployment and other benefits modeled explicitly on Scott's law. "Hard-working taxpayers of the State of Ohio should not have to pay for the drug habits of illegal drug users," Grendell said, according to the News-Herald.
HuffPost asked Grendell's office if he had some reason to suspect the jobless were on drugs. A spokesperson did not respond.
Popular in the Community