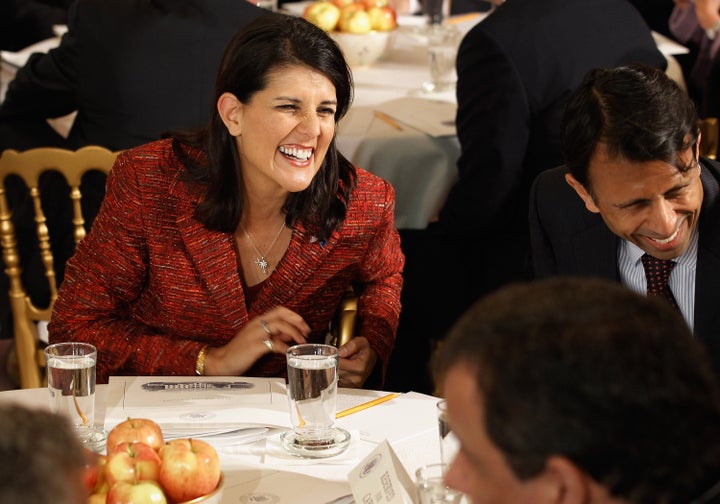 This story originally appeared in Patch sites in South Carolina on Feb. 28.
WASHINGTON -- Gov. Nikki Haley kept the focus on ports during a meeting with President Barack Obama and fellow governors at the White House Monday morning.
Haley, in town for the annual National Governors Association Conference, said at a press conference Monday afternoon that she used the White House meeting to urge the president to speed up the process for deepening the nation's ports. Leaders around the East Coast are working to deepen their ports to accommodate the upcoming widening of the Panama Canal.
"If we don't get our ports deep enough, we will waste that opportunity," she said.
Haley indicated she would like to see the federal government allocate more funding for port-deepening efforts.
Speaking to reporters at a press conference sponsored by the Republican Governors Association, Haley said that she was not specifically referring to the Port of Charleston, but all ports. She said she also urged Obama and Vice President Joe Biden to upgrade the nation's maritime policies, and shorten the timeline for the Army Corps of Engineers to address port-deepening requests from states.
Haley's remarks come the same day that she vetoed a bill from the state legislature regarding the Georgia Ports Authority and the Savannah River. The legislature sought to overturn her administration's approval of permits to deepen the river, which could lead to deepening of Georgia's Port of Savannah before South Carolina's Port of Charleston. Haley explained that her veto was due to what she saw as legislative meddling in executive branch actions.
Funding for required studies of the harbor was announced earlier this month; the U.S. Army Corps of Engineers announced Feb. 8 that it set aside $2.5 million for studies on deepening the harbor.
The White House released the president's budget Feb. 13, which included an additional $3.5 million for the Charleston Harbor project. That money isn't assured since Congress will ultimately decide budget priorities.
Last week, the state House Ways and Means Committee agreed to set aside $180 million toward costs once studies are complete. The total project is expected to cost $300 million.
Calling all HuffPost superfans!
Sign up for membership to become a founding member and help shape HuffPost's next chapter
BEFORE YOU GO