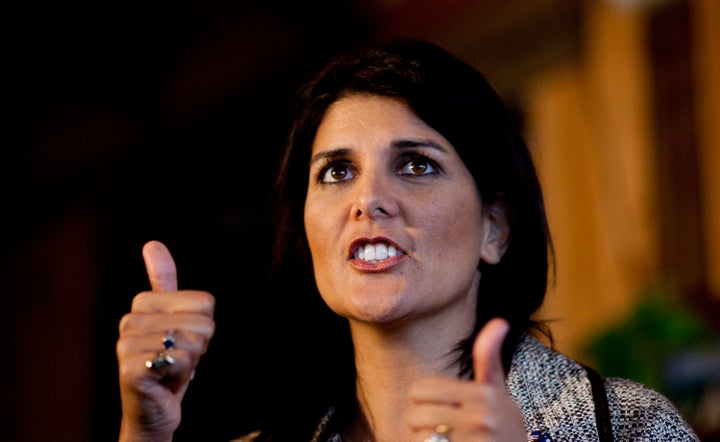 Charleston, S.C. and Savannah, Ga. stand as two of America's busiest container ports. A planned widening of the Panama Canal has accelerated plans for U.S. projects aiming to improve these cities' trade potential.
Wedged in the center of that competition is South Carolina Gov. Nikki Haley -- the Republican rookie who drew heavy in-state criticism over allowing neighboring Georgia to move forward with its desire to dredge the Port of Savannah.
Haley declined to attend a Tuesday morning S.C. Senate hearing on her state's approval of water quality permits for the competing Savannah port. She felt that her presence would cloud separation of powers between the governor and the legislature.
"We will cooperate in every way that we know how," Haley said at a Monday press conference. "But in terms of a governor going and testifying before a committee, it's never happened. It's not a precedent we want to set."
Back on Nov. 10, South Carolina's Department of Health and Environmental Control (DHEC) granted Georgia the water quality documents necessary for a six-foot deepening of the Savannah port. The decision reversed a previous DHEC staff motion denying the approval for the Georgia move.
That 180-degree turn sparked outrage from political, environmental and business spheres. Conservatives For Truth In Politics, a group that has expressed its share of anti-Haley sentiments, released an ad on Nov. 23 saying that that the governor's "backroom deal" was sending work away from the Port of Charleston, which supplies South Carolina with hundreds of thousands of jobs.
What's behind the "backroom deal" allegation? The Charleston Post and Courier notes that Haley has been fundraising in Georgia, raising thousands of dollars toward her 2014 re-election run. Both sides of the partisan aisle questioned whether those events held weight in her decision. Post and Courier columnist Brian Hicks added that earlier in 2011, Haley re-tooled the DHEC board, filling slots with supporters.
Outside of employment issues, environmental groups came out against the permit, pointing to changes that include the need to inject oxygen into areas affected by the dredging. Nearby marshes are also a concern.
In the midst of the controversy, Haley stood by her actions, rejecting any notion that political motivations were at play.
"I stand by everything and I know it's unfortunate in this political world everybody likes to think there's something behind everything," she said on Monday. "There's nothing here. And what you have is a DHEC board that did their job."
REAL LIFE. REAL NEWS. REAL VOICES.
Help us tell more of the stories that matter from voices that too often remain unheard.