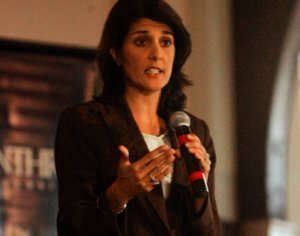 South Carolina GOP gubernatorial candidate Nikki Haley, who has become embroiled in a scandal over alleged extramarital affairs in recent weeks, vowed on Thursday that if the claims -- which she denies -- are ever proven true, she would resign from office.
"I have been so clear with this up front, I don't know how more clear I can be. I have been absolutely faithful to my husband for 13 years, no there is nothing," Haley said in an interview with the Columbia radio station WVOC.
Haley added: "It is this kind of South Carolina dirty politics, that has to stop, the people of this state deserve more."
WVOC radio host Keven Cohen asked Haley if she were elected whether she would leave office if the affair allegations are ever proven true.
"If something were to come out that validates the claims against you in terms of stepping out on your husband, on your marriage," Cohen asked, "would you resign as governor?"
Cohen followed up: "Yes you would resign?"
"Yes," the GOP contender said.
Popular in the Community