Republican presidential candidate Nikki Haley criticized former President Donald Trump on Monday for his alleged mishandling of sensitive national security documents.
In an interview on Fox News, Haley, a former ambassador to the United Nations and former governor of South Carolina, echoed the right's mistrust of federal prosecutors even as she said that if the charges in the federal indictment of Trump are "true," then Trump was "incredibly reckless."
"Two things can be true at the same time. One, the DOJ and FBI have lost all credibility with the American people," said Haley, who called for a top-to-bottom overhaul of the federal law enforcement agencies. "Two, the second thing can also be true: If this indictment is true, if what it says is actually the case, President Trump was incredibly reckless with our national security."
The charges resonate especially strongly for Haley, she said, because her husband recently deployed with South Carolina's Army National Guard for a one-year tour of service in Africa.
"This puts all of our military men and women in danger if you were going to talk about what our military is capable of, or how we would go about invading, or doing something with one of our enemies," she said. "And if that's the case, it's reckless, it's frustrating, and it causes problems."
"My concern is not so much about how this plays out and what we do with it. My concern is about the direction of the country ― the fact that we cannot have Biden win this election," she said. "We cannot go through Biden or [Vice President] Kamala Harris winning this election. We've got to have someone that can win a general election."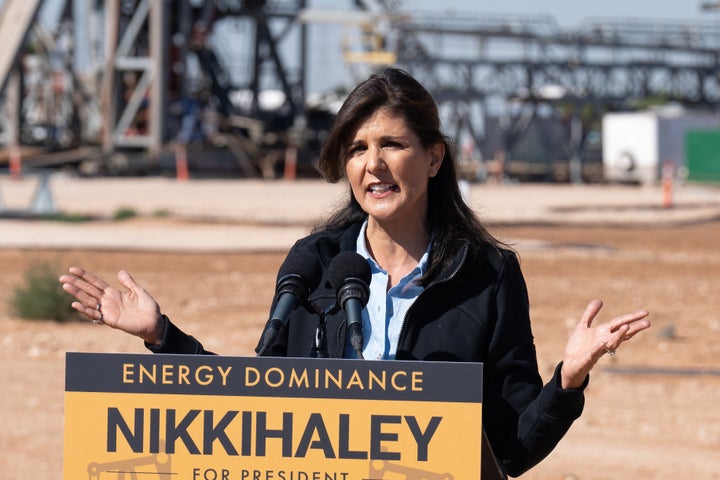 The Justice Department charged Trump on Thursday with 37 felony counts related to his alleged mishandling of classified documents from his time as president, and his alleged lack of cooperation with the federal authorities that were trying to recover them from his home at the Mar-a-Lago club in Palm Beach, Florida.
The indictment, which was unsealed on Friday, details the seriousness of the charges Trump is facing.
Haley's initial response to news of the indictment focused on the supposed unfairness with which Trump was being treated.
"This is not how justice should be pursued in our country. The American people are exhausted by the prosecutorial overreach, double standards, and vendetta politics," she tweeted on Friday morning. "It's time to move beyond the endless drama and distractions."
Reading the unsealed indictment, which became available shortly after her Twitter post, apparently changed the way Haley views the situation.
A DOJ team led by special counsel Jack Smith is accusing Trump of not only storing classified national security documents in unsecured boxes at his personal residence, but of knowingly sharing their contents with people not authorized to hear about them. Specifically, DOJ alleges that there is an audio recording of Trump showing off a U.S. "plan of attack" against another country in the presence of a writer, a publisher and two aides. In another alleged incident, Trump showed a military map to a representative of his political action committee. In both cases, Trump allegedly told the other people that he was not allowed to be showing them the documents.
Trump's actions "could put at risk the national security of the United States, foreign relations, the safety of the United States military, and human sources and the continued viability of sensitive intelligence collection methods," the indictment states.
Haley's remarks on Monday were nonetheless much harsher than some of her rivals in the GOP field, who are wary of angering Republican voters still supportive of the former president.
Support HuffPost
The Stakes Have Never Been Higher
Popular in the Community