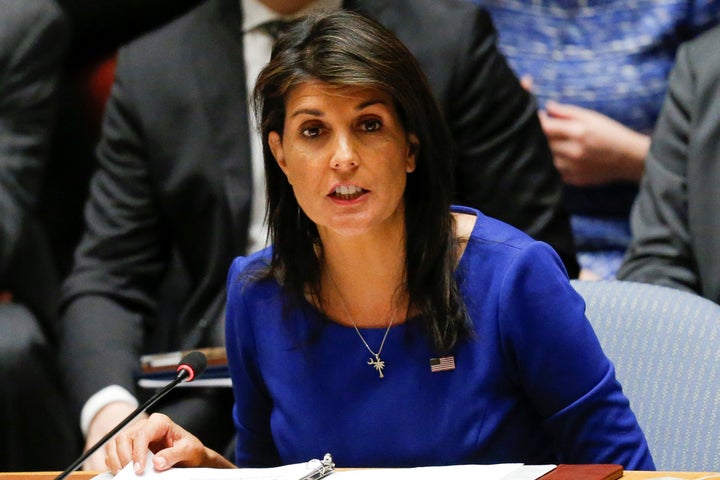 It was momentarily glorious to hear Nikki Haley, the U.S. ambassador to the United Nations, stand up for herself against her male colleague at the White House. But don't let that moment blind you.
Responding to the suggestion, made by Trump's newly appointed economic adviser Larry Kudlow, that there was "confusion" about the White House plan for Russian sanctions, Haley shot back.
"With all due respect, I don't get confused," she said in a statement to Fox News' Dana Perino, who read the comment during her Tuesday show.
It was the rare power move made by the rarest of creatures ― an actual woman (of color!) in the Trump administration. Kudlow even apologized later that day, though that doesn't mitigate the fact that Haley was left out of critical decision-making and made to look like a dupe.
Haley's words were enough to charm CNN chief political correspondent Dana Bash, who tweeted that the line "should go down as one of the best by a female leader. Ever. Said so much, with so few words."
Indeed, it was hard not to feel a little bit heartened by Haley in that moment. While a strong woman standing up for herself isn't exactly novel in the Me Too era, spotting one in the male wilds of the White House is definitely a noteworthy occasion.
But a tossed-off strong comeback doesn't let Haley off the hook. She still works for ― and consistently defends ― a notorious misogynist accused by more than a dozen women of sexual misconduct.
The Trump administration, Haley's team, has worked relentlessly to curtail women's rights, beginning in its earliest days when, surrounded by men, the president signed the so-called global gag rule that bars international health organizations from receiving funding if they mention abortion as a family planning option and may lead to a rise in maternal deaths around the world.
Still, even if you vehemently object to those policies, Haley does hold an allure. Particularly compared to the handful of women in Trump's Cabinet, the most male group of secretaries since the Reagan era. She is clearly an intelligent woman who knows what she's talking about. It's a low bar, but one Education Secretary Betsy DeVos has had trouble clearing. Haley also hasn't vanished into obscurity like Transportation Secretary Elaine Chao or Small Business Administrator Linda McMahon. (The fifth woman in the Cabinet is Kirstjen Nielsen, who runs the Department of Homeland Security and recently said she wasn't sure if Norway is predominantly white to deflect racist comments made by her boss.)
Haley is also clearly better than White House senior adviser Ivanka Trump when it comes to playing the strong, confident female leader in the press ― even as she backs the administration in its role curbing women's rights. Indeed she is strong-willed, competent and principled enough that she seems to now be in danger of losing her job. The New York Times reported on Wednesday that Trump is unhappy with Haley and she may be in line to take a Tillerson-like fall.
Still, Haley is out there defending the White House. She argued in favor of the global gag rule just this week in an interview with Marie Claire. Haley smoothly responded to a question about a possible rise in unsafe abortions, a likely result of the Trump policy, by talking about women's rights.
"I think the only thing you're seeing is, instead of us funding and supporting abortions, what we've tried to do is fund and support clean facilities where mothers give birth," she said, adding that, though there may be disagreement on abortion, "we should never disagree on the fact that we want the strongest, healthiest, most educated women we can have out there."
It was an artful dodge that obscures the harm being done to women by the rule, which human rights groups say is putting millions of women in peril by cutting off access to birth control and crucial health care.
Haley also deflected a question about what it's like to be a woman in an administration with a "challenging record on women" by saying she always tells Trump the truth. "Whether it's the #MeToo Movement, whether it's the rumors, whether it's facing any other challenges that come along the way, I just try to be as honest as I can," she said.
Haley, who was the first woman ever elected governor in South Carolina, wasn't always so clearly on team Trump. She first became known nationally when she pushed to remove the Confederate flag from the South Carolina statehouse ― not exactly a Trumpian move.
And it's worth noting that back in 2016 Haley was a fairly vocal critic of Trump, specifically calling him out on his rhetoric around Muslims and once even saying Trump was everything a governor wouldn't want in a president. They even had the requisite Twitter spat, with Trump calling her an embarrassment to the state and Haley hitting back with a classic Southern put-down:
But those days seem long ago.
To Marie Claire, Haley also spoke about often being the only woman in the room. Indeed, there is a definite dearth of women in politics, particularly in the Republican Party.
"I push just as hard whether it's women or men in the room. I'm not intimidated by men at all," she said. "Do I wish there were more women? Always. I would love to have more girlfriends all around me. But until that happens I'm going to keep trying to represent. What I try to do every day is show it's doable."
It's inspiring until you think about the rooms she is operating in now, with a president who's making a mockery of our democracy on the world stage and who has at every turn humiliated and undermined women (and men, too).
Sometimes there are no women in the room because the room is a bad place to be.
Popular in the Community