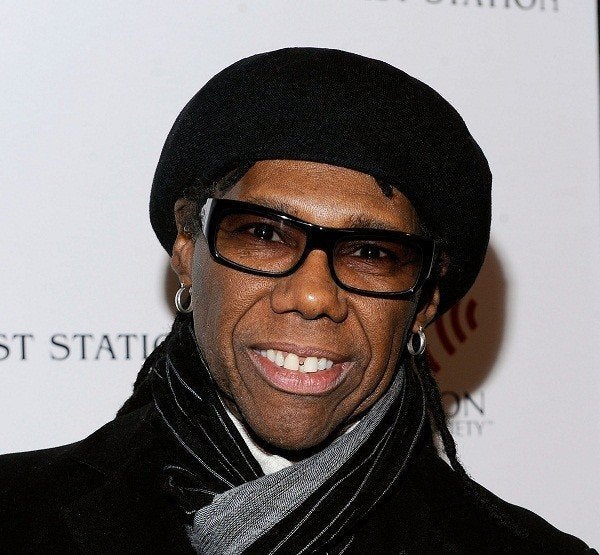 In the midst of music's most decadent eras during the '70s and '80s, Nile Rodgers was at the forefront of pop music. With his dynamic ear for producing top-ten records and with his finger on the pulse of American culture, Rodgers has not only had multiplatinum success, but he has also redefined pop music as we know it today.
Crafting hits for the likes of Diana Ross ("I'm Coming Out"), Madonna ("Like A Virgin"), Chic ("Good Times"), David Bowie ("China Girl"), Mick Jagger ("She's The Boss") and Grace Jones ("Inside Story"), among countless others, Rodgers had plenty of experience to draw upon for his new autobiography, "Le Freak: An Upside Down Story of Family, Disco, and Destiny." Four and a half years in the making, the personal memoir details the former Honeydrippers and Chic member's rise to stardom and the many hurdles that he faced. It wasn't until a close friend of Rodgers' encouraged him to document and share his story that the four-time Rock & Roll Hall of Fame nominee decided it was time to reconcile with family and friends.
"The way it became a book was a friend of mine who was a literary agent, he and I were at a party and he said, 'You know what, Nile? I became a literary agent, I really think you should do a book.' And I was like, 'Nah, I don't want to do a book. No one would buy my book because I'm not famous,'" Rodgers recently explained to HuffPost BlackVoices. "So he said, 'No, it's so interesting! People would like it because it's such a great story, and you've written all of these great songs.' Once I started writing (the book), it put me on the path to cleansing and resolution. I spent more time speaking with friends and family that I haven't seen in years to get their point of view. So I spent about 40 percent of the time doing research and about 60 percent of the time doing writing."
To the New York City native's dismay, completing the narrative coincided with a shocking diagnosis of cancer. Upon submitting the tome to his publisher about a year ago, Rodgers received the news that he had "aggressive cancer," which forced him to make a few revisions to the book. "I asked the publisher if they could send the book back, because I needed to write a new epilogue. I just took my third test, so I'm about one year out," he noted. "Since January, I had three tests; two have come back clean, cancer free. But the third I haven't gotten a result yet.
"So I feel great and I'm optimistic, but whenever you don't know something, that just makes you really afraid. So as long as I got a reason to get up in the morning, I don't sit around thinking about cancer this or cancer that."
Cancer is just one of the challenges that Rodgers has encountered during his 59 years. He has also dealt with alcohol and drug addiction, which resulted in a stay in a rehabilitation center in 1994. And though he has been drug and alcohol free for over 17 years, he admitted that he would never tell anyone not to use drugs, not even fellow musician Sly Stone, who has made headlines in recent months for his struggles with drug abuse.
"It's hard for me because I'm not judgmental of other people when it comes to drugs, because to be honest with you, I loved it," he admitted. "I didn't quit because I didn't love it, I quit because it was killing me and it impaired my ability to do something that I loved even more [producing and playing music]. So I don't really want to be a hypocrite. I would never tell a person not to do drugs, because people clean it up or they don't. They [get help] when they're ready to do it."
"So when I look at Sly, I just see the great musical genius that I absolutely love and adore. And the fact that he has chosen this path near the end of his life, and unfortunately he's been in this situation for a long time," he continued. "I can't tell you how many times I've seen him and hung out with him and wanted to play, and unfortunately he was unable to do that, but he chose that. And I got to respect the fact that. That's his life."
Rodgers added that he hasn't spoken to Sly since the 48th Annual Grammy Awards, where the two performed together during a tribute to the funk legend. Rodgers remembers how the special moment left a sour note.
"I did the Grammys with him. It was supposed to be his big comeback, and it broke my heart so much," he said. "We rehearsed and it was smoking. I got on the phone and I begged Larry Graham to come back. I got all of Sly and the Family Stone back together. And then we had that fiasco on television for the whole world to see. And it broke my heart, I was devastated. It was a traumatic experience for me. I probably had too much emotionally invested in it, because I really wanted Sly to make a comeback. It was a fitting tribute, but it didn't work out like that. Meanwhile, cats like Pharrell [Williams] and them were in the audience saying, 'That was genius!' And I was like, 'Nah, that's not what we rehearsed.' We were supposed to turn it out."
In addition to promoting the release of his book, Rodgers is also busy prepping the debut of his new play, "Double Time," which is scheduled to open next year at the Alabama Shakespeare Festival, with aspirations for making a Broadway run.
PHOTO GALLERY
Nile Rodgers Photos
Calling all HuffPost superfans!
Sign up for membership to become a founding member and help shape HuffPost's next chapter