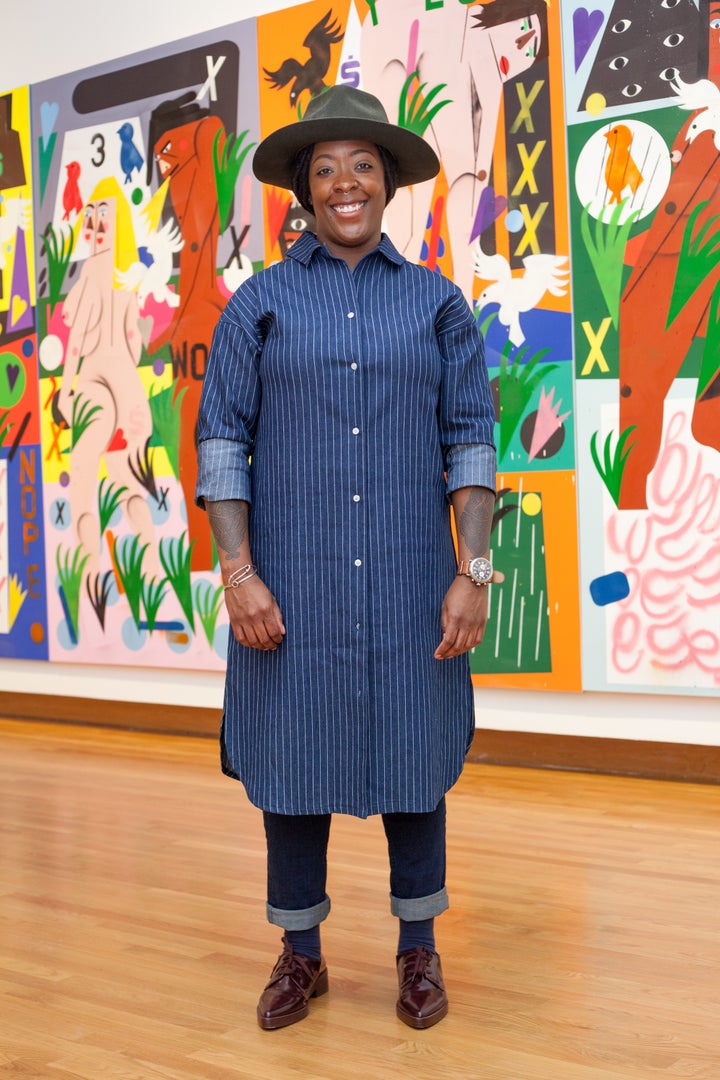 True innate artists can see ahead and beyond the current moment: circumstances that are not yet fully present manifest in their works. Anticipation, thus, seems to come naturally to them. One artist who epitomizes this is Nina Chanel Abney, who was born in Chicago in 1982 and received her MFA from Parsons School of Design in 2007, and seems to be have been holding a crystal ball ever since.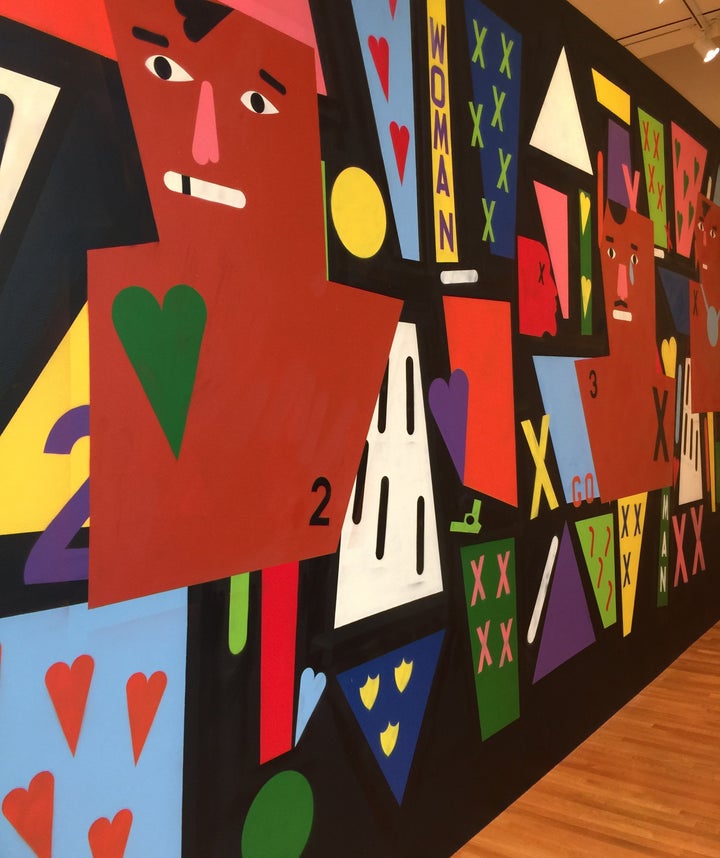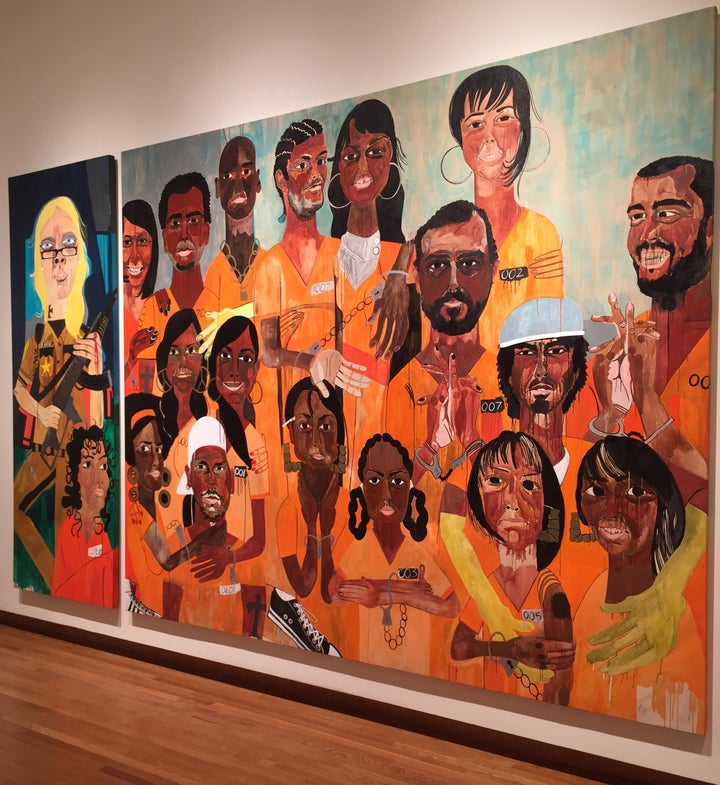 Extremely versatile and talented both at the level of concept and execution, Abney can equally and brilliantly tackle a hand-painted mural, like the 30-foot wall that welcomes visitors to Royal Flush, or a large-scale digitally printed canvas using a technique whose result is called "ultrachrome pigmented". The show, which is organized chronologically, is able to convey pivotal moments in which the artist made eloquent changes to her visual vocabulary without ever losing her essence or voice.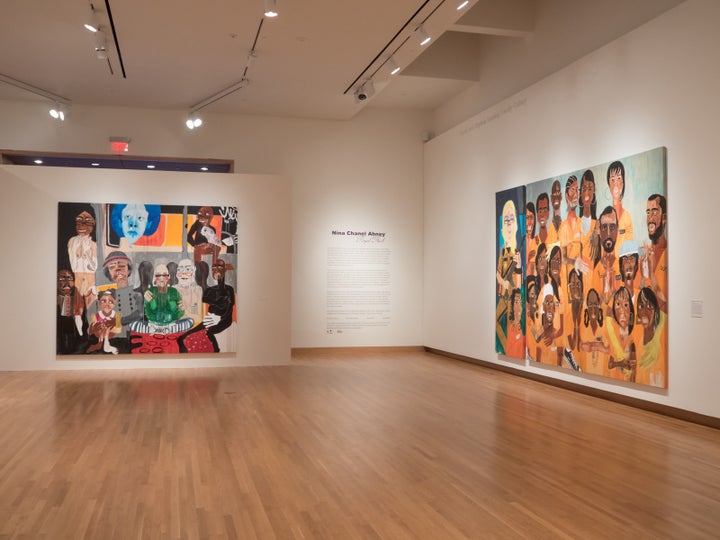 When I asked Abney if this is the first time she has confronted her work in this way she laughs and answers: "Some of these pieces I saw at 30 Americans (a show organized by the Rubell family with works from their own collection showcasing important African American artists of the last three decades), but this is the first time I'm seeing many, many of these works since the time they were sold 9 or 10 years ago. There are things I see and think, 'oh man, this looks old!' But then I find something else I want to revisit, elements I used before and may want to explore again."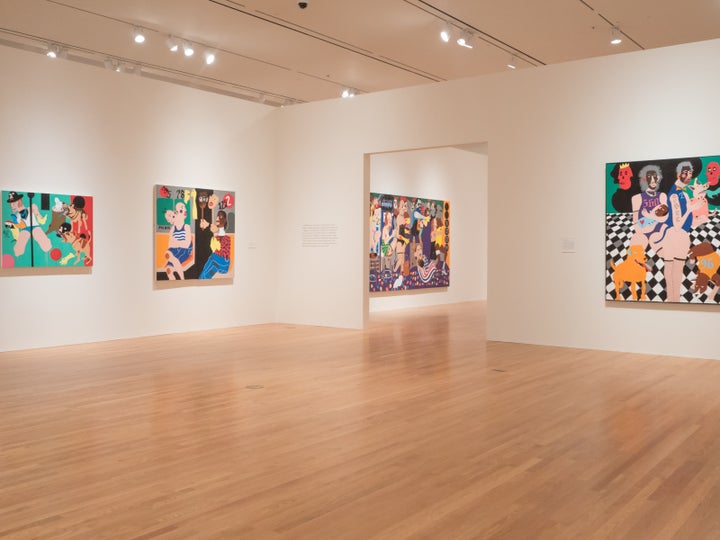 Her now notable MFA thesis piece "Class of 2007", 2007 plays a trick on the viewer who doesn't know the background: Nina has painted every one of her classmates but has changed their skin colors. Turning them dark-skinned, all of them wear an orange jumpsuit, incarceration-style. Nina has also painted herself - she's on the side, on a separate canvas, blonde and dressed as a guard with a rifle in her hands. Being the only dark student in her class, at the age of 25, Nina put an incandescent spotlight on the lack of diversity in higher education programs in the United States as well as the disproportionate number of imprisoned colored people - often for minor crimes - that populate prisons in this country. As if the topics weren't loaded enough, the diptych is about 15 feet in length by almost 10 feet in height. It is impossible to look the other way.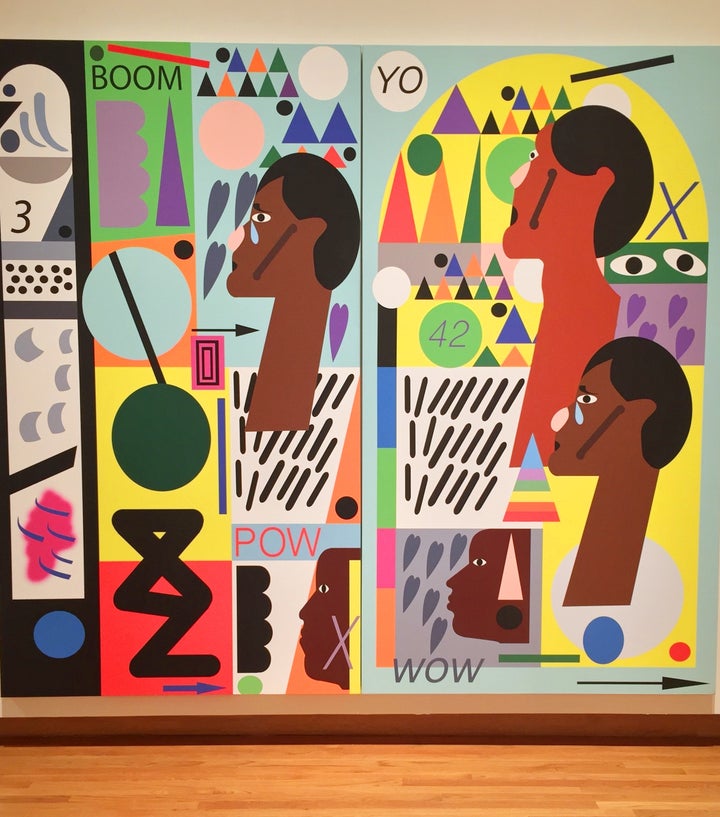 The contiguous gallery bridges the earlier, figurative works with the beginning of the abstract ones; it is a link in Abney's career that must be seen in order to understand how she transitioned from a more traditional way of painting to finding her own style, which now consists of angles, layers, graphic and complex backgrounds that have become unique and characteristic marks of her work. Nina has always had a such strong voice, although she insists it took her some time to find and refine it. What seems to be always present however, is a sense of humor, a candid way of looking at issues that are heavy and serious which she accomplishes using words, vibrant colors and cartoonish figures that bear funny expressions. Like the meltdown of the financial markets in 2008-2009, the victory of Barack Obama as the first black president, and the strange but utterly mystifying underpinnings of celebrity culture, somehow anticipating how much they would dominate our daily lives through a bombardment of messages and images not only through traditional media but also through all platforms of social media.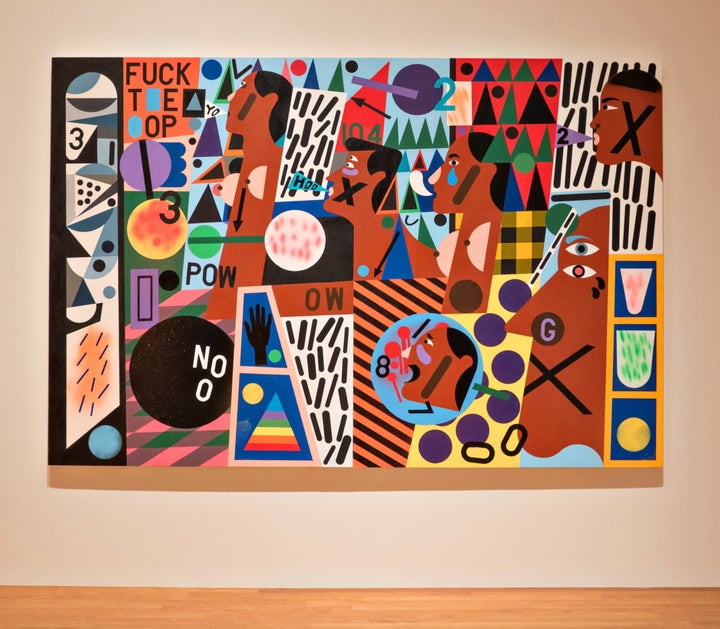 As Abney and I continue our walkthrough, we spot a group of paintings where she started to subtly abstract the background and strip away the context. While there are still figures reminiscent of her early works, we don't fully know where they are -- this was another critical step toward her current direction. Layered collages allowed Abney to work with a juxtaposition of elements as well as newer ways of composition - overly saturated paintings (from the time her studio was in Times Square and she needed to deal with the information overload that had swollen her senses), more muted and smaller-scale black-and-white works. Everything is logically organized like DNA molecules, leading on to the next set of large-scale canvases where Abney began to digitally print her work. "Near and Far" 2015 is a large diptych where Abney first employed the use of a mechanical medium. Even though it was the beginning of a new era for her, where advanced printing techniques are combined with spray paint and acrylic paint brushstrokes, nothing is separate or abruptly disconnected from the works before or the works after. There is a seemingly perfect continuation of what she does and how she does it.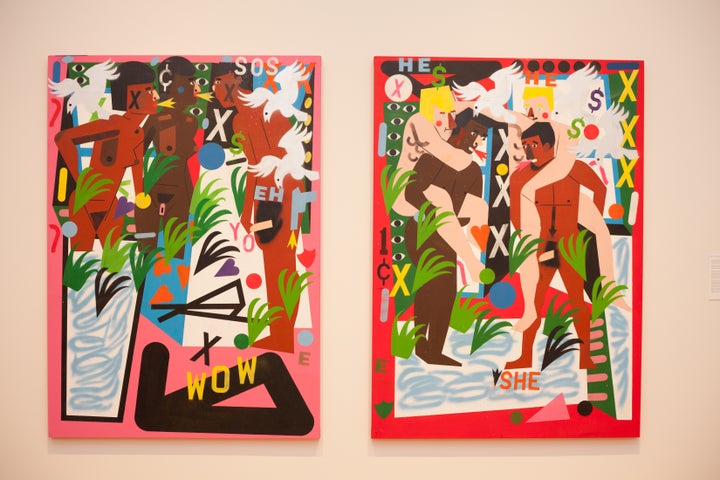 Identity and gender issues are also present in many of her paintings, as in the monumental "Catfish" 2017, where a four-canvas piece filled with women in suggestive poses looks at art history through the lens of Boticelli's "La Primavera" and hip-hop album covers while dealing with gender stereotypes and sexism. Untitled (XXXXXX), 2015 shows police brutality and race conflict, except the "transgressor" is blond and the policemen are black. Multiple colored doves fly around the scene, making the narrative in the painting ironic, funny and preposterous.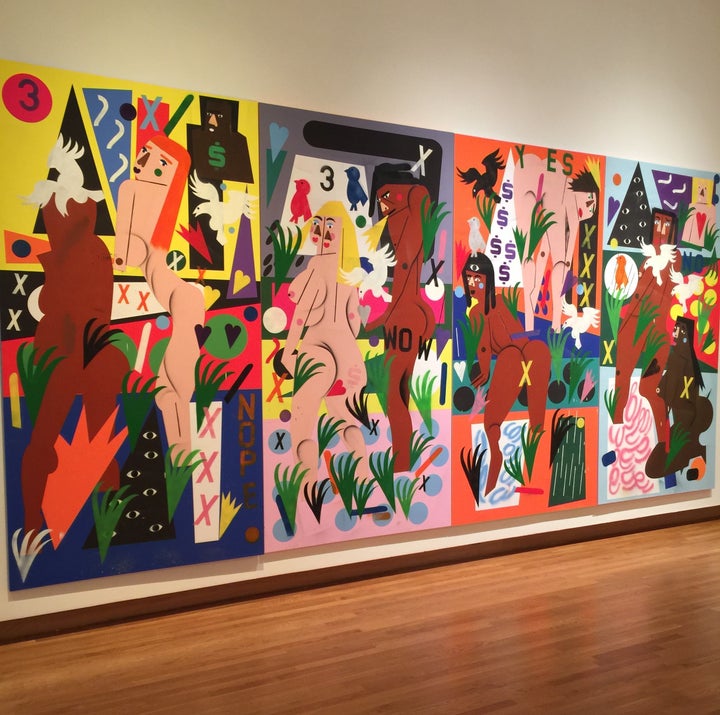 The strength, power and urgency of this exhibition is something that should be seen by everyone. Luckily, Royal Flush is a traveling show that will first be at the Chicago Cultural Center in the summer of 2017, followed by Los Angeles' Institute of Contemporary Art and the California African American Museum next year.
After our walkthrough, I mentioned to Nina that historically we are living in such a complex socio-political structure that it is almost given to us to want to avoid complacency and to create, inspire, react positively, push boundaries. In that context, I wanted to know what Nina's wish is for the visitor, what would be the ideal takeaway? This is a question that she doesn't want to answer, but I press further and she says, "I'd like people to ask questions to themselves about race, gender, and identity. I hope my work provokes thoughts, raises awareness, and poses interrogations."
A Royal Flush is the best possible sequence in poker, the highest rank. Nina Chanel Abney is holding on to this hand of cards and won't let go anytime soon.
Nina Chanel Abney: Royal Flush
February 16 to July 16 2017
The Nasher Museum of Art at Duke University
Related
Popular in the Community