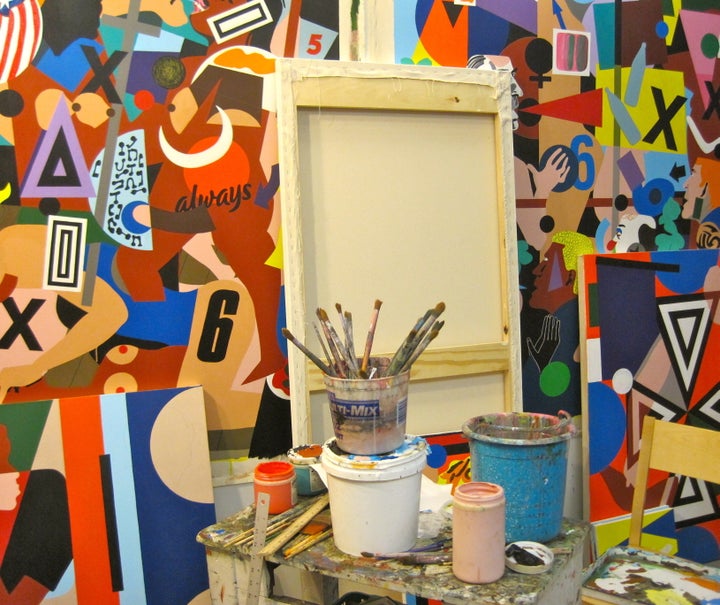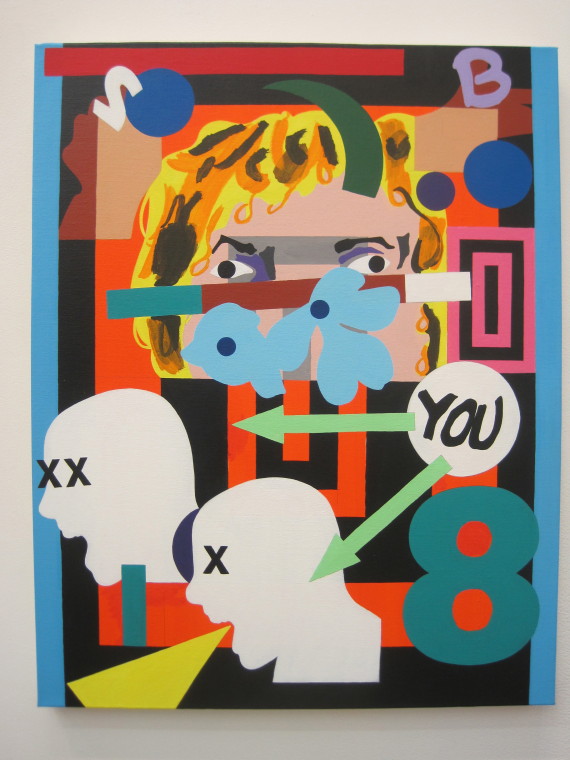 >
Her new exhibition "I Dread To Think" is split into two parts: a collection of smaller and medium-sized paintings hang in the Kravets/Wehby Gallery, while the main event, a 60-foot wide, six-foot tall panoramic painting devours the walls of the Anna Kustera Gallery. Featuring a weirdo cast of baby aliens, soaring rainbows and undecipherable symbols, Abney's paintings captures the tension, beauty and absurdity of the Internet age. In the artist's world, race looks as semi-permanent as clown makeup and sex organs as interchangeable as Mr. Potato Head's features. Her mural illustrates storytelling in an age in which a coherent narrative is obsolete.
Politics, race, celebrity gossip, sex, literature and a whole lot of colors are jumbled together and teased out to create an ADD sequel to Paul Gauguin's "Where Do We Come From? What Are We? Where Are We Going?" In an earlier interview with the Huffington Post, Abney explained her inspirations: "In one day, I may read the paper, get on the Internet and browse through YouTube, my Facebook timeline, look at Twitter, watch the news, watch Bravo, VH1, read gossip blogs, listen to music, and do this all while talking on the phone and texting, so it's ‬‪impossible for me not to cover a multitude of topics. I'm living in an age of information overload."
PHOTO GALLERY
Nina Chanel Abney
Calling all HuffPost superfans!
Sign up for membership to become a founding member and help shape HuffPost's next chapter
BEFORE YOU GO