Bullying has taken center stage in the media lately, from the tragic story of a Florida girl who committed suicide over being tormented at school to a young boy's heart-wrenching letter to Santa gone viral, pleading with him to stop kids from bullying his sister.
This October -- National Bullying Prevention Month -- 17-year-old Cali Linstrom embarks on a national high school anti-bullying tour to share her own personal experiences with bullying and discrimination. The 20-city tour kicks off in New York City on October 3 at Stuyvesant High School, before heading to Washington, D.C., Chicago, Atlanta, Los Angeles, Miami, Detroit, Philadelphia, San Francisco and 11 other cities.
The idea for the tour came about when Cali organized a national protest this past May against Abercrombie & Finch for 2007 discriminatory statements made by the company's CEO Mike Jeffries.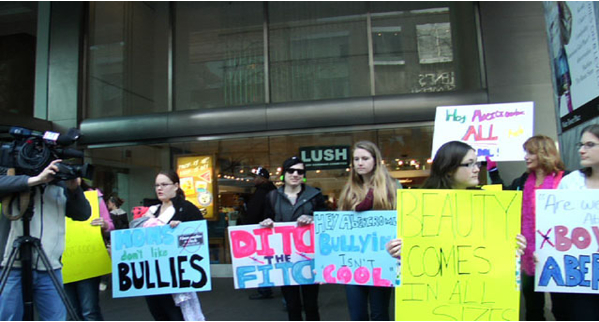 The protest sparked national media coverage and got her a meeting with A&F execs to discuss their relationship with teens. After Cali explained to the executives how the statements made by Mr. Jeffries fueled bullying and detailing what the bullying climate was like in high school today, the Abercrombie executives told her that her anti-bullying message needed to be heard in high schools across the country. The company then agreed to sponsor a 20-city anti-bullying symposium called "Are You an Ally... #Be Inclusive" featuring Cali as the speaker. And as chance would have it, Cali actually met Mike Jeffries while she was at the Abercrombie meeting. She said, "He was really cool. He gave me a fist bump as he was leaving."
Cali is very excited about the anti-bullying symposium. Being someone that was bullied herself, she very much stands behind Abercrombie's message of diversity & inclusion.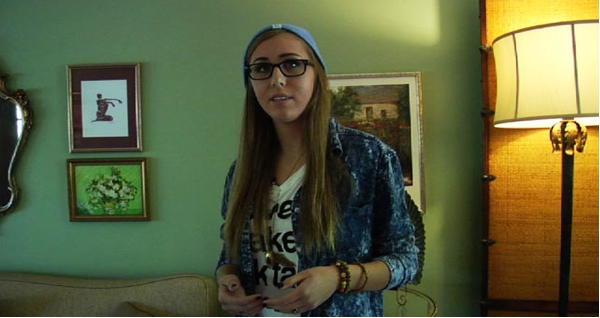 It seems to me that diversity and inclusion is no longer a buzzword and has to very much become a reality for any company that expects to thrive in today's diverse times. It is refreshing to Abercrombie & Fitch include such a important mandate to their for
I've personally spoken with various executives at Abercrombie over the last few months and they have sincerely expressed an interest in growing into a more inclusive company.
One of the things they've done is to start a department called Diversity & Inclusion (D&I). In my opinion, D&I is one of the major reasons for Abercrombie and Fitch's forward steps in messaging and employment practices. I got a chance to speak with Todd Corley, the Global Chief Diversity Officer at Abercrombie & Fitch and it seems that he really wants to make a difference.
ME: Why did Abercrombie and specifically your department decide to sponsor Cali's 20 city anti-bullying tour?
Bullying is a critical issue that mainly affects our target consumer (teens and young adults 14-22 years old). A&F's support of Cali's national anti-bullying tour: Are You an Ally?... #Be Inclusive #Erase Exclusion, is our way of creating a national dialogue across the country, and to challenge youth to become allies.
ME: Was the Diversity & Inclusion department started this year as a result of the controversy Abercrombie found itself in?
The foundation of our diversity and inclusion strategy dates back to 2004. While our early efforts were not specifically labeled anti-bullying initiatives, we have a solid track record of consistently driving home the message of creating an inclusive brand. One of our signature diversity programs, the Diversity Champion program, mirrors the conversation we want to have during Cali's tour, which is "are you an ally?" or "be a diversity champion" when it comes to creating inclusion.
ME: What was Abercrombie's initial reaction to Cali's protest?
The events from earlier this year provided us a unique opportunity to step up our commitment and take a leadership position on this issue. It also puts us in a position to take a more proactive stand in the fight against bullying.

Ultimately, we think this is the right thing to do.
The executives at Abercrombie tell me all the time that "we're not a perfect company, but if you and Cali go on the journey with us, you'll see that we want to do the right thing."

I have a philosophy with activism...If someone that you've been criticizing starts to walk in the right direction, then you're better off guiding them to the finish line, instead of constantly reminding them of what they did wrong. Otherwise, what incentive do they have to change?
Because of Abercrombie's desire to grow and become more inclusive and their definitive stance against bullying, I've decided to come on board as the producer of the "Are you an Ally...#Be Inclusive" symposium on Cali's behalf. My role will be inviting special guests to speak at the symposium, getting Cali's message out to the press, and doing anything I can in general to facilitate such a wonderful program.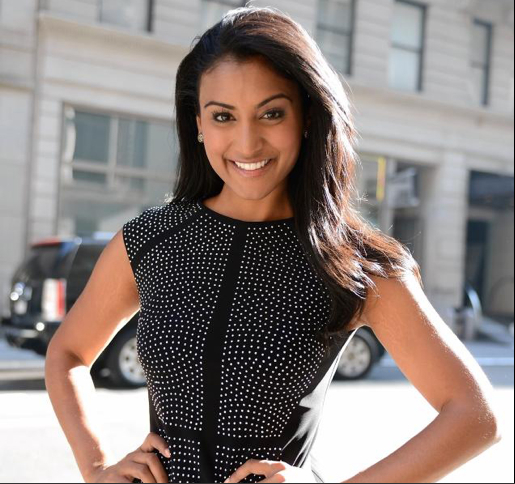 Speaking of which, recently, after hearing some of the outrageous cyber-bullying remarks ( "Miss 7-11" "Miss Al-Queda," etc.) spewed towards the newly crowned 2014 Miss America Nina Davuluri because of her Indian heritage, I decided to invite Nina to speak at Cali's NY symposium this Thursday, October 3rd at a local high school. Nina accepted the invitation and will speak about the importance of diversity through cultural competence.
The most impressive thing to me about this 20 city anti-bullying symposium is that it came to fruition as a result of a 17-year-old girl speaking up and a multi-billion-dollar company listening. It just goes to show that we all have a voice and we should never be afraid to use it. You never know who may listen!
Darryl Roberts is the director of the America the Beautiful documentary series. He can be reached at droberts@americathebeautifuldoc.com