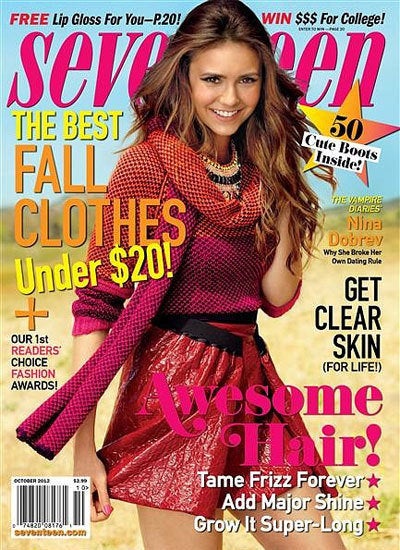 When Nina Dobrev made the cover of Seventeen Magazine in April 2010, she was a rising star with an infectious smile and two hit TV shows behind her. Two years later, the 23-year-old actress is at the height of her career. And she's in good company: On her second cover for the teen glossy, the "Perks Of Being A Wallflower" star opened up about working with Emma Watson and dating "Vampire Diaries" co-star Ian Somerhalder.
In "Wallflower," Nina plays a high school student named Candace, who is a shy, studious overachiever -- much different from Elena, the independent and outgoing character Nina is known for on "The Vampire Diaries."
Nina also revealed that one of the "Wallflower" plot lines will involve her character dealing with dating violence. Like many survivors of relationship abuse, Nina explained to Seventeen why Candace might blame herself, even though it is never her fault.
"I think more than anything, girls allow abuse to happen because they're embarrassed it happened, and that they allowed it to happen," Nina said. "They know it's not right. There's no excuse for it. That's why it's so important to show girls that they can admit that it's not their fault."
Scroll down to see the full Seventeen cover
As for "Vampire Diaries," the supernatural CW show will be returning for its fourth season in October. In the first episode, fans will watch Nina's character Elena struggling to deal with her most difficult obstacle yet: becoming a vampire. Click here for the latest promo.
In her 2010 Seventeen cover story, Nina was quoted saying that she would never date a "VD" co-star, but after stepping out publicly with Ian Somerhalder earlier this year (the 33-year-old who plays her love interest on the show) it seems her opinion has changed.
"I didn't want to be dating one of my co-stars," she confessed to Seventeen. "My goal on the show was to be professional. But sometimes you can't help who you have a connection with, and you can only fight it for so long -- which I did for a really, really long time."
In regards to the couple's age difference, Nina has said that she appreciates Ian's maturity and that she does want marriage and children -- just not anytime too soon.
For the full interview, pick up a copy of the October 2012 issue of Seventeen when the magazine hits newstands or head over to seventeen.com.
Are you a Nina fan? Will you go see "The Perks Of Being A Wallflower"? Tell us in the comments below or tweet @HuffPostTeen!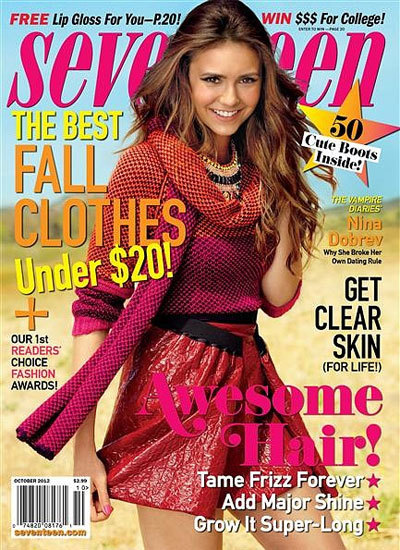 Popular in the Community