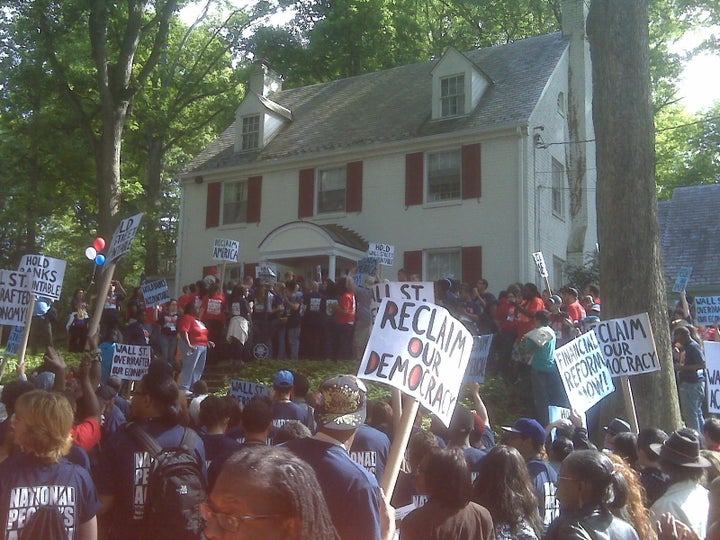 Nina Easton and her husband Russell Schriefer were outraged Sunday when a loud, raucous protest arrived on their neighbor's front lawn in Chevy Chase, one of the nicest neighborhoods on the edge of Washington. The event, organized by the SEIU and National People's Action, targeted Greg Baer, deputy general counsel for Bank of America, for the bank's role in the foreclosure crisis.
Collateral damage: The loud noise woke Easton and Schriefer's two-year-old. When Schriefer came outside to complain, the protesters shouted him down.
On Wednesday, Easton, an editor at Fortune magazine, said in a column that the protesters went too far by targeting a person's private home. She wrote that the SEIU has joined the ranks of "radical animal-rights activists and the Kansas anti-gay fundamentalists harassing the grieving parents of a dead 20-year-old soldier at his funeral." (That's the "God Hates Fags" crowd.)
And aside from personal intimidation, Easton suggests the SEIU is hoping to batter the bank's image as part of its effort to unionize bank tellers. Bonus: The union owes Bank of America $4 million.
On Wednesday evening, the union responded in kind with a blog post pointing out that Schriefer's PR firm -- SSG -- boasts the Chamber of Commerce and the Business Roundtable as clients. Bank of America CEO Brian Moynihan is a member of the Business Roundtable.
"[W]ith his wife's Bank of America apologist piece today he can chalk up another victory for his clients," wrote SEIU's John VanDeventer. "If Nina Easton really wants to see 'personal intimidation,' she should head outside her posh neighborhood and follow along next time Bank of America forecloses on a family."
That was the idea: Several of the 700 protesters were foreclosure victims, including Al Marshall of Oakland, Calif., who has an open letter to Easton in response to her column.
The crowd clogged the street between Baer's and Easton's homes and also filled a good portion of Baer's lawn. Organizers from National People's Action took pains to make sure nobody crossed any of Baer's neighbors' property lines, frequently telling protesters to step away from the curb. Easton said police did nothing because they were "intimidated," but at no point did organizers seem even close to losing control. The crowd was angry, but it was also jubilant and it was peaceful.
Easton and Schriefer did not immediately respond to interview requests on Thursday.
Calling all HuffPost superfans!
Sign up for membership to become a founding member and help shape HuffPost's next chapter