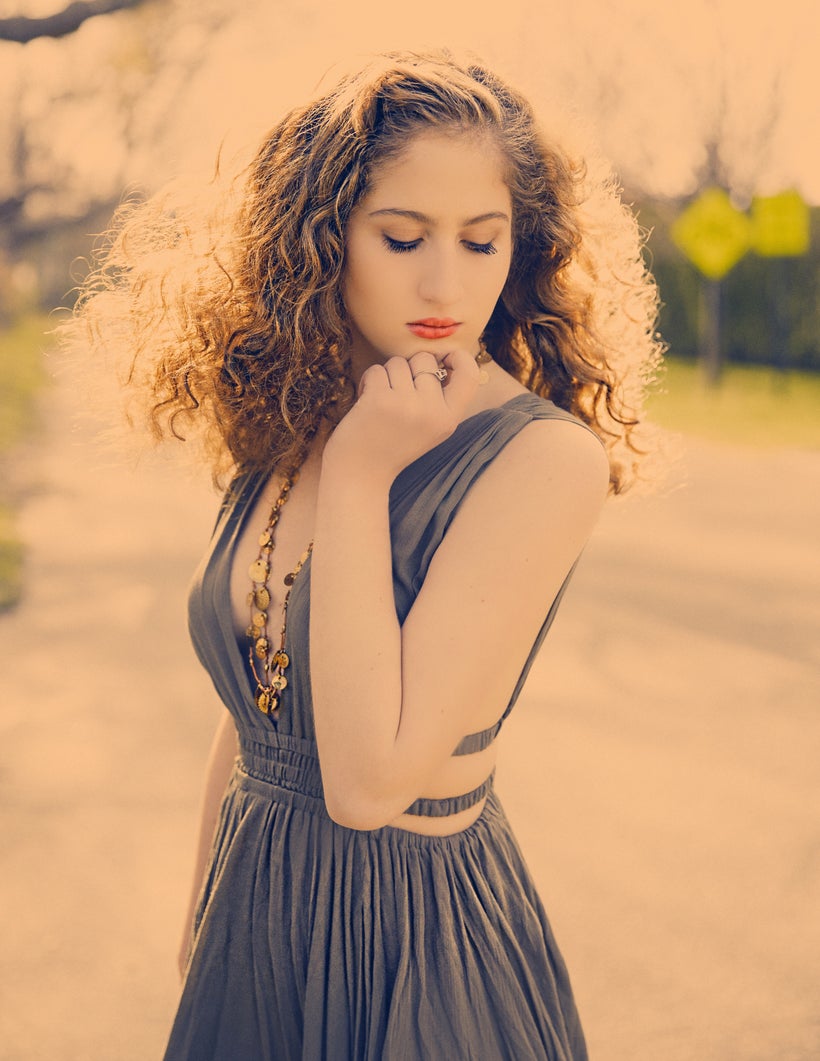 Artists pull inspiration from a variety of places. Whether it be real life experiences or the experiences of others, artists share stories of personal loss, journeys of self-discovery, and relationships among a variety of topics. For New York City-based singer-songwriter Nina Lee, the inspiration behind her music has always been her family and the connection they have to one another. Taking those stories and transforming them into a stunning five-track EP that is sure to pull on your heartstrings, today Lee has dropped her debut EP, Snapshots.
The perfect introduction to the wise-beyond-her-years artist, Snapshots is exactly as you would assume. The EP allows Lee to share images and personal memories through her music including her experiences with being bullied, the love story of her grandparents, and a touching tribute to letters shared between her great-grandparents, specifically her World War II "Screaming Eagle" veteran great-grandfather and great-grandmother. With a voice reminiscent of powerhouse vocalists Haley Reinhart, Christina Perri, and Adele, the 17-year old multi-instrumentalist lays everything on the line, drawing in fans by connecting with them on an emotional level. Today we are thrilled to premiere Snapshots here on HuffPost, which can be streamed below, along with a personal essay from Lee discussing her journey leading up to the creation of her debut EP.
"People find strength in many different ways and I find mine in family and music. That is what brings me the most joy in life. I have been fortunate enough to grow up with a very loving, and supportive household that encourages me to follow my dream of being a performer.
It has shaped me into the person I am today.  
When I was 12 years old my family moved to Connecticut. I had grown up in New York City for my whole life and had never known another place. When we left Manhattan, my life felt like it was upside down. I was the new girl, in a new school and in a whole new life. Starting middle school is hard for everyone, but starting middle school in a place that is all new to you is even harder. Everyone has different middle school experiences, but generally everyone is trying to find themselves and feel comfortable in their skin. If they feel threatened or insecure that is when they take out their anger on others.
I was ostracized and made to feel unimportant at my school. I was made fun of for how I dressed, I was prank called more times than I can count, and bullied not only in person, but on social media. On the first day, I walked into school and a girl looked me up and down. "Is that what you're wearing?" she remarked with a malicious grin on her face. That was the start of an experience I could not have imagined in my wildest dreams.
I am extremely lucky to have music as my outlet to be able to channel my emotions into, which ultimately became my "safe haven."
There were three important mantras that I took away from living in Connecticut:
Fake it till you make it.
Don't push people down, they will fall down on their own.
It is not a matter of if, it's a matter of when.
If you believe hard enough that something good is going to happen and you work hard at it, there is no reason that it won't. Don't doubt yourself and stay true to yourself.. It is not a matter of if you will become successful and reach your goals; it is only a matter of patience and hard work.
These three sayings have helped me throughout especially difficult times in life.
"Safe Place" was created during an extremely dark period in my life. I felt like nobody would ever like me and want to be my friend. I thought that I would be bullied forever and it would never end. I just felt like running away from all my problems and starting over. Writing the song was a therapeutic way of freeing myself from the negativity that was around me. One of the most meaningful lines in the song for me is, "He's walked a very long way, 10,000 miles to see my face," which is representative of the relationship I share with my dad, who is also a musician.
When my sister and I were both born, my dad wrote a song for each of us, which he sings to us every year on our birthday. In my song,  he says: "Nina, have you seen her, she's beautiful, magical. Nina I'd walk through fire to free ya, and run a thousand miles to see your face." That line sentiment describes my personal "Safe Place." My song can be perceived in countless ways, but for me it captures the way I have always felt safe and protected  when I'm with my dad and  my family.
All of the songs on the Snapshots EP tie into an overall ideology regarding the concept of family. They're my rock and my support and Snapshots portrays that in the best way I know how. Hopefully, my songs are able to inspire others to find strength inside themselves, when they experience hard times and challenges.
I don't regret the hard times I went through, because each experience allowed me to grow, evolve, gain perspective, and write meaningful songs."
Nina Lee's debut EP, Snapshots, is out now and available for purchase here.
Calling all HuffPost superfans!
Sign up for membership to become a founding member and help shape HuffPost's next chapter
This post was published on the now-closed HuffPost Contributor platform. Contributors control their own work and posted freely to our site. If you need to flag this entry as abusive,
send us an email
.