From hurling yourself off bridges to coming nose-to-nose with a great white shark, South Africa has a fix for every adrenaline addict.
ABSEILING DOWN TABLE MOUNTAIN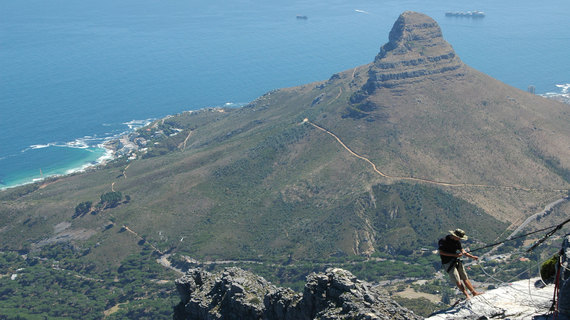 Table Mountain is a must-do when in Cape Town, but not many people get the opportunity to see the iconic mountain from this vertigo-inducing angle. Dangling from a vertical cliff face, you'll be afforded incredible views of one of the world's most beautiful cities.
Catch the cable car up the mountain and take in the scenery from the top before heading over to get strapped into your harness. Then comes the scary bit: standing backwards on the top of the mountain, heels over the cliff edge, you must put your faith in the cables and lean backwards into thin air.
Once you're in position, you'll start to walk yourself backwards down the sheer wall - jumping if you're a pro - but try to look around as you go. The last part is easy: after the rock suddenly falls away from you, you'll be lowered down to the ground as you relax and take in the stunning scenery from your perch.
QUAD BIKING AROUND WINERIES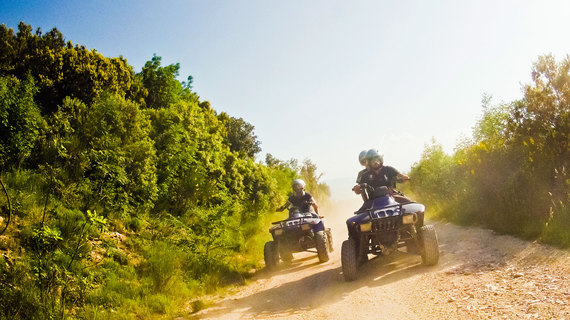 Unleash your inner speed demon behind the wheel of a quad bike. These hardy little vehicles whiz along dirt roads and are very easy to drive - not to mention a lot of fun.
Try a winery tour, which sees you zipping along rough tracks between leafy vineyards and ending on a hilltop overlooking the picturesque Western Cape coastline.
Another quad biking option is De Hoop, a nature reserve along the Garden Route, where you can drive out in the late afternoon, accelerating down the narrow paths, before you watch the sun set in brilliant colours over the water with a glass of champagne.
ZIP-LINING THROUGH THE HILLS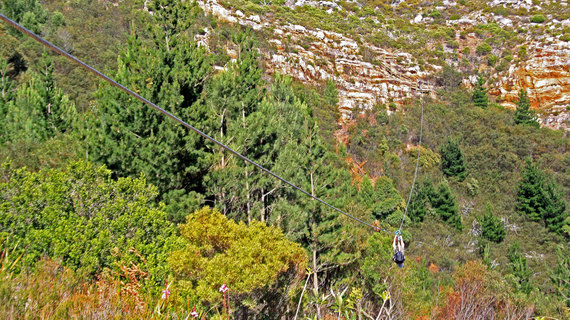 Who doesn't love a bit of zip-lining? Just outside Cape Town, jump into your harness and head into the hills to fly across valleys and soar over woodland.
One of the appeals of zip-lining is that it isn't as nail-bitingly scary as a lot of the activities on this list. Launching yourself off a platform might seem challenging, but the cable angle means you're moving forward rather than straight down.
A clip on the front of the harness, plus a safety wire, is attached to the cable. Then it's simply a case of lifting your legs and being heaved off the platform, letting your body weight carry you to the next station with plenty of time to admire the landscape and enjoy the wind on your face. If that sounds a bit too tame, let the guides give the cable a yank, so you bounce up and down along the wire.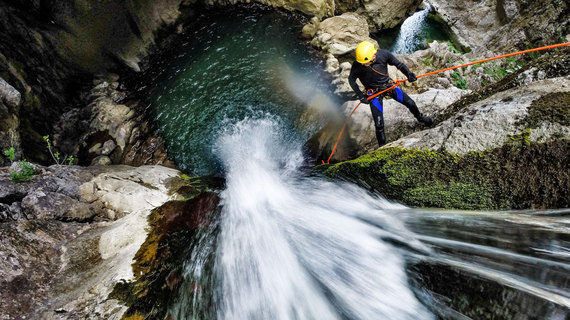 Canyoning involves clambering, scrambling and leaping your way down a river, abseiling and zip-lining where there are steep drops involves. Prepare to get wet.
The forest setting is really beautiful and very peaceful during the times you're just swimming along. However, it is cold when you get down in the canyon and into the water. It might be warm when you're suiting up, but don't let that fool you; wear as many wet suits as you can breathe in. Other than your wetsuits, you'll be provided with a helmet, life jacket and shoes, which saves saturating your trainers. If you're female, your hair will be plaited, too. By men. That's got to be a first for most of us.
After the initial abseil, you'll find yourself floating along the river. From here, you'll be sliding down mini waterfalls, zip-lining into plunge pools, swimming between sheer rock walls and clambering over rocks. You'll also get a half-way point tea stop on a mossy log to warm up your hands.
BLOUKRANS BRIDGE BUNGEE JUMP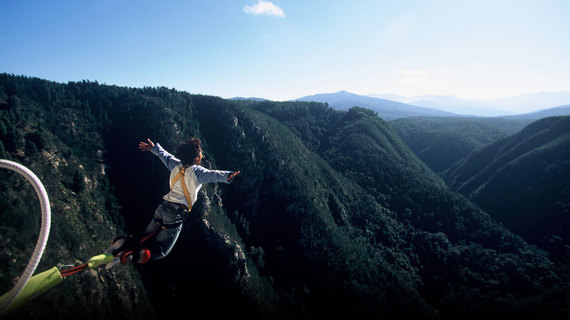 As far as adrenaline goes, this is the ultimate rush. Bloukrans bungee was once the tallest in the world, but it still retains the title of highest bridge jump.
There's no point trying to pretend this isn't scary: it's terrifying. As you get weighed and step into your harness, comfort yourself with the knowledge that Bloukrans has a 100% safety record.
Walking along the bridge's metal grill walkway to the platform, you'll get an eyeful of what awaits: a 200-meter drop down to the river below. After being strapped onto the bungee by an ankle brace (you're also attached via a safety harness) you'll be lifted onto the platform (don't look down) to be given a three-second countdown: 'Three, two, one - BUNGEE!' Throw caution to the wind, smile for the camera - and jump.
CAGE DIVING WITH GREAT WHITE SHARKS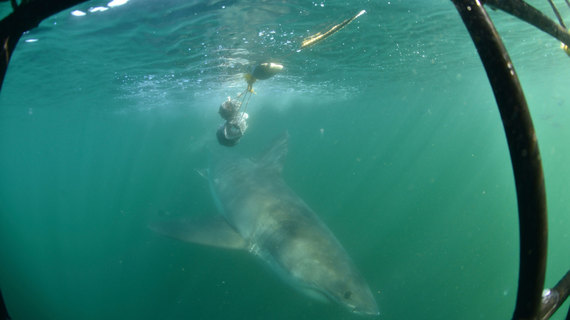 Great white sharks are beautiful, fascinating creatures. There is a lot we don't know about these solitary predators and that's partly what makes them so interesting - but not so interesting that you'd forego the cage, mind.
Around Cape Town and Gansbaai, the amount of great white sharks in the water means that there are plenty of boats that head out on cage diving trips. The cage is attached to the side of the boat and sits just below the surface of the water. If you don't fancy that, you can also go on breaching tours, which aim to spot the sharks leaping clean into the air as they hunt seals.
Once you're shivering in the cage - whether from fear, the cold or both - it's time to wait. The sharks are attracted to the boat by a seal decoy and 'chum', which is a mixture of fish guts and blood (who wouldn't be attracted by that? Just don't swallow water when you're in the cage). If you're lucky, the water visibility will be good and you'll get to see the curious shark up close and personal as it swims around the boat to investigate. From the deck, you might see lunge up and attack the decoy.
SAND-BOARDING DOWN 'THE DRAGON'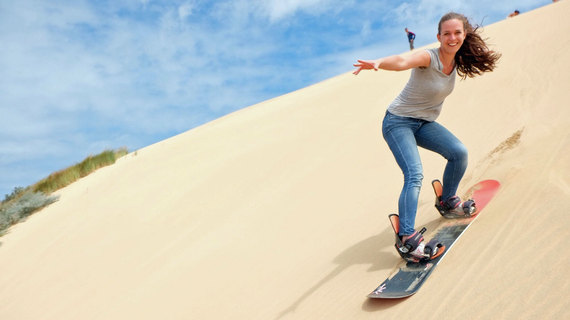 Standing at the top of a huge sand dune, feet strapped to a snowboard, shuffle forward until you start to slide, picking up pace as you begin to career down the dune. Engage the core muscles and strive to stay upright, grinning insanely for the camera at the end of the slope, until you hit the bottom (at which point it's OK to fall over, though backwards is preferable to forwards).
This is simply a warm up before you get to tackle 'The Dragon' - the longest sandboarding dune in South Africa at 300 meters. Seasoned boarders can wax up their boards and hit the slope. Others can grab a body board and be launched down the sand mountain on their stomach, using their feet to steer. Keep your mouth closed.
Your clothes, underwear, ears and belongings will be full of sand by the end, so don't dress in your Sunday best and leave expensive items behind. Unless you would like your bathroom to resemble the Sahara Desert, long hair will fare better tied up, too.
SAFARI RANGER TRAINING AT JUNGLE LANE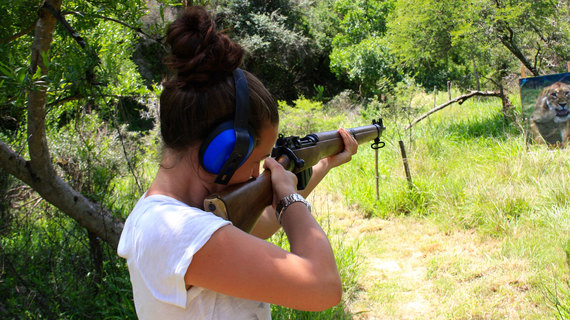 Want to know what it's like when a ranger must protect his or her group from a charging rhino - without actually being in that situation? 'Jungle Lane', the ranger training program devised by Riaan at Amakhala Game Reserve in the Eastern Cape, offers a glimpse into what happens on those rare occasions.
The course has a number of moving targets, triggered as the ranger moves through the bush. Each moving target (attached to a zip wire) represents a charging animal, be it an elephant or a pair of lions. The ranger must follow the correct protocol, shouting at his group to stay behind him, shooting the animal with three clean kill-shots, then carrying out all the necessary checks. The gun - an enormous rifle with bullets that can penetrate an elephant's skull - is loaded with one live round and the following two shots are mimed. Rangers must get 100% on their test before they are allowed into the bush on walking safaris, although so far no animal has ever been killed by rangers in the name of safety on the reserve.
After walking through Jungle Lane with a ranger, you can try out your own shooting skills on targets. Watch out for that recoil.
WHITE WATER RAFTING ON THE PALMIET RIVER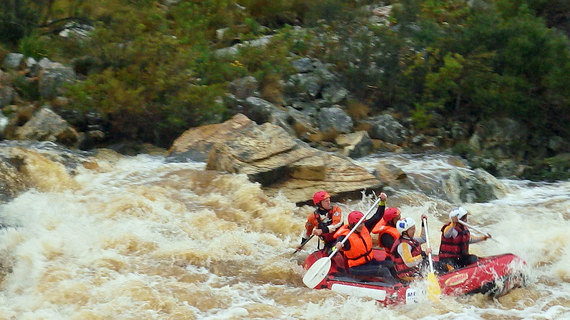 Just an hour from Cape Town, in the Kogelberg Nature Reserve, you can experience the power of nature as the fast-flowing river hurls you along the white water rapids. You'll be kitted out with wetsuits to keep you dry(ish), but make sure you bring shoes or booties that can get wet. There are ten rapids on the 4km stretch of river.
When you get chance to catch your breath, you'll notice the craggy peaks and lush greenery that surround the Palmiet River. This area is famous for its fynbos - as you'll be able to smell - and is part of the Cape Floral Kingdom.
Whilst drinking prior to rafting is an absolute no-no, there's no harm in rewarding yourself with a visit to a nearby winery afterwards to dry off in the sun.
Support HuffPost
A No-B.S. Guide To Life
Related
Popular in the Community