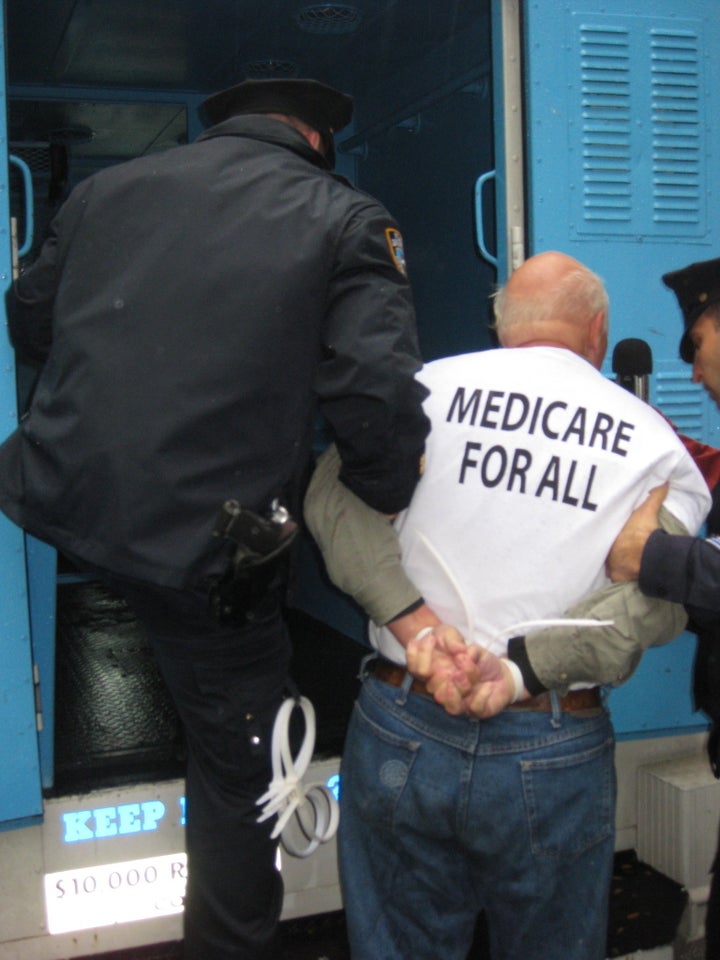 Simone Morse, a 19-year old student at Hunter College, was the first to be handcuffed and pulled up from the floor this morning at 1 Liberty Plaza in lower Manhattan, the corporate offices of WellPoint, one of the largest health insurers in the United States.
Cameron Gibson, a 23-year-old medical student at SUNY Downstate, was one of the next to go, followed by Frank Broadhead, a 67-year-old senior on Medicare, who was carried out on his back and deposited into a nearby police van by two members of the New York Police Department. In total, nine protesters were arrested on Wednesday morning on charges of disorderly conduct and/or trespassing, according to an NYPD officer on site who spoke off the record.
"These people are complicit," says Kenneth Weinberg, a gentleman in a white medical jacket standing in the picket line out front, pointing towards the WellPoint offices. Weinberg, an emergency room physician at Holy Name Hospital in Teaneck, New Jersey, says he would have participated in the sit-in today except for the fact that he's scheduled to work in the E.R. tomorrow. "As an emergency room doctor I see every day how out of control it is. Forty-five thousand Americans die yearly for lack of proper health care. Enough."
A representative from WellPoint declined to discuss the issues brought up by protesters but confirmed that arrests had been made. "Security in this building is separate for WellPoint, we're just one floor. I'm unaware if a specific request was made by our office" said Kristin Binns, a WellPoint spokesperson. "But yes I did hear that NYPD made the arrests."
As a health care reform bill with a tenuous public option winds its way through the Senate this week, activists are now embracing civil disobedience on a scale rarely seen in the health care battle. Wednesday's sit-in at WellPoint was one of almost a dozen similar demonstrations occurring nationwide as part of the Mobilization for Healthcare for All campaign. Barely a month old, the campaign has signed up over 800 people willing to risk arrest at insurance company sit-ins to push for a single-payer plan.
At the picket and demonstration in front of the building, where over 80 people converged to support the arrestees, chanting "Arrest the Profiteers," activists pointed to the millions of dollars in lobbying fees that WellPoint spends to influence health care policy, demanding that this money be spent on patient care instead. Others stressed that WellPoint's substantial political contributions and lobbying fees are but a drop in the bucket. Recent financial disclosures show that the health care industry has spent over $250 million in lobbying fees in the first six months of this year alone.
"I'm on one-year probation from a previous arrest, otherwise I'd be in there," says Nadina LaSpina, a disability activist who made the rounds in the picket line in her wheelchair. "If you have a disability, the private insurers look for any excuse to dump you. Private plans are great as long as you're healthy."
Last week, WellPoint released a report that intended to show that the current healthcare reform legislation before Congress would cause private insurance premiums to rise for many small businesses and individuals in at least 14 states, in some cases to double or triple their current rates. The White House parried back the next day, writing on its blog that the study reached its conclusions only by "cherry picking certain policies and ignoring major aspects of reform."
"Before September I didn't see myself doing anything like this," says medical student Cameron Gibson a few minutes before donning a bright white shirt with plain black text that read 'Patients Before Profits,' and holding hands with the 8 other people who stood holding hands and blocking the entrance to the building, risking arrest. "But I watched what happened with those town hall meetings and tea parties, and I realized that we have to be just as forceful."
Pictures of the protest and arrests are below:
Popular in the Community